Daily Update: Day 16
Shown: Tonight, Wednesday 21st June 10pm on Channel 5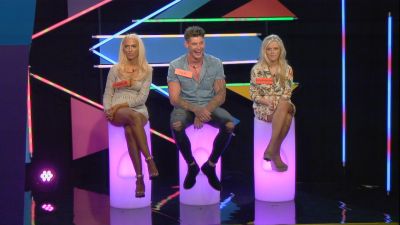 In a Blind Date style task, Savannah was chosen by Lotan, Kieran and Chanelle as a new housemate! Tonight's show will reveal the name of the second new housemate. Joe, Rebecca, Chanelle and Hannah face eviction live tomorrow.

On tonight's Big Brother's Bit On The Side with Rylan Clark-Neal at 11.05pm on Channel 5, guests include Casey Batchelor, Jordan Banjo & Luke Marsden

Key highlights and quotes from tonight's show:

· Big Brother requests that housemates who have tampered with food, return it to the Store Room. Raph is caught out and must reveal to housemates that he smashed an egg into the butter.


· Lotan decides to boil every egg in the house to prevent the trouble makers from smashing more eggs in the house.

· Chanelle and Raph reveal they plan to continue with Egg-gate.


· Chanelle learns that Lotan is boiling all the eggs and she is not happy about it, and tension brews between the pair.

· In a Blind Date style task, Lotan, Chanelle and Tom are taking part in a game show to pick two new housemates, from Savanah, Isabelle and Sam.


· Kieran quickly discovers Isabelle is someone he has romantic history with and when she is asked about reconnecting with him, she says "you never know what's going to happen".

· Kieran asks the three game show candidates, if there is anyone in the house they fancy. Isabelle reveals she still fancies Kieran. Sam reveals he likes Ellie and Savannah tells the house she couldn't choose between Kieran and Lotan until she gets to know them better.

· Savannah admits she "is up for the craic" and says "I am very outgoing so you'll find me up on the tables having a bit of a dance. I don't take myself too seriously".

· Lotan, Chanelle and Kieran choose Savannah from the dating style task to become an official housemate, and the second chosen housemate will be revealed in tonight's show.

· Ellie talks in the diary room about new housemate Savannah, and worries that "she's stunning, she's natural, she's got an Irish accent, obviously, she's got a really big personality, and I like to be the one who can make people laugh and be known as the girl with the good personality, and I thought, god I'm going to end up in somebody's shadow". She added "I'm not being funny but I think when you're getting down and seductive, I think they'd rather have a morning of a sexy Irish lass, rather than 'Go on lad'. Do you know what I mean, it's a bit different."

· Rebecca slips and hurts her arm in kitchen.

· Kieran admits to Raph that he has been intimate with Isabelle on two occasions whilst in Ibiza last year.

· Ellie talks to Charlotte in the garden about her fears that Lotan fancies Savannah.

· Lotan, Tom and Kieran share a steamy shower together, while the girls watch on from the garden.

· Lotan, Savannah and Tom talk in the living room, while Ellie watches on. She decides to go to bed early, and is unhappy with the attention Savannah is receiving.

· The boys discuss Savannah in the diary room, Lotan says she is "awesome" and continues to describe her as "banging, a little pint size thing, she's great fun, a very pretty young lady, that's not to say I'm *******ing interested, or she's staying in my bed, but she can if she wants to".