Daily Update: Day 23
Shown: Tonight, Wednesday 28th June 10pm on Channel 5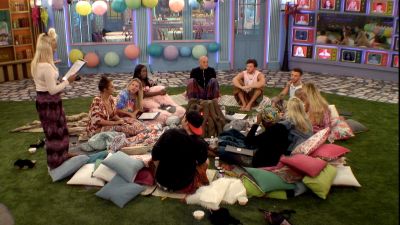 More pictures from day 23 HERE

On tonight's Big Brother's Bit On The Side with Rylan Clark-Neal at 11.05pm on Channel 5, guests include John McCririck, Josie Gibson & Bobby Norris

Key highlights and quotes from tonight's show:

· Isabelle is appointed the Big Brother house guru as part of the Peace and Love task. She must impart her wisdom on the housemates and can ask any questions she would like.

· Chanelle and Isabelle talk about sex and their frustrations when men don't know where the pleasure points are.


· Isabelle talks to Chanelle about her sexual experiences with Kieran.

· Guru Isabelle sits down with housemates and Charlotte admits to her that she would choose to evict Isabelle if she had to choose one housemate to leave the house.

· Kieran avoids giving Isabelle, the Guru, a straight answer and comments that he answered her like a politician, whilst she gets frustrated by his evasive responses.

· Kieran talks in the living room to Joe, Tom, Ellie, Charlotte, and Savannah about his problems in the bedroom. Joe offers Kieran some words of wisdom and tells him to think of sex like a horse race.

· As part of the Peace and Love task, housemates write down anything they would like their fellow housemates to change. Housemates gather in the living room to read the anonymous notes.

· Housemates learn that they have failed the Peace and Love shopping task and will receive an economy shopping budget.

· Ellie talks in the diary room about the economy budget being a 'blessing in disguise' and an opportunity for her to lose weight.

· Chanelle, Savannah, Kieran and Isabelle talk in the living room about how many people they have slept with. Kieran admits to the group that he has slept with around 350 women.

· Deborah joins Joe, Tom and Kieran in the garden and Joe questions Deborah about her feelings for Kieran and he playfully teases her about her crush. Deborah and Kieran joke about making babies and she admits she would like to meet someone who looks like Kieran, but is older.


· Isabelle urinates in the hot tub.

· The housemates have fun playing Truth or Dare and Ellie dry humps Kieran, and Chanelle presses her breasts into Isabelle's face.

· Isabelle wets the bed.