Daily Update: Day 25
Shown: Tonight, Friday 30th June 9pm on Channel 5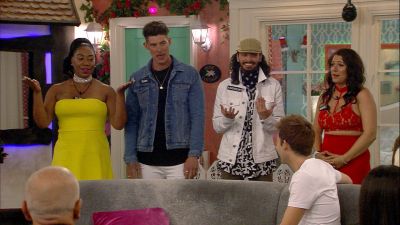 More pictures from day 25 in the gallery HERE

**Headlines & Clips from tonight's show include:
Raph reveals his soft spot for 1D's Niall

Chanelle gives Isabelle a lesson in sex

The new Second Chance Housemates settle in
Sue senses Chanelle is wary of her and tells BB she should be

On tonight's Big Brother's Bit On The Side with Rylan Clark-Neal at 11.05pm on Channel 5, guests include India Willoughby, Mark Byron and Margi Clarke.

Key highlights and quotes from tonight's show:

· Chanelle and Hannah hug it out in the kitchen after their argument last night.

· Chanelle gives Isabelle some sex lessons, and demonstrates how to roll a condom onto a banana.
http://www.youtube.com/watch?v=faU5XF0lgG0

· In the garden Raph talks to Ellie, Joe, Tom, Kieran, Savannah, and Charlotte about his love life. Joe asks Raph about the moment he knew he was gay and Raph explains "when I was watching Niall on X Factor. I remember watching, and wanting to re-watch and I was very interested in him."

· Emma reveals to the house that Savannah is the fourth housemate to be evicted.

· The Second Chance Housemates enter the house and Big Brother explains to the house that because Andrew, Sam, Simone and Sue missed out on their first chance of becoming housemates, they are not eligible to win Big Brother. However, these housemates have stolen £15,000 from the total prize fund. The Second Chance Housemate that lasts the longest in the competition will win this £15,000 prize. This week, Second Chance Housemates have great power in nominations, all four are able to nominate and all four will be immune from the next public vote.

· Hannah and Deborah question Sue over who she feels will make it to the final and she reveals that there is a lot of love for Ellie.

· Sam admits to Joe and Kieran that he wants to 'crack on with a bird' and they discuss his options amongst the women in the house. Kieran warns him 'If you're going to pull Ellie, don't *******k her about".

· Ellie talks in the Diary Room about how excited she is to have new housemates.

· Tom is encouraging Sam to drink more alcohol and tells him 'You wanna keep up man, I'm from Wales mate, I will drink you under the table". Tom later goes to the Diary Room with Hannah a little worse for wear and is prompted to drink water to sober him up.

· Sue is talking to Isabelle, Hannah and Raph in Thorn Cottage and talks about feeling at home and wanting to sleep in Thorn Cottage. She say's "this room is real" and "this is the intelligent room, I like what goes on in here, this is a good room".

· Chanelle confides in Hannah that she doesn't trust new housemate Sue and doesn't want her to sleep in their bedroom. She say's "She's evaluating a lot, she's got her eyes on the prize' and reminds Hannah that they need to stick together.

· Raph admits to Hannah in Thorn Cottage that he's feeling overwhelmed by the arrival of the new housemates.

· Simon and Sue go to the Diary Room to discuss their first night in the house. Sue admits she has noticed that Chanelle isn't acting like herself and say's "I think Chanelle's wary, I get that impression, she's being friendly, but there's something there, she's not trusting." Sue continues "I just think she's a bit cautious of us, and the truth is she should be".

· Sue and Simone talk about sticking together.

· Sam talks in the Diary Room and discusses Joe's reaction to the prize fund being cut and feels he has been negative toward the new housemates.

· Joe is unhappy that the winner's prize fund has been cut and the Second Chance Housemates have taken money from the winner's pot. Raph and Isabelle discuss his reaction in the garden and talk about him only being in the house for the prize fund.