Daily Update: Day 30
Shown: Tonight, Wednesday 5th July 10pm on Channel 5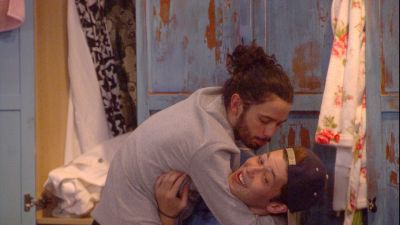 More pictures from Day 23 are HERE

Headlines & Clips from tonight's show include:

On tonight's Big Brother's Bit On The Side with Rylan Clark-Neal at 11.05pm on Channel 5, guests include Stephen Bailey, Lateysha Grace & Bradley McIntosh.

Key highlights and quotes from tonight's show:

· Raph asks Joe to shake his hand and start a fresh day after the tensions from the night before. Joe holds his hand and explains why he has issues with him.

· Chanelle and Simone are called to the Survival Room to take part in an exercise class as part of the shopping task. Chanelle is very unhappy about being asked to exercise and say's "I'd rather pay to get liposuction than go to the gym".

· Chanelle flirts with the fitness trainer and complains that he is working them too hard throughout their workout session.

· Ellie, Kieran, Raph and Sue are called to the Survival Room for a comedy roast, by Luke Kempner. They must not react in anyway when the comedian is addressing them. The comedian repeats conversations from the house, using comedy impressions of the housemates, while the comedy act is played into the house for the rest of the housemates to watch.

· Hannah talks in Thorn Cottage to Isabelle about Ellie and the negativity she is feeling from her.

· Sue talks in the kitchen to Deborah, Andrew and Raph about Kieran and says he is playing a low-key game.

· As part of the shopping task, Tom, Charlotte, Deborah, Hannah, Andrew, Isabelle, Sam are called to the survival room. The will all be treated to a meal while wearing shock pads. The housemates must eat dinner and stay in their chairs throughout the shocks without standing up.

· Hannah and Ellie talk in Thorn Cottage about Hannah's feelings that she is becoming a scapegoat. Ellie apologises for listening to the information she learnt in The Void about what the public think, and using it to influence her decision to nominate her.

· Sue, Chanelle, Raph, Hannah and Isabelle talk to Sam in Thorn Cottage about him feeling excluded from the boys group.

· Sam talks in the diary room about his frustrations with the original boy group of Kieran, Joe and Tom. He says "They've got too much pride with the original clique they've got, just let it go and have a laugh, and let people in. I think it's pathetic really, they're putting words in Ellie's head".

· Sam tries to discuss his feelings with Tom in the living area. Tom denies that anyone has been talking about Sam behind his back. Joe steps into the conversation and lectures Sam on how to act in the house.

· In Thorn Cottage, Andrew gives Raph a hug. Andrew then tries to kiss Raph on the head and neck but Raph pulls away and crouches on the floor, shouting "stop, stop." The two then discuss issues of personal space and come to an understanding, ending in a hug. When Andrew and Raph resolve the situation, Andrew says about his showing his feelings for Raph, "It is hard to not express how you feel". About Raph, he says "you're different, I do like different, I've always liked different"

· Charlotte talks in the diary room about Sam and says she doesn't trust him as she believes he came into the show for fame.