Daily Update: Day 31
Shown: Tonight, Thursday 06 July 10pm on Channel 5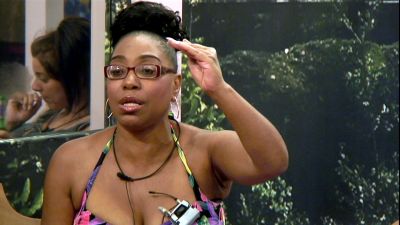 More pictures from day 31 in the gallery HERE

**Headlines & Clips from tonight's show include:

Hurricane Sue blows the house apart

Clip 2: https://www.facebook.com/BigBrotherU...4582383627005/

Toe tingling task
https://www.facebook.com/BigBrotherU...3657703719473/

Joe dresses up like Chanelle
https://www.facebook.com/BigBrotherU...3575490394361/


On tonight's Big Brother's Bit On The Side with Rylan Clark-Neal at 11.00pm on Channel 5, guests include Nathan Henry, Paisley Billings & Kerry Katona.

Key highlights and quotes from tonight's show:

· Sue is not happy with the mess in the house, she complains to the housemates.

· Simone helps Raph to meditate.

· Chanelle has fun in the hot tub and playfully flirts with Joe.

· Sue talks to Chanelle privately in the garden. She tells her about her feelings around the messy house and tells her that she has been talking about her to other people and she wants Chanelle to pull her weight.

· Joe dresses up as a woman and walks around the garden showing off his new look. Joe and Chanelle twerk together and Chanelle compliments Joe on the size of his fake bum.

· Raph explains in the diary room his feelings around Andrew trying to kiss him on the neck. He says that he would feel uncomfortable if anybody tried to touch him as he isn't a tactile person.

· Sue tells Chanelle that she is a typical Mancunian. She says "the way you look is typical, the way you act is typical, you are a Mancunian through and through."

· Chanelle talks in the garden to Ellie, Tom and Charlotte about how brutal she finds Sue and she predicts that Sue will blow soon.

· Deborah, Sue and Andrew must endure having their feet licked by three unknown guests. The housemates have their feet licked by a husky Dog, ferrets and a large man. They must control themselves enough to keep their legs in the holders.

· Hannah talks to Raph in the kitchen about how aware Kieran is of the cameras and they talk about his poker face and game playing to win.

· Sue tells Chanelle that she knew that Chanelle didn't want to share the bedroom with her. Sue tells Chanelle that she is the alpha female in the house. Chanelle is bothered by Sue classifying her as an alpha female. A discussion takes place between Sue, Chanelle, Ellie and Deborah about the meaning of an alpha female.

· Ellie and Sam make up in the garden.

· Sue talks to Tom in the garden about playing the Big Brother game. Tom gets agitated by Sue's argument that the housemates are playing the game as he argues that he is in the house for the experience.

· Kieran tries to get Tom to calm down, and tells him that he is falling into Sue's trap. He is not happy that Tom is arguing with Sue.

· Tom goes to the diary room to complain about Sue's point of view.

· Sue starts an argument with Sam, and accuses him of a showmance. She shouts at him in the garden while Sam and Ellie are in the hot tub together.

· Sue talks to Big Brother in the diary room about her feelings about the housemates. She says they are pathetic people.

· Ellie and Sam cuddle in the garden and kiss. Sam decides to show her how big his manhood is.

· Tom tells Big Brother in the diary room that he wants to see his girlfriend Paris. He asks Big Brother to call Ellie to join him in the diary room. Ellie joins him and he gets agitated and forces open the diary room door, but soon returns and apologises.