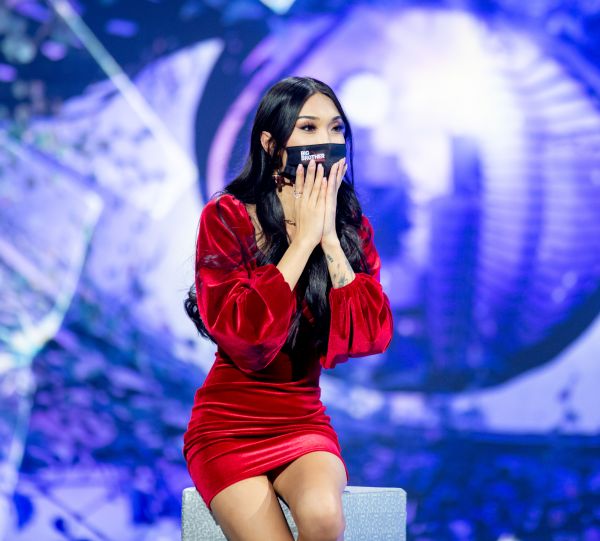 Quote:
For the first time ever in Big Brother Canada history, Season 9 kicked off with an epic twist dividing the houseguests into two teams: Team Defender and Team Destiny. After a nationwide vote, Canada chose Newfoundland's Tina Thistle and British Columbia's Kiefer Collison as team captains, guaranteeing their safety from elimination for the week. Tina and Kiefer watched from the sidelines as their two respective teams, Team Destiny and Team Defender, battled it out for immunity during the season's first challenge, with Victoria Woghiren's super strength winning it all for Team Destiny. With all six Defender members on the block and no POV up for grabs, the house decided it was the end of the road for social media influencer Julie Vu.

"I was too bubbly, but I was also weak, so I think that was a factor and the reason why I'm here right now. I'm so happy that I got to share my message before I got out, so being here and just sharing my story, I'm so grateful," said Julie Vu. "I'm hopeful that it has inspired a lot of people, and I feel like I did my deed, so I'm very happy."

As a ploy to potentially sway votes, winning Team Destiny anonymously posed questions to each individual on Team Defender, which included strategy and alliances, with Julie being called out as one of the weakest players. With a target on her back, Julie thought her alliance with "The Dolls" including Austin Dookwah and Breydon White, would be her saving grace but the two played it safe as they, along with most of the houseguests, voted to evict her in a vote of 11 to 2.

Every Thursday directly following the houseguest's eviction, watch "After the Eviction" LIVE exclusively on TikTok – an extension of Arisa's in-show interviews. Follow along on Big Brother Canada's TikTok account @BigBrotherCA. Then watch Global's The Morning Show Friday morning at 9 a.m. ET to catch Julie's first broadcast interview, in addition to ET Canada at 7:30 p.m. ET on Global.

Watch the drama heat up on Global, Monday at 9 p.m. ET/PT to see who wins the first Head of Household competition of the season. In addition, fans can become flies on the BBCAN wall as the free live feeds are now streaming at bigbrothercanada.ca.

Big Brother Canada's Season 9 houseguests are competing for a grand prize of $100,000, $10,000 worth of grills and grilling accessories courtesy of Weber, $10,000 powered by Sunlight and an unforgettable vacation for two from Expedia.

Stream the new season live or on demand with STACKTV and the Global TV App and visit BigBrotherCanada.ca for houseguest interviews, live show votes, free live feeds, spoilers, exclusive content and more.