Secret Twist!!

Tonight Emma informed us live that Big Brother had yet another secret twist up his sleeve...

Dan, Dexter, Gina and Wolfy were all nominated to face eviction by their fellow housemates on Monday but tonight Emma revealed that there will be no real eviction, instead the public will be voting to send either Dan & Wolfy or Gina & Dexter to a secret safe house!!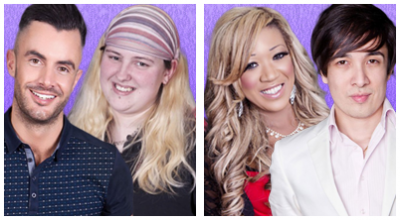 The pair that receives the most votes will take part in a fake double eviction this Friday night and will instead go to the secret safe house which is situated off the garden of the main house, whilst there they will live a life of luxury and their every whim will be catered to.

They will be able to watch and listen in on what their fellow housemates say and do, as well as have immunity from next week's nominations they will also be given the power to wreak havok on the housemates before they return to the house next Friday.

You can vote for the pair you want to enter the safe house by using the numbers below:

To send Dan & Wolfy to the safe house:

Landline - 090 20 50 58 15
Mobile - 6 50 58 15

To send Dexter & Gina to the safe house:

Landline - 090 20 50 58 16
Mobile - 6 50 58 16

Are you happy with the latest secret twist? Which pair do you want to see in the safe house? let us know in the forum...