Big Brother 2015 - Daily Update: Day 33

Shown Tonight, Sunday 14th June at 9pm on Channel 5.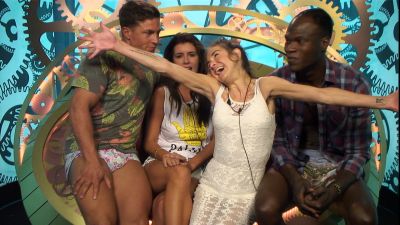 Pictures from this show are here - http://www.thisisbigbrother.com/gall...nails-992.html

Marc and the three legend housemate visitors: Nikki, Brian and Helen enter the main house live on tonight's show.

SPOILERS:

Key highlights and quotes from tonight's show include:

· Sam is talking to Big Brother "I am really really happy to still be here; now that Marc isn't here I have gelled with so many more people."

· Nikki asks Marc if Jade is jealous of Harry and Nick. "She likes Nick as a friend and that's all, but Harry has taken Nick away from her" Marc goes on to comment on Harry and Nick as he watches the monitor "that's all they do all day, sleep."

· Sam and Simon are in the garden talking about Marc. Sam says "looking at it now people hated Marc, like really hated him. Because we had a little kiss I think they think I was a mug."

· Joel is in the living room talking about Simon "When they announced Marc was going he burst out crying and I thought to myself well its either one of two things, either genuine upset about Marc, or it is attention because he is still here." Chloe remarks, "He was crying like someone had died." Harry says "What is really starting to grate on me is even when we are talking about Marc Simon stands up and says I have had a tough time in here, every time he talks about himself"

· Helen is talking to Big Brother about what she has observed in the bunker. "Harry is an absolutely manipulating b***h I have her absolutely sussed she wants everyone to think she is scared of Marc as that will go in her favour. She is all over Nick and I don't think she is into him. I like Jade she has Nick's best interests at heart. I think she is genuinely a good friend to him. If I have got anyone wrong it is her. I am interested to see what Joel is like."

· Jack is in the bedroom with Chloe and Cristian. "I am so ****ing happy today the fact we can talk about stuff and not be rudely interrupted." Chloe says "but you never said this when Marc was here."

· Joel is talking to Big Brother "Since Marc's gone everyone is more relaxed in the sense they aren't worried about what's going to happen if Marc comes into a room. Harry will come out of her shell now that he has gone but it would be great to see more of her and Nick."

· Big Brother calls the Time Warp Housemates to the Diary Room to let them know about their mission. The Time Warp Housemates were told they could ask each Housemate probing questions, which would be posed to the Housemates in a group Q&A. They would then have the chance to choose three Housemates who would get a further grilling in the Diary Room.

· The Housemates are gathered in the sofas and told the questions they will be asked are from viewers. Cristian asks Jade her first question "Models don't walk on their toes. Why are you doing this?" Jade looks cross and replies that it is down to training. Marc looks on from the bunker laughing and says "You are lying no it isn't"

· Simon asks Joel "how do you feel about Harry using Nick?" Joel replies "Harry you have made it clear you are here to make money and it is arguable that you spend time with Nick in your bed as a chance to do that" Harry responds that she isn't using him and that it goes against her job to be seen in a relationship.

· Sam asks Jade a question. "Are you jealous that Harry has taken Nick away from you?" Jade says "no I am absolutely not jealous and I have still got my relationship with Nick and that has not been taken away from me."

· Cristian asks Jack "What would your message be to your adoring fans?" Jack is really happy with the question and said it has put a great smile on my face. The Time Warp Housemates all laugh in the bunker.

· Harry is asked "How do you think your boyfriend would feel about you and Nick?" she says "for a start I don't have a boyfriend Nick is very good in me here as I have trouble sleeping he calms me down" Helen comments "What is he a ****ing teddy!"

· Jack asks Nick "how would your parents feel about you being a bed hopper?" he responds "Probably quite disappointed if that's what it looks like on the outside. It is going to change" Helen says it is getting to him.

· The Time Warp Housemates choose Harry, Sam and Nick to get a further grilling in the Diary Room. Nick is asked if he feels Harry's relationship status has changed a few times "yes she originally came in with a wife which is quite confusing when she elaborates she says she isn't with the guy any longer" Sam is asked "if you had to evict someone from the House who would you choose and why?" Sam replies "I feel like Simon wants to be more involved but there is a part of me that thinks he would be more at home with his partner." Harry is asked the same question and says Simon.

· Nikki watches Nick in the diary room and says "he is so sweet and simple I want to go in and rescue him" Helen says "he does nothing but stick up for her"

· The housemates are drinking in the kitchen and Jack comments about Marc "We played him at his own game and he lost, I didn't like him he is a ****ing w****r"

· The Time Warp Housemates are instructed to begin thinking about who they want to nominate and begin discussing the plan. Nikki doesn't want to put through Nick forward for the nomination and suggests Chloe. Marc says his favourites are Nick and Joel. The Housemates agree to sleep on it and finally decide tomorrow.