During tonight's live programme, fake-evicted housemate, Marc, together with 'legend' housemates: Brian Belo, Helen Wood, Nikki Grahame - who had been spying on the main house during their 48 hour stint in the 'Time Bomb Bunker' - unanimously nominated Harry for eviction when they returned to the house.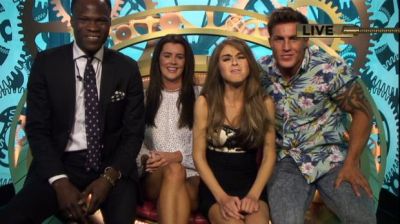 This evening, while the housemates were enjoying a party, Big Brother told them to gather in the living area, and they discovered, via a TV screen that not only have Marc, Helen, Brian and Nikki been secretly living together in Big Brother's Time Bomb Bunker, but they also have complete control of nominations this week. In front of the housemates, from the comfort of the Diary Room, the 'Time Warp Four' revealed that Harry is the first housemate to face eviction this week.

Helen revealed their reason for nominating Harry was because "she lies. She's a bare-faced liar." Talking about Harry's friendship with Nick, she said, "she friends him but leads him up the garden path…she's a hindrance to him being a winner," and added, "she took the piss out of Simon… she wanted to do everyone [else]'s washing… only the people who are popular, so she doesn't need to stay on the right side of him because he's not popular."

Before entering the main house, Nikki gave a message to the housemates: "It's time to welcome your new guests - thanks for cleaning the house earlier." Helen added," The bitch is back." As they walked out the Diary Room and into the house, Harry stood alone in the living area watching on as everyone else embraced and acquainted themselves with each other. Harry revealed to some of the other housemates, "I knew that if Marc was in a safe house, I'd be evicted."

Throughout the remainder of 'Time Warp Week,' Marc, Brian, Helen and Nikki will have to decide together which other housemates to nominate for the next 'real' eviction, which takes place on Friday 19 June at 9pm on Channel 5. In addition, throughout this week, some further familiar faces (from previous series of Big Brother) will be making a surprise return to the Big Brother house.

Earlier in the show former housemates Mark Byron, Sam and Amanda Marchant and Aisleyne Horgan-Wallace gave their opinions on Brian, Nikki and Helen in interviews with Emma Willis.