Simon Gross is the ninth person evicted from the house.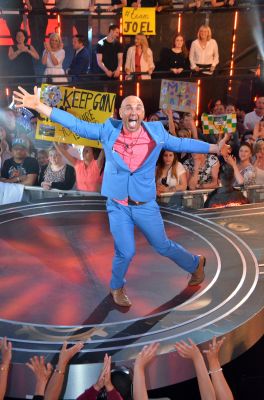 More pictures are HERE

Earlier this week, in a game of nomination tag all Housemates bar Chloe and Marc faced eviction. The public has been voting to decide who should be the ninth Housemate to be publicly evicted from the Big Brother House.

During tonight's 9pm Channel 5 programme, Emma Willis announced live to the House that the two Housemates with the lowest votes were Simon and Jack. Emma then went on to reveal that the next person to leave would be Simon with less than 1% between them in the vote.

Following the announcement, Simon had 30 seconds to say his goodbyes and left the house to be greeted by Emma and a mixed reception from the crowd.

Speaking to Emma Willis following his eviction, Simon said: " I felt all day that my time had come. I never thought I would win this show.

"I thought a younger person would win. I've been on a horrendous journey and I've learnt a lot about myself."

Asked how he felt about the reaction: "I've had worse boos than that. I've been in worse pantomimes than that."

Simon told Emma that he was "Jazz hands and showbiz but he can't be showbiz 24 hours a day and the makeup comes off." He went on to admit, "It is really tough in there, you lose yourself and it was tough being in a situation with people and forgetting about the outside world. It is like free therapy"

Simon went on to say "Marc is the brother I never had. I collapsed on the floor when he left I felt like my world had fallen apart. He was always there for me. I made a real friend with him."

"I got to see the real Helen and she was really helpful to me and gave me some good advice. There are cliques it is a very young house and I felt the old fogey."

Simon said that he thought Danny should win because he is honest and real and always there for him.