Shown Tonight, Saturday 28th June at 9pm on Channel 5.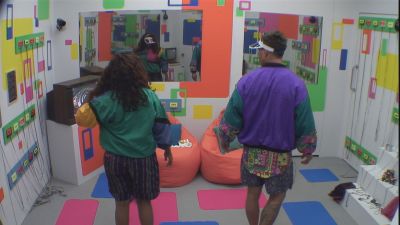 More pictures are HERE

TONIGHT: 80s task; Aisleyne and Danny.

Spoilers
Key highlights and quotes from yesterday's highlights shown during tonight's show include:

· Danny, Jack and Chloe are in the bathroom discussing Marc. Danny is interested to see what his next move will be and Chloe says "Just go in and say sorry about last night, but I don't think you have to, just if you're worried about it."

· Marc is in the Diary Room, "I don't think I did anything wrong I think Danny acted out as usual as he always does, his friends won't tell him he was in the wrong, I am not arguing against one person. I am arguing against six."

· Marc and Aisleyne are in the garden making up after the argument last night. Aisleyne explains it was because of her mum. Marc says it's ok and goes on to dismiss the argument with Danny. Aisleyne comments "I think Danny is very protective." Marc disagreed and remarked "I don't always think sincerely, but I think he is a good guy as well"

· Chloe and Danny are in the Storeroom and she asks him if he has spoken to Marc "No I have had to walk away as he was doing his usual speech, a good person doesn't need to explain why they are a good person."

· Danny and Aisleyne are eating lunch and she says to him "I hope you win this, you or Chloe. If you win will you take me out for a drink?" He laughs and says "Of course! But if I don't, no."

· Jack is in the Diary Room and says to Big Brother, "I am very happy to still be in the House. They didn't like me much last night, boos all round, although it is nice to get some sort of reaction"

· The Housemates are set a task whereby they have to decide who are the two most selfish Housemates. They chose Sam and Marc. The two are told in order to give the Housemates extra time at an 80's themed party they have to endure 80's hell.

However, the twist to the task is that the 80's party would be happening whilst Sam and Marc were in 80's hell and therefore they would not be invited. When the 80's phone rings, the other Housemates have to convince Sam and Marc to stay in 80's hell for as long as possible.

· Sam and Marc's first task is to wind the tape into old school cassettes and once they complete that they have to dance to the birdy song

· The phone rings and the Housemates convince Sam and Marc to stay in 80's hell by saying they are bored and they want as much time at the party later.

· For their second 80's task Marc and Sam were asked to make cheese and pineapple hedgehogs. Whilst Marc is grumpy Sam says "I am having a great time getting to know my Bessie." Marc replies, "stop that s***e I will actually kill you."

· Sam and Marc are talking about Aisleyne and Sam comments that she slept in Danny's bed; Marc says "I don't trust her yet."

· Big Brother calls Marc to the Diary Room to ask him how he is finding 80's hell. "I ****ng hate it, they had no life in the 80's literally none.

· Aisleyne and Danny are dancing to the 80's music and she asks him, "Are you going to get a hard on?" He laughs and says, "Over you are you serious?!" She replies. "Well you had one last night."

· Marc and Sam are then brought to the sofa and told about the task and the fact the party has already occurred.

· Nick and Aisleyne are in the garden and he asks her if she likes Danny, and that he thinks Danny has a soft spot for her. Aisleyne remarks that she doesn't think he has and she likes him because he sticks up for everyone and that's the most attractive thing.

Jack goes on to tell Aisleyne that Danny has told him it is just banter and just fun to which she laughs. Nick asks her if she would see him on the outside and she smiles.

· Jack then feels he has dropped Danny in it so asks to speak to him in the bathroom, "Do you like Aisleyne or not"? Danny asks why. Jack goes on to admit that he had told Aisleyne it was just a bit of banter. Danny laughs and then goes with Jack and Nick to talk to her.

Aisleyne smiles and tells Danny, "You told Jack all I am is banter." Danny laughs. Jack asks Danny if he will buy her a Dominoes as that is the most important thing. Danny replies, "No as she doesn't like pizza she likes chicken." Jack asks him if he is attracted to her and he replies "Yes she is hot."

· Aisleyne is talking to Marc and Sam about men "Men just use me all the time, men just see me as meat." Aisleyne then begins to cry and Marc encourages her to go and see Big Brother, Danny sees and is surprised and asks if she is serious.

· Aisleyne is upset in the Diary Room and wants to go home as she is worried she has made a fool of herself. Aisleyne goes on to admit she likes Danny but as per usual all men think she is a bit of fun.

· Aisleyne comes out of the Diary Room and hugs Marc. Danny comments "Oh she has moved on quickly!" Aisleyne confides in Marc that men just see her as an object but that she does like Danny.

· Aisleyne and Danny are chatting in the storeroom and he denies calling her 'Just banter' and that he likes her they make up and share a quick kiss

· Danny is in the bedroom and tells Chloe that he doesn't want to share a bed with Aisleyne as he is worried about doing anything on TV. Chloe reassures him.

· Later on in the evening Aisleyne gets into Danny's bed and they spoon.