In tonight's final Cristian has finished in 6th place and Nick has finished 5th, with the two of them leaving the house together to a cheering crowd.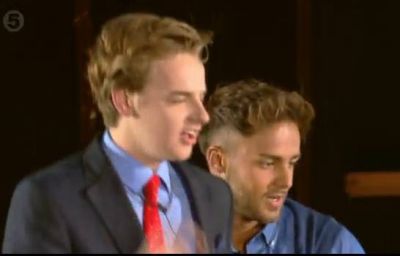 Cristian interview.

Emma spoke to Cristian and asked how he was doing he replied, "It is so overwhelming getting to the final is unreal!" "Even getting to the final I questioned myself on it because there was so many big characters and people, getting into the final was crazy."

Emma went on to ask him about how much he worried about he came across, and did it toughen him up. "It made me toughen up, and made me take things with a pinch of salt. When someone like Brian came along, he acted like a brother to me, he made me realise being in Big Brother was a big thing."

On Jasmine, Cristian said, "The second she walked in I was like wow she was hot!" He gave her a message and said "It would be nice to see you later!"

Nick interview.

Emma then went on to quiz Nick about his time in the House and asked him if he was OK. "I am OK, I am loving it. It surpassed my expectations, meeting you (Emma) feels like an illusion."

Emma asked him about buying his way into the final, "Yes i felt guilty about buying myself into the final, but I realized I had a once a lifetime chance to get to the final so I didn't regret it, Chloe is still here which is great."

On Harry Nick said, "Sometimes opposites attached and she is endearing and beautiful and I want to keep seeing her. It will be hard but it is something I want and to happen. She made it as special as it was and without her I wouldn't have got through it."

Nick finished with, "I made the best friends in the world,"

Emma went on to say she thought Nick was loveable and not loth able which Nick said he was in his VT.