#CBB Daily Update: Day 23

Shown: Tonight, Thursday 24th August 9:00pm on Channel 5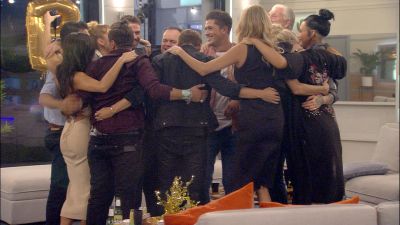 From the Day 23 Gallery here

Headlines from tonight's show include

- Jordan gives Sam dating advice

- Amelia confronts Sam

- Jemma and Sam are called out for their growing closeness
- Bitching with Brandi

- Marissa puts Shaun in the doghouse



Yesterday ex-housemates Karthik, Marissa, Jordan, Brandi and Paul came back to cause havoc in the CBB house. Tune in tonight to see the action and to find out who gets evicted via the back door.

BOTS will be on air 11.05pm this evening on Channel 5, recording from the house, with guests including Michelle Visage, Antony Costa and Katie Price.

Tune in tomorrow night to watch the Final of CBB Summer 2017 and see who is crowned the winner, from 9pm on Channel 5.


Key highlights and quotes from tonight's show:

· It's Celebrity Big Brother Hijack day in the house. Ex-housemates Karthik, Marissa, Jordan, Brandi and Paul have returned to take over the house.

· Karthik raps into bedroom speakers and wakes the housemates - SEE CLIP

· Sam throws shower scrub into the cubicle whilst Jemma is showering

· Marissa is the next ex-housemate to take over the house. Talking to Shaun from the house speakers, she says, "It's payback time. Get your arse into the diary room." She instructs Shaun to wear a dog costume, sit in a dog kennel and act like a canine. She tells him, "Today you're my b**ch!" – SEE CLIP

· Jordan is the next hijacker to take over the house. Jordan calls Sam to the diary room. He tells him; "It's horrible seeing you in there without me!"

· Jordan gives Sam a secret task. Sam must go on a 'date' with Amelia. During the date, Jordan gives Sam instructions on what to do via a secret earpiece – SEE CLIP

· Amelia discovers Sam's earpiece during their date. Talking to Jemma afterwards, Amelia says, "I was a bit wounded at first, because he was saying some really nice things. But I know he meant a lot of it."

· Sam returns to the diary room after the task. Jordan calls Sam out on his on-screen closeness with Jemma – SEE CLIP

· Amelia notices Chad cooking in the kitchen. Jemma and Amelia confront Chad about using ingredients that were being saved for the housemates evening meal, and not cooking dinner for everyone

· Brandi is the next ex-housemate to take over the house. Over the speaker, she instructs the housemates to sit on the sofa. Brandi then starts to read out comments spoken by housemates about each other. The housemates must guess who said them – SEE CLIP

· Brandi calls Jemma to the diary room to talk about her on-screen flirting with Sam

· Jemma leaves the diary room and asks to speak to Sam privately in the bedroom to talk about Brandi's comments. Sam tells her Jordan said to the same to him – SEE CLIP

· Paul is the final ex-housemate to hijack the house. He conducts a game of 'Do What Dangerous Danan Says' – SEE CLIP

· The evicted housemates surprise everyone with a party. Everyone is excited, especially Jordan and Sam

· Karthik talks to Chad and Sarah about the relationship between them since he left the house. Sarah says, "What are they trying to make out happened? Because we haven't done the deed". Paul then tells Sarah that it seemed like more happened between her and Chad. Sarah continues to deny that anything sexual happened

· Sam and Jordan are in the garden talking about Amelia. Sam says "I don't think I've done anything wrong with Amelia, but I feel like I've already strung her along."

· Paul talks to Amelia about her situation with Sam – SEE CLIP

· Brandi also gives Amelia relationship advice about Sam. Brandi tells her "It's not coming across as genuine, even to his best friend." Amelia later confronts Sam about what people have been telling her. – SEE CLIP

· Housemates and ex-housemates gather on the sofas to say their goodbyes. Big Brother makes a sudden announcement that one person will be leaving the house tonight.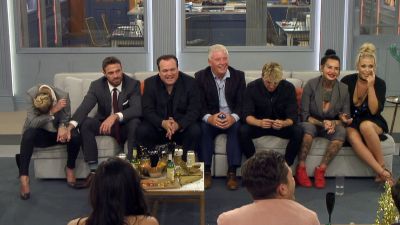 · Big Brother announces that the remaining six housemates are officially finalists

Pictures.