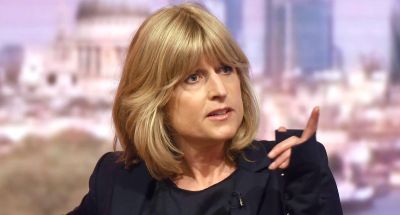 Channel 5 have confirmed that journalist Rachel Johnson will be a housemate for January's Celebrity Big Brother.

She is the sister of Foreign Secretary Boris Johnson and daughter of Stanley Johnson who recently appeared on I'm a Celebrity.

Channel 5 statement:



Quote:

We can confirm that journalist Rachel Johnson, will be one of the female Celebrity Big Brother housemates entering the Celebrity Big Brother house live at 9pm, Tuesday 2nd January 2018 on Channel 5.

Rachel wrote in her newspaper column: "I'm going into the actual Big Brother House. For real. I know. Believe me, I know.

"I am a firm believer that you only regret the things in life you don't do, not the things you do do.....

.....I've never sat down and watched CBB in the way my children religiously binge-watch it, but when Channel 5 came calling, I didn't delete the annual email asking me to be on. It was because this one said that the new series was all about female empowerment and 100 years since women got the vote.

"It was going to be called Big Sister (it's ended up being called Celebrity Big Brother: Year Of The Woman), with a 'classy' all-female line-up for the launch. Female politicians, performance artists, broadcasters. Serious stuff. Big names were duly dropped, and the emphasis on 'empowerment' rather than 'ritual humiliation' promised."

To mark 100 years since women won the right to vote the new series will start with all female housemate, with male housemates entering the house later in the series.

The series starts on Channel 5 on 2nd January 2018.