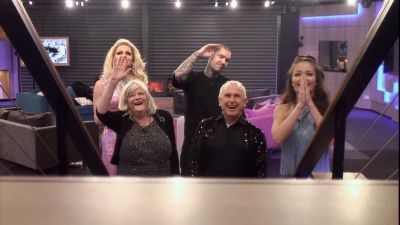 The Celebrity Big Brother final is tomorrow from 9pm on Channel 5

As the end of this series draws near, the public has decided and the Celebrity Big Brother 2018 finalists are Jess Impiazzi, Wayne Sleep, Ann Widdecombe, Shane Lynch and Shane Jenek.

As the final approaches tomorrow, we've been looking back over the series to capture some of the best moments. This year audiences have seen a great range of conversations, from serious topics such as Brexit to the downright ridiculous, parmesan cheese anyone? Friendships have been formed between the most unlikely pairings - such as Shane J and Andrew and Ann and Jess - and we've witnessed tasks which set out to explore gender stereotypes as well as enable us to see exactly what happens when power shifts between the sexes.

So now, after 31 days of tasks, triumphs and tears, there is only one thing left to do…vote and crown your Celebrity Big Brother champion…. voting lines are now open.

Here is a recap of some of the most memorable moments of our housemates in clips (that you can embed online). They may be our favourites but what are yours?

· Courtney's unforgettable wardrobe malfunction on her entrance into the Celebrity Big Brother house


· India reminding her housemates that she is "a real woman"


· Ann went viral after trying - and failing hard – to use hair straighteners


· Shane J drags up Andrew, and unleashes 'Betty Swollocks'


· Ann and Amanda surprise their housemates by joining them to take a late night dip in the hot tub


· Daniel shocked the nation by proposing to his girlfriend during his live interview with Emma Willis


· Bath time moments including Shane J shaving Andrew and Amanda cutting Wayne's toenails




· Andrew and Shane J's relationship has been a real focal point of this series, with viewers loving watching their unlikely friendship blossom


· India confessed to Rachel and Amanda that she was attracted to a Dalek


· The housemates were driven round the bend in CBB Driving School


· Jess was laughed at when she thought you could catch salmonella from eating cucumbers…they might have laughed but she was right…


· Shane J explained how he transforms into Courtney and – more importantly - where he hides his crown jewels


· Malika, Amanda and Shane L perform as Destiny's Child


· Ann, Jess, Courtney, Ashley and Wayne perform as the Spice Girls


· John Barnes took us back in time with his 'World in Motion' performance



The Celebrity Big Brother final, will air on Channel 5 tomorrow at 9pm, followed by Celebrity Big Brother's Bit On The Side at 11.05pm.