Cami Li has become the fifth evictee of Celebrity Big Brother 15 as part of tonight's LIVE Bombshell show.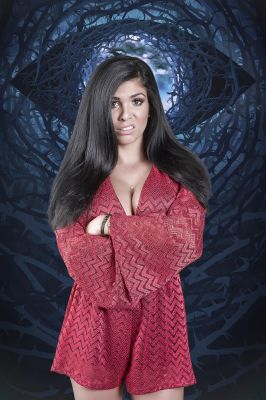 During tonight's LIVE show both the viewers and the housemates were shown the nominations on screen (for the housemates that were nominated on Sunday), which resulted in Cami Li, Keith, Katie P and Perez (Eternal Nomination) all facing eviction, however the housemates were unaware that one of them would actually be leaving the house tonight.

Voting was opened for just under an hour with Cami Li receiving the least amount of votes to save.

Emma entered the CBB House via a mirror in the sitting area and informed Cami that she had been evicted!

She was then led by Emma through the camera runs to the BOTs Studio to take part in her interview.

Cami Li takes her shoes off and makes herself at home with Emma on Celebrity Big Brother's Bit on the Side sofa and says of the house: 'I was living in a nightmare but it was home.' She also said of the experience: 'That place was so mentally draining.'

Emma asked Cami Li how it feels to come out at this stage and Cami said: 'It's bitter sweet.'

Of her feisty behaviour in the house, Cami Li said: 'It's who I am.'

Emma asked her about the letters task and Cami Li said that she thought didn't agree with the community spirit of the task and said: 'No boo-boo, it doesn't work that way, I wanna get my letter.'

Emma asked her about her fractious relationship with Perez and she said that she was very excited to meet him going into the house as he is also from Miami, she said: 'I knew I was gonna love him or hate him.'

Emma asked her if she was surprised that she had come out before Perez and she said: 'No, I think he'll make it to the final.'

She also added that she thought Perez was a manipulator and cited the situation when he suggested that she and Chloe have a lesbian relationship for the cameras.

Emma then asked her when she first realised she disliked Perez and she answered: 'He would talk to us like he was a journalist.' She also said that she picked him to be her fairy queen so 'people would see the real person he was.'

Emma then asked her what the house would have been like without Perez and Cami Li said that there would have been more arguments between Katie Hopkins and Nadia.

She also mentioned when Perez said that anyone who shared a bed with him would have a surprise in the morning and Cami Li commented that Perez was a 'grower not a show-er'.

She did say that she had thought she shouldn't let herself down in her rows with Perez but said: 'I literally couldn't hold it in.'

On her flirtation with Calum, she said: 'He's a very nice guy, very respectful.' She also mentioned that they knew each other before they entered the house and she shed some light on their 'code' where sister and mother meant boyfriend and girlfriend. She insisted there was nothing between them but good friendship.