Daily Update: Day 2 - #CBB

Tonight, Saturday 29th August at 10.30pm on Channel 5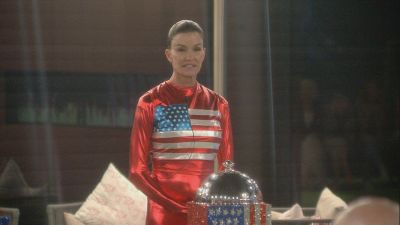 View more pictures from day 2 - HERE

Tonight: Tila Tiquila is removed from the house. Bobby Davro and Janice Dickinson enter house. Farrah and James have argument.

BOTS preview: The guests tonight are Apprentice contestant, Solomon Akhtar, model Vogue Williams, and Dynasty actress Emma Samms - Shown at 11.30pm on 5*.

Key highlights and quotes from tonight's show include:

· The celebrities wake to their first morning in the Celebrity Big Brother House. Natasha and Daniel and talk about Farrah's reactions last night upon entering the house. Natasha says; 'I'll forgive her.'

· Fatman Scoop has a long wait for the shower, 20 minutes in fact whilst Farrah attends to her ablutions.

· Austin tells the group that in the USA you can buy firearms in Walmart.

· Jenna explains to Fatman Scoop that contrary to popular opinion, that male stars of adult films are not always good in bed.

· James admits to Fatman Scoop that he is intimidated by Tila.

· Daniel tells Chloe that he finds 'the dance' interesting when people first meet and that he is looking forward to 'the curtain going up' and seeing the real people come out.

· Austin has a swim in the pool and comments to Natasha that 'it's way too comfortable' in the house. Natasha replies; 'The sh*t will hit the fan soon.'

· Tila is asked to the Diary Room and subsequently is removed from the house.

· The group are gathered on the sofas and told of Tila's departure. They are told that Tila has been removed due to circumstances outside the house.

· Two new Housemates enter, Bobby Davro and Janice Dickinson. They must face each other in an international head to head. Bobby Davro wins with 26 points, a worthy victory after being made to drink liquidised gizzards, he is now the Prime Minister of the house.

· Bobby raises the Union Jack and the Housemates sing the national anthem. Bobby then visits the diary room and tells Big Brother he is going to be fair as PM and does a passable Tony Blair impression.

· In a conversation about their temperaments, Farrah compares herself to a Pomeranian. Natasha says 'I was laid back until the Chihuahua tried to bite me.'

· Stevi tells Janice about his impending nuptials with Chloe Jasmine.

· The girls chat about Janice's book and the tales in it regarding some of the men in her life. Janice hears them and comments that they are 'yappy little *****ing Chihuahuas.'

· Natasha talks to Big Brother in the Diary Room and says; 'Me and Farrah are getting on great tonight.'

· Janice and Austin have a bust up about Austin saying that he prefers some things about the UK to the USA. Austin tries to explain that he is effectively exiled from the USA as his husband could not move there with him.

· Farrah accuses James of staring at her and calls him a 'dip-sh*t'. James says this upsets him and Farrah loses her temper. Austin asks her; 'Why do you have so much beef?' She storms out of the bedroom and James goes after her to calm her down but they end up arguing again with Farrah once more calling him a 'dip-sh*t'.

· Daniel asks Farrah; 'Why do you give so much of your power away to that person?'

· Jenna tells James that he handled himself very well in his dealings with Farrah.

· After a tumultuous day, Natasha relaxes the Housemates by singing 'You'll Never Walk Alone'.