Shown tonight, Sunday 30th August at 9pm on Channel 5.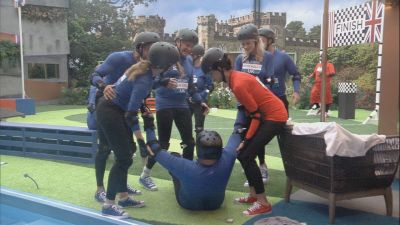 More pictures from day 3 - HERE

Tonight: Dizzy Dash task takes place. Housemates are spun around whilst listening to facts about each other and they must guess who it is about after racing over a finish line once the spinning stops. Jenna and Janice have argument.

Key highlights and quotes from tonight's show include:

· Farrah and James decide to let bygones be bygones and they apologise to each other.

· Janice is in the Diary Room discussing her role in the house, 'My role in the house is to impart wisdom as much as I can, get to know people, hear their stories be a friend a confident and to be really helpful…because of my arthritis Sherrie and Gail have been gracious and kind enough to help me… I asked them too because I do trust them. I trust those ladies. These women are my friends already.

· Austin is talking to James and others in the garden, 'They are all unpacking Janice's suitcase'. James replies 'Unpacking? **** off…she's actually delegated it to people?.. (laughing) I can't believe they are all unpacking Janice's suitcase and she's asleep. She owns it.'

· Farrah tells Jenna, James and Austin she feels like she is on the beach as she can hear the seagulls. They discuss how close the beach is to where they are. Janice exclaims that it is a different type of seagulls.

The others worry that if she can hear that conversation did she hear them discussing her earlier. Janice replies 'I could hear everything. I am only meditating, I can hear.' Jenna comments on Janice's hearing 'You're superhuman.' Janice replies 'No I'm a Supermodel.'

· Jenna and James are in the bedroom discussing Janice and how they are annoyed she has moved their beauty products away from the beauty station. Austin, James and Jenna move all their stuff back to the station.

· Daniel is in the Diary Room 'I feel like this is the honeymoon phase, everything tastes great. Its sounds great there are some minor squabbles. This is the calm before the storm. Bobby seems to be doing fine. Janice, when you are from that world of entitlement in Hollywood…you start walking around expecting everyone to treat you that way and you feel entitled to be treated that way.'

· Gail, Jenna and Farrah get to know each other in the sofa area. Jenna to Gail 'I want to know your story.' Farrah 'Yeah I don't think I got to hear it all'. Gail 'Nothing really exciting. I used to babysit for a director's kids, he said do you want to come down and audition for a kid's programme…I went and auditioned and got the job.

First audition I ever did. Then I did quite a few kid's shows. Then I did TOTP, which is a music show here….FHM did a bit of a naughty shoot with me…so then they projected a naked image of me on to the Houses of Parliament…so then all my hair fell out ten years ago…They think it is stress related or hormone related, they are not really sure…I had Alopecia Universalis so I lost all my hair, my eyebrows, everything on my body…

Then TV work went 'why don't you wear a wig', so I went well if you don't like me for who I am then you can **** right off. I am not doing anything to myself.'

· Dizzy Dash task takes place. Housemates are spun around whilst listening to facts about each other and they must guess who it is about after racing over a finish line once the spinning stops.

· At dinner time Janice is looking for food and stumbles across Jenna's Kosher food fridge. She opens a pack of celery. Farrah and James tell her that it is Jenna's special food. Jenna is trying to cool off in the bedroom but James, Daniel and Scoop are telling her that Janice has been told that is her fridge. So she responds 'I'm about to go eat Janice's ******* face.'

· Jenna and Janice discuss the fridge and respect for religious beliefs. Jenna then storms into the bedroom 'I came to her hella cool, please respect my religion and that I think it's really disrespectful that you found out that it was my food, my kosher fridge and she went ahead and ate it. She goes 'I haven't eaten anything all night'. Neither have I. Have you seen me eat a bite.

I am waiting because I can't eat at a table with sausages and everything being served. I am trying to observe my religion and somebody just looking at me and going pretty much **** you!'

· Chloe is upset and is talking to Stevie and Janice. 'You'll probably find it really juvenile…imagine you were in here with your partner and there was so many aspects of your relationship that you couldn't do. This is the hardest thing. This is so hard. They wanted us together in here.'

Janice states 'You want to have sex?..Well you can do that…you should have time to go and have sex and Big Brother should respect that. Kick people out of the bedroom.' Stevie and Chloe are explaining to Janice that they don't want to have sex in the house. Chloe states I believe we are stronger than our animalistic desires mentally.'

· Farrah and Jenna are discussing how uncomfortable they feel around Chloe and Stevie. They feel that they should be two separate people. Jenna 'They are not sensitive to the fact that we are all in a different situation..they are not taking our feelings...It's very co-dependent..sit with other people two minutes of the day and be your own person..not a ******* Siamese twin.

· Jenna is in the diary room discussing her earlier row with Janice 'I was kind of hurt by her reaction to be honest…It went from 'I'm kosher too' to 'I'm hungry and old'…it kind of hurt me. I am a tough b**ch. I have come through things in my life that not many people can so this to me is petty. But my religion to me is so important…it threw me sideways for sure. But I will get over it because I am tough.

· James feels that Janice is walking all over Gail. Gail makes Janice's bed because Janice is tired and James feels that she needs to stop doing everything for Janice. 'She's a ******* diva isn't she.'

· Chloe and Stevie are discussing how they got together in the garden. Stevie 'It's so weird how we got together babe…I was in my room J weren't there. I just thought I want a bit of me time. Then a knock at the door and it was you…I didn't expect you of all people to come into my room. I didn't think that you would find me at all attractive…I didn't expect to find love on The X Factor.' Chloe 'I don't think you expected to find love full stop.'

· James and Austin are in bed and most of the Housemates are asleep. Austin thinks he has pulled a hamstring and asks James to massage it. James is laughing telling Austin 'I'm not ******* touching your hamstring while we are in bed.' Austin tries to do it himself. At this time Natasha springs from the bottom of the bed and scares both Austin and James. Austin then asks Natasha to rub his hamstring. She declines.