Shown Wednesday 2nd September at 9pm on Channel 5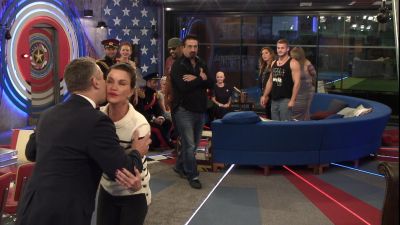 On tonight's programme, Paul Burrell enters the Big Brother House to coach the USA housemates on how to serve the BB royal family. Sherrie and Chris are made King and Queen of the house. For the first time the Housemates make their nominations. Tensions break out with Janice and the other USA Housemates over their cleaning duties. Cracks in Chloe and Stevi's relationship begin to show.

On tonight's Celebrity Big Brother's Bit on the Side at 11pm on Channel 5, Ben Dover, one of the UK's most famous porn stars (also known as Lindsay Honey) will join tonight's panel alongside Denise Robertson.

Key highlights and quotes from tonight's show include:

· Austin and Janice are sat in the garden trying to clear the air. Janice apologises to Austin, "I just want you to know that I was out of line, I apologise about the names I called, and about pantomiming a spit". Austin accepts the apology from Janice.
· Big Brother announces to the Housemates that for the first time they will be nominating.
· Scoop prays for protection against nomination in the bathroom.
· Janice is alone in the bedroom whilst the rest of the Housemates are eating in the kitchen. The housemates begin to question her whereabouts "she's packing" replies Daniel.
· Nominations take place in the diary room.
· Janice reminisces on her acting days with Daniel and Chloe. Lighting her cigarette she tells the two Housemates how she was up for the film Pretty Women but said "it was just impossible for me to remember the lines.
· Chloe gets something off her chest with Janice in the garden. She speaks about Daniel's 'packing' comment at the table when she asked 'where is Janice?'. Janice quizzes Chloe about who laughed, Janice is irritated and tells Chloe that "it's just strategy."
· Chloe and Stevi are trying to discuss their nominations in private, when they are interrupted by Natasha and Farrah.
· Daniel and Janice are in the bedroom talking about the comment made in the kitchen. Janice tells Daniel "I didn't think it was funny at all.. There is no humour in it, it's just mean spirted." Daniel tries to explain that it was a joke but Janice doesn't accept that.
· Chloe Jasmine has a heart to heart with Austin and tells him that she doesn't "feel good enough to be here."
· For this week's task the British celebrities are playing the part of the Royal Family, they have dressed up as different members and are welcomed into the living room as their roles. The USA housemates will be working as the Royal Families staff.
Paul Burrell enters the house to help take charge of the USA housemates. Janice bows at his entrance. Farrah does not shake Paul's hand.
· Paul announces the American Housemates' staff roles.
· The palace staff begin to serve the Royal Family and start to get irritated with Janice's lack of participation. Farrah doesn't take straight away to Paul and Jenna feels like the Americans are getting punished.
· Chloe and Stevi have a serious chat, Stevi questions Chloe "I don't know whether you're keen next year or this year to get married.. I don't know if you really want to." Chloe wonders whether Stevi is unsure about her, she talks about being intimate on TV, "I just can't have the shame of doing that on TV."
· As the Royal British Housemates retire to bed, Paul is in the Diary Room. He thinks he may have a problem with Farrah but he hit it off straight away with Janice.
· Paul directs the USA Housemates to clean up the kitchen. However Janice refuses "I'm spent… and I'm on medication". Farrah is annoyed at Janice trying to get out of the task, "with all due respect you are not going to disrespect anymore." Janice ignores all the other Housemates frustration and goes to bed.