Megan McKenna has become the fourth housemate to be evicted from Celebrity Big Brother 17, receiving the fewest votes for the eviction on Day 18 (22nd January 2016).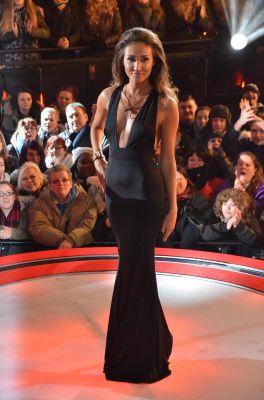 More pictures from Day 18 and Megan's eviction HERE

Earlier this week housemates nominated face to face, and the public has been voting to save Gemma, Stephanie, John, Tiffany, Megan, Danniella or Jeremy. During tonight's Channel 5 programme, Emma Willis announced live to the house that the fourth person to leave would be Megan.

Following the announcement, Megan had 30 seconds to say her goodbyes and left the house to a crowd of cheers, and was then was greeted by Emma.

Megan Interview With Emma Willis.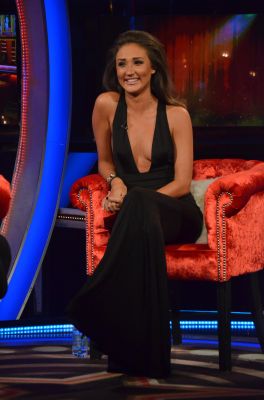 Emma asked Megan how she's feeling: "It's all good. Coming on here was winning for me! I came in with boos and come out with cheers!"

Emma asked Megan why she thought that the public didn't pick up the phone and vote for her: "I don't have a massive following. It means a lot that people did vote for me."

Megan's thoughts on watching her rant on the show: "The reason why I went so mad that night is because no one would let me talk. I'm sorry for hitting the camera."

Speaking about John: "We now have a sing song; he's opening up. He did try to stir a lot of stuff in there. I don't think before I speak! That's how I felt." She goes onto say that she really likes Gemma.

Megan spoke about Scotty T: "I hope he wins, he deserves it! We're both single and have said we'll go out for dinner when he gets out. I do really like him. You never know."

Megan's thought on the Jeremy and Stephanie situation: "Steph is a very touchy feely girl. I know that she loves her boyfriend; I've always stood up for her. I've stepped back and let them get on with it."

Also tonight, Emma revealed to the house that there will be no nominations this week. Instead, all housemates will be up for eviction on Tuesday. However, this weekend housemates will be given the chance to save themselves and win immunity.

Gemma receives immunity from eviction.

As part of the live task shown on the live show after Megan's eviction, the remaining housemates were told they would all be fighting for immunity from the next public eviction all weekend.

They will be set tasks over the weekend to determine who is immune and who will be nominated for eviction.

In the live task tonight the housemates had to choose a music box and then wind it up. If a gold mask popped up, then they would be immune. Gemma won the immunity from the next eviction and also won a party thrown by Big Brother, but Emma Willis warned to viewers that "difficult decisions will lie ahead" for her.

Celebrity Big Brother returns tomorrow at 10.30pm on Channel 5. Emma will be back on Tuesday at 9pm for the next eviction.