Celebrity Big Brother #CBB Daily Update: Day 18

Shown: Tonight, Saturday 23rd January 2016, at 10:30pm on Channel 5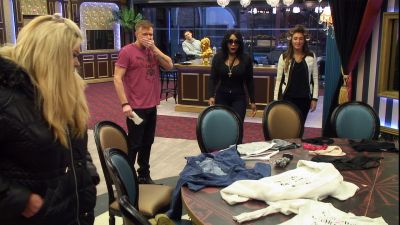 More pictures from day 18 in CBB 17 HERE

On tonight's show:
Gemma and Danniella storm out of the house after arguing with Stephanie,
Megan is evicted,
Gemma wins immunity from eviction next week.

Key highlights and quotes from tonight's show:

· It's eviction day. Tonight Danniella, Gemma, Jeremy, John, Megan,
Stephanie or Tiffany will be evicted from the Celebrity Big Brother house.

· Gemma and Tiffany are gossiping in the toilet. Gemma tells her, "I could be here until the end, I know I could. But with the negativity in here, it just makes it very difficult." Tiffany offers to "step up" if Gemma needs her to.

· Christopher is talking to Danniella about tensions with Stephanie. He asks if they can sort out their differences, but she says "no, I don't wanna. She just keeps taking liberties left right and centre."

· Stephanie is talking to Big Brother about the atmosphere in the house. "It's just not a nice feeling in the house because Gemma and Danniella are just like sticking together, trying to get a posse around them. Because she's pissed me off that much, I want to stay in longer than Gemma Collins."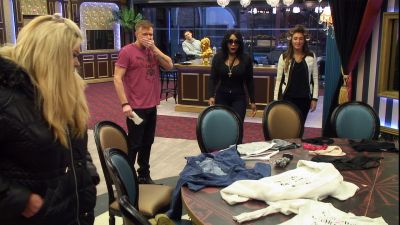 · John, Darren and Christopher find a pile of dirty laundry. They discover what they describe as "pigeon sh*t" in a pair of knickers.

· Danniella is talking about tonight's eviction and tells Gemma, "get me the ***** out of here!" Referring to Stephanie, Gemma replies "or get her out of here."

· Danniella thinks that the knickers belong to Stephanie, "I don't leave my sh*t about." Gemma says "Jeremy will probably wash them for her."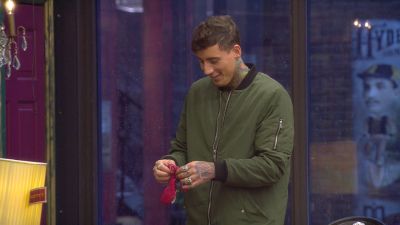 · Most of the housemates are in the kitchen. Stephanie tells them, "can I just say something? Anyone who is asking about the red knickers, yeah they're mine." Jeremy tells Stephanie that she doesn't need to explain herself.

· Danniella confronts Stephanie about her apparently making remarks about her breath smelling due to an abscess and says "everything comes back around." Stephanie denies it, "you're being too paranoid about so many things." Jeremy tells Stephanie to leave it.

· Danniella is upset by Stephanie's comments about her being a bully. She tells Big Brother, "I ain't getting into an argument with her, because she wants me to argue with her so people forget that she's getting into bed with somebody else every night."

· Darren and Christopher join Stephanie and Jeremy in the garden. She tells them, "I wouldn't do that to embarrass someone. I don't think some people are very nice people in here. I really can't wait to just go home to my mum and dad and just have nice people around us."

· Danniella is packing her bags to leave. Gemma says, "Dan let's just get our stuff and go."

· Christopher is trying to persuade Danniella to stay in the house. She tells him, "there's one nasty bit of work in this house and it certainly ain't her [Gemma] and it ain't me."

· Talking about Danniella wanting to leave, Christopher says "she's [Gemma] making it ten times f**cking worse."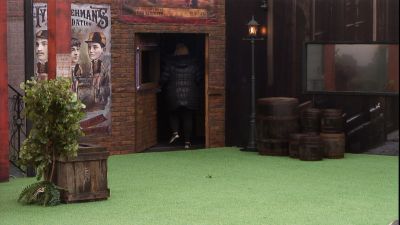 · Gemma and Danniella go through the fire exit in the garden.

· After talking to Big Brother, Danniella and Gemma decide to remain in the house. Gemma explains to the other housemates why they left, "things have been said the last couple of days, which you might not be aware of, that are hurtful to her [Danniella] and hurtful to me. We're not made of steel; we're not made of rock. It's hurtful." Talking about Stephanie, Danniella adds, "I'd be happy not to breathe the same air as her again in my life."

· Megan is feeling nervous ahead of tonight's eviction. She kisses Scotty T.

· Tiffany is in the garden talking to Stephanie about events earlier today, "I'm really disgusted about what happened to you. I'm sitting here, I'm keeping my peace, but I really wanna talk about it because I just don't think that sh*t is right. You might not wanna know, but I want to know who put your underwear up there. The person who did that needs to be singled out."

Tiffany then asks Stephanie who she thinks did it and Stephanie replies John. Tiffany agrees and it "bothers" her. "Let the big bad wolf handle it from here" she tells Stephanie.

· Housemates are gathered on the sofas for tonight's eviction. Emma Willis reveals that Megan is the fourth housemate to be evicted. Tiffany says that "she didn't deserve to go yet."

· Housemates are gathered in Big Brother's Forgotten Theatre for the start of Immunity Weekend. They have been informed that they all currently face eviction next week and must play for their chance to gain immunity. Housemates stand behind a music box of their choice. When instructed to do so by Big Brother, housemates start turning the handles on their music boxes.

One by one the content of each box is revealed. If a box contains a white mask, it means the housemate is out of the game and has not won immunity tonight. If the box contains a gold mask, the housemate has won immunity.

· It's revealed that Gemma has the gold mask in her music box and is therefore immune from eviction. Big Brother announces that all other housemates will face eviction, unless they save themselves in the Forgotten Theatre this weekend. In addition to immunity, Gemma has also won a party tonight in her honour.

· Tiffany tells John that she thinks he's a game player, "I think that puppet master task has gone to your head. You put this house in turmoil when you want it; you put this house on a happy note when you want it." He replies, "I don't need to walk out of here a winner, I've already won." She also tells him that Stephanie thinks he's the one that put her underwear on the table, which he denies.