Celebrity Big Brother #CBB Daily Update: Day 29

Shown: Tonight, Wednesday 3rd February 9pm on Channel 5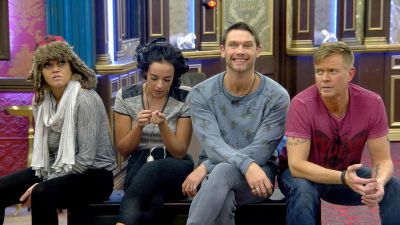 More pictures from Day 29 HERE

On tonight's show: Gemma is evicted and the 2016 Celebrity Big Brother award ceremony

Also, on tonight's Celebrity Big Brother's Bit On The Side at 11pm on Channel 5, guests include: Russell Grant, Georgia Kosoulou and Josie Gibson, plus Pam Spurr and journalist James Ingham

Key highlights and quotes from tonight's show:

· It's eviction day in the house.

· In the bedroom, Stephanie asks if John is p*ssed off with, he says he's not, "I want you to be OK that's all, and sometimes I worry about you." She reveals she doesn't want to wind him up. The pair hugs.

· For today's task, housemates must go head to head. Its reality stars Vs non-reality stars to play Am I On Par With A Reality Star?

· John, Darren, Stephanie and Danniella take on reality stars Gemma, Scotty T and Tiffany. The teams are asked a series of questions relating to the house, geography and general knowledge, and will also compete in spelling.

· After battling head to head, the winners are Team Reality.

· In the bedroom, Gemma suggests to Darren that he should do a calendar, "You're a heartthrob!"

· In the garden, Danniella and Stephanie are laughing about the possibility of Stephanie being single when she leaves Big Brother, "Tinder and Plenty of Fish here I come! Cheers to single life!"

· Housemates are getting ready for the eviction. Gemma tells Tiffany, "Make me looking amazing as it's my night tonight!"

· Emma announces to the house that Gemma is the seventh housemate to be evicted.

· Stephanie comments that she is surprised to hear the crowd cheering for her; John and Scotty T advise her to now stop talking about Jeremy and embrace the moment.

· Big Brother congratulates the last six housemates and confirms that they have made it to the final.

· In the garden, Tiffany asks Stephanie was it an automatic attraction with her and Jeremy, she replies, "I thought 'O sh*t I'm in trouble! This is going to be hard!' It was instant." Tiffany reassures her that it is 'a love story', and that Jeremy will not have had a change of heart.

· In the diary room, Danniella is talking to Big Brother about how happy she is to be a finalist, "I can't believe it! I can't believe Gemma went before me; she's in TOWIE which is the biggest thing ever. My kids will be so proud of me, I'm so happy. Some people have got behind me and voted for me, and it really means a lot to me!"

· She continues, "I can't remember the last time I felt happy like this, probably when I had me kids. My life has turned around. Big Brother for me has given me a whole new lease of life; it's just changed me as a person. No one is going to pull me down no more. I'm just me. I'm proud to be Danniella Westbrook."

· Housemates are gathered on the sofas for the 2016 Celebrity Big Brother awards. For each award category, housemates must watch a series of clips from the house and then decide which of the nominees is the most deserving winner.

· Clips are played into the house to remind the housemates of some of the arguments and disagreements that have taken place.

· The first category is: Most Easily Offended Housemate. Danniella wins this award for her reaction to finding Jeremy's shoe under her pillow.

· Stephanie is awarded The Biggest Quitter title. She comments, "I'm not really the biggest quitter as I'm still here!"

· The Bitchiest Housemate award is won by Danniella, "Thank you b*tches! Double award winner here!" The awards ceremony is now over.

· In the bedroom toilet, Tiffany tells Stephanie that she isn't happy after hearing some of Darren's comments from the clips that were shown during the awards ceremony.

· In the garden, Darren believes Tiffany is not happy with him.

· Tiffany yells out to Darren, "If anyone has something to say to me, say it to me! I thought we was cool, maybe I did let you in on some emotions that I shouldn't have told you about. When I told you I was horny, I wasn't trying to be inappropriate with you Darren, you could have said 'Tiff you know what, I don't want to hear about that'." Darren replies, "You know what, I should have said that."

· In the bedroom, Darren tries to clear the air with Tiffany, "You are absolutely right, I don't want to upset you or anyone. I felt it was a little bit inappropriate to tell me you're horny as there's nothing I can do about it." She says that he should have told her that he didn't want to hear it, he agrees and apologises.

· Tiffany concludes, "You is an attractive man, maybe when I said that I was being a little bit mischievous and scandalous when I did that. You are hot! But I didn't mean no disrespect." Darren replies, "I am genuinely flattered that you think that." The pair shakes hands.

· Stephanie announces that she is going to bed as she's in 'a *****ed off mood' as there isn't any more alcohol. Scotty T jokes, "The struggle is real!" John, Danniella and Darren laugh at Stephanie from the kitchen.

· Darren is talking to Big Brother, "For most part the awards was good fun. I don't think Tiffany was very happy about it. Steph is not happy. The fact is some people in the house act dramatically at things anyway. I don't know what's genuine and what isn't. I only have to put up with it for a few more days."

· After watching some of the clips in the award ceremony, Stephanie tells Tiffany that she feels Danniella is not her friend. Stephanie comments, "At least I know I've got to the final for being real!" Tiffany agrees, and they tell each other that they have each other's backs.