Celebrity Big Brother #CBB Daily Update: Day 30

Was shown: Thursday 4th February 9pm on Channel 5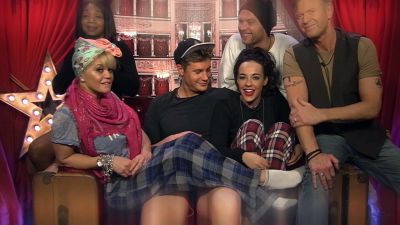 More pictures from day 30 HERE

On tonight's show: Scotty T and Stephanie's secret mission and a press conference task hosted by Vanessa Feltz featuring Luisa Zissman and ex-housemate Megan McKenna

On tonight's Celebrity Big Brother's Bit On The Side – Live from the House at 8pm on Channel 5, guests include: Vanessa Feltz, Joe Swash, Vicky Pattison

Also, on tonight's second helping of Celebrity Big Brother's Bit On The Side at 11pm on Channel 5, guests include: Ricky Norwood, Vicky Pattison, Matt Evers and ex-housemate Gemma Collins

Key highlights and quotes from tonight's show:

· The remaining housemates are waking up as the six Celebrity Big Brother finalists.

· Big Brother calls Scotty T and Stephanie into the diary room for their attention seeker secret mission. They are going head to head to get the most attention.

· Stephanie kicks off her mission by leaving a pair of her knickers in the garden, she yells that she is starting to get 'p*ssed off' as everyone has something to say about her knickers. She continues her secret attention seeker mission by throwing milk across the kitchen. John is shocked to witness this.

· Scotty T decides to jump in the pool whilst Stephanie is pretending to be angry in the garden. Housemates aren't happy with Stephanie's behaviour.

· In the diary room, Stephanie tells Big Brother that she won't be beaten, "That felt good! I did the whole milk as they will be p*ssed off that there will be no milk. I also used the knicker situation!"

· In the bedroom, Scotty T puts on a pair of Stephanie's knickers, and starts parading around the garden. Some of the housemates laugh.

· Stephanie continues her secret task by getting upset and pretending that she has just received a warning from Big Brother.

· In the garden, Scotty T tells Stephanie what she did for the secret task was class; she comments that the housemates are fuming.

· In the bedroom, an annoyed John tells Tiffany that 'he is done and checked out' and is not impressed with Stephanie's behaviour.

· Tiffany confirms to Stephanie that John is 'p*ssed' off with her behaviour.

· In the diary room, an unhappy John tells Big Brother that he doesn't want to take part in anything in the house today, "I am done. Count me out. I'm over it."

· Big Brother gathers all the housemates in the living area to reveal Scotty T and Stephanie's secret task. John refuses to join in and stays in the bedroom.

· Stephanie apologies for her behaviour during her secret task, "I knew it would create the best scene!" Her housemates decide that Stephanie won the task, and the housemates are treated to a burger and a pint.

· In the bedroom, John tells Tiffany that he doesn't care it was a task, "You don't see me laughing, I don't think it's funny."

· In the kitchen, Darren is talking about Stephanie, "What an actress she is! She is a force to be reckoned with. She totally had me!"

· Following her secret task, Stephanie asks John if they can forget about things and have a fun few last days. He tells her he's 'good' and that she did what she had to do. He promises her they will not fall out.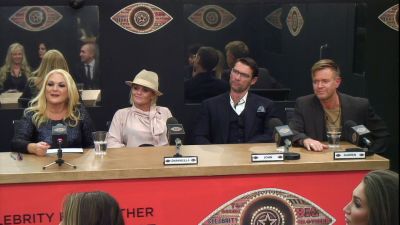 · Big Brother reveals to the house that housemates will now take part in a press conference task hosted by Vanessa Feltz in the task room.

· Also present are ex-housemate Megan and Luisa Zissman, alongside members of the press and Big Brother viewers.

· John is asked if he thought he did the right thing by nominating Darren, "In retrospect I still think I did the right thing. I was thinking about Darren." Luisa says it was a 'nasty' thing to do.

· Luisa tells Danniella that she sometimes comes across as two-faced and as a nasty woman, Danniella replies, "That's who I am darling, take it or leave it. Is that good enough for you?"

· A viewer asks Darren if he thinks he's boring, "I probably am a bit. I was once labelled the most hated man in Britain. I come in here to try and change the public and media's perception of me." Luisa asks if he has a game play, he denies he has.

· Megan asks Scotty T if it was just a showmance between them, he replies, "It wasn't fake at all. Our connection was real and I'll find out what happens when I get out." Scotty T and Tiffany confirm nothing is going on between them, it's just flirting.

· Tiffany says that she hopes the public continue to vote for her. A viewer comments that she's 'a cougar 20 years too early', Tiffany thanks her for a compliment.

· Stephanie is asked by Luisa if she feels that the other housemates are hypocrites as they say nasty things about her, even when their reputations are definitely not 'whiter than white'. She answers, "Yeah. This is why I actually flipped. As long as I stay true to myself, it doesn't matter about other opinions."

· Stephanie confirms that her relationship with her boyfriend Sam had turned toxic and she had already 'lost the love'. Audience members tell Stephanie that Sam has been 'cashing in on her' and Megan confirms she has done a club PA with him. She replies, "Lap up the money! Have a good time! I have found someone now who genuinely cares about my heart."

· The press conference comes to an end. Stephanie asks Megan what Sam said to her, Megan reveals to Stephanie that 'he wants to talk to her' when she gets out. "Well he could never take me to dinner so perhaps he can now take a girl to dinner!"

· Megan tells Tiffany to keep her lips off Scotty T, and confirms to Stephanie that Jeremy is waiting for her.

· In the garden, Scotty T is talking to Darren about Stephanie, "She told us that she wanted to marry Sam, that is the reason why everyone got involved, and then she got into bed with Jez."

· In the kitchen, Danniella tells Stephanie, "You've grown up in front of the nation. You come in a girl and you're going out a woman!" She agrees and smiles.

· In the bedroom, Darren reveals to John that he used to have bottles of alcohol hidden around his house, "I've tried to be sociable in here." John reassures him, "Like a play or a show, we are all cast as characters. You came in here to show people you are not the person they thought you were, and ultimately you've shown that. Not the person you were before, your objective was not to be known as a boozed, drug taking, love rat. You've been shown to be so far from that! You've smashed your objective!"

· John is in the diary room, "Today was too much for me. That was the task that broke my back!"

· In the kitchen, Scotty T goes to talk to Tiffany. She reveals that she thinks he will now treat her different, he disagrees. Scotty T says it was a shock seeing Megan again.