Daily Update: Day 11
Shown: Tonight, Saturday 14th January 10.30pm on Channel 5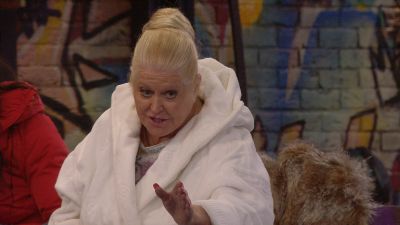 More CBB 19 day 11 pictures in the gallery HERE

On tonight's show: Angie & Austin's evictions are shown, The Weekend from Hell begins and three new housemates enter the CBB house

Key highlights and quotes from tonight's show:

• It is CBB's first eviction day

• Some of the housemates are talking about how Jasmine behaved last night. Jamie comments; "I've got a thing for girls like that! She reminds me a lot of my ex…not in looks wise but the way she acts."

• Jasmine is in the diary room talking to Big Brother; "I'm better because I got it out of my system. I'm sorry that I was such a brat last night...I'm still wary of you…"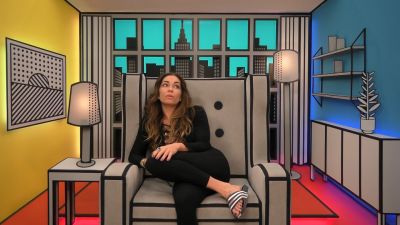 • In the smoking area, Coleen tells Nicola; "I think Austin should go tonight for his own good." He then joins them and Coleen says; "Shall I be honest as I've just said it…I would pick you to go home as I love you…for what you're going through in your life right now you don't need this."

• Spencer advises Calum that if he were to get a six pack, he may have more business opportunities

• Jamie is in the diary room talking to Big Brother; "Bianca is really nice, beautiful and competitive, I like that in a woman. I like her. I'm holding back…she's such a nice girl and down to earth. I really like that…I don't know how she feels about me…"

• In the bedroom, Jamie and Calum watch Jasmine work out

• In the bedroom, Stacy and Jasmine have a misunderstanding over peanut butter. Stacy leaves the room; "Such a b*tch!"

• Stacy is telling Bianca her version of events surrounding her argument with Jasmine

• On the sofas, Jamie and Bianca agree that they 'act different in the house then what they would act on the outside' and they have to 'hold back'. Bianca says; "I've had to hold back…I've got a business to run, normally I wouldn't go to bed first…Years ago I had a party girl image!"

• Jasmine is telling Bianca her version of events surrounding her argument with Stacy; "She snapped at me for ******ing nothing!"

• Angie is the first housemate to be evicted – seen live last night

• The Weekend from Hell begins. In the live show, housemates were sent to Hell and met three new housemates: Chloe, Kim and Jessica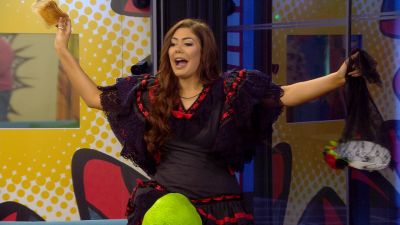 • After being voted the dullest housemate, Austin suffered a shock eviction – seen live last night

• The three new housemates are getting to know everyone. Spencer tells Kim; "Thank you for being such great energy! You've just shifted the house." She replies; "Are you going to be nice?"

• Chloe tells Bianca; "You're very pretty aren't you?"

• Jessica is talking to Calum; "I've been nervous all day!" Calum tells her it's been a 'hard-core experience, I'm a bit more free now she's (Angie) gone'

• After a flash vote by the public in the live show, Big Brother revealed that Coleen, James J, Speidi, Jasmine, Stacy and Jedward are all down to spend the weekend in Hell. Over the weekend they will fight it out to return to the main house.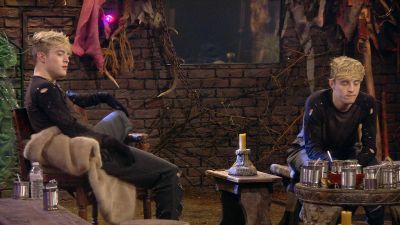 • One of the 3 housemates left in hell will be evicted on Sunday (to be revealed in Monday's highlights show)

• In the main house, Chloe nicknames James C 'Santa'

• In Hell, Jasmine and Coleen believe 'Bianca has had the easiest ride'

• Calum reveals to Jamie; "There's a real relief in me (now that his mum has left)…I'm born again!" They agree to stick together

• Chloe tells Calum; "You're a very handsome boy! When I first saw you I thought 'fit'. You do not look your age!" He replies; "And you're a very pretty girl!" Chloe tells Kim that she doesn't want a boyfriend and 'likes older guys'

• At the dining table, Chloe throws a piece of food at Calum. He asks her not to throw food at his clothes; "There's a respect level that we all keep in here. It's all good, everything's cool."

• Coleen is upset in the Hell diary room; "I'm just confused…for some reason I'm obviously coming across horrible and I don't know why, and don't know what to do about it. It's the public's perception that I'm scared of and I just don't get it…I'm in hell with Jedward! I won't quit, I'm not going to walk."

• Some of the housemates are in the garden. Chloe jumps in the hot tub. Kim tells her; "Excuse me. Will you listen to me? You just soaked me, can you think before you do these things?" Chloe replies; "Sorry I didn't mean it". Jessica adds; "She's just having fun Kim, just leave her!" Kim replies; "Don't interfere; it has nothing to do with you!"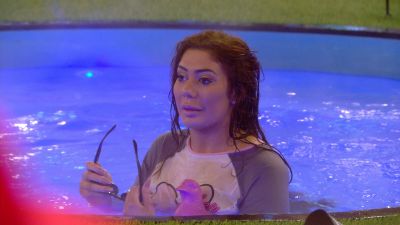 • Kim speaks to Chloe; "You've made quite an impact this evening!" Jessica adds; "You're being out of order, she's not doing anything wrong. You've told her!" Chloe apologies to Kim again. Kim adds; "It's consideration. There are other people in this house." Nicola yells; "Enough!"

• Kim and Jessica continue to argue, Kim states; "We're going to have a right time with your two aren't we?"



• Housemates from Hell have been given five minutes to return to the house in order to collect their essentials. They enter the house and start eating and taking food, making a mess in the kitchen

• In the garden, Kim and Jessica continue to bicker. Kim tells Jessica; "You have verbal diarrhoea and you don't know when to stop." Jessica replies; "I think you're rude arrogant and mean." The pair both say they don't like each other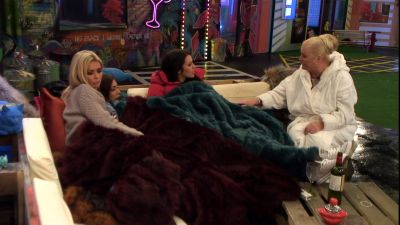 • Big Brother tells the Hell housemates that they are not permitted to take food. Whilst eating chocolate, James J is called to the diary room by Big Brother. He's told that he and his fellow Hell housemates have to return all the food to the main house. They return the food and leave the kitchen in a mess

• In Hell, Spencer believes; "My core team is here…they are my competitors (main house), it's us versus them."

• Some of the housemates discover the messy kitchen, Kim is shocked by the mess

• Most of the housemates are asleep. Before getting into his bed that he shares with Calum, Jamie goes over to Bianca's bed to give her a hug