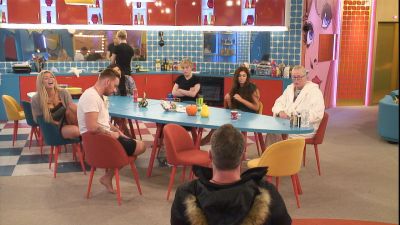 More CBB 19 day 12 pictures in the gallery HERE

Daily Update: Day 12
Shown: Tonight, Sunday 15th January 9pm on Channel 5

On tonight's show: Housemates face purgatory, James J hits a nerve with Jamie, and Kim and James J have an explosive war of words

Key highlights and quotes from tonight's show:

· Last night Angie was the first Housemate to be evicted in the public vote and Austin was also evicted after being named the dullest Housemate by his fellow Housemates.

· Three news additions, Chloe, Jessica and Kim entered the house but after a flash public vote, Stacy, Coleen, James J, Jedward, Speidi and Stacy were all sent to 'Hell,' where they will remain to fight for the place in the main house.

· In 'Hell,' Jasmine is still asleep, Jedward are trying to wake her by speaking over her and putting nuts on her pillow. Jasmine calls them annoying. Jedward remark, "Look in the mirror if you want to see what annoying is. "You're messing with the wrong person," Spencer warns Jedward.

· Chloe and Jessica are in the bathroom discussing last night's argument with Kim. Jessica says that Kim was tired, "She just went over the top."

· Chloe and Jessica are doing their make-up in the bedroom. Calum walks by and playfully squeezes Jessica's shoulder. "Do you do massages?" she asks and Calum obliges.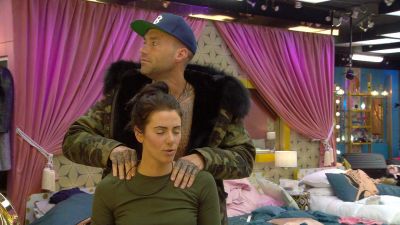 · Some of the Housemates are getting ready to go into the hot tub. Jessica tries to touch Jamie's torso. As he walks off Chloe shouts, "Show us your chopper, the bell-end, one testicle." Jamie replies, "You'll see it, soon enough."

· Calum, Chloe, Jamie and Jessica are in the hot-tub. Chloe asks if any of the boys have had a "wank" in the house and they both say no. Calum says that the first time he was in the Big Brother house he always had "morning wood." He laughs that this time around this isn't the case. "You're getting old now aren't you Calum?" Jessica ribs.

· In 'Hell' Jasmine returns from a chat with Big Brother and sees her toothbrush on her pillow. She tells Jedward, "You put your ******ing little hands into everything." Jedward try to explain that the toothbrush had fallen down and Edward adds: "Stop stereotyping me and John, you don't even know us, no one knows you so whatever."

· James C, Kim and Nicola talking about Chloe. Kim says that she doesn't "dislike" Chloe but finds her "a vulgar, nasty little girl." Nicola says that Chloe finds it okay to act that way because that is how she behaves on Geordie Shore.

· Earlier in the 'Land of the Living' Housemates selected two words to describe each of the Housemates in 'Hell.' In 'Hell' the Housemates must guess a personality trait that was assigned to them. Whoever guesses the most will be saved and return to the 'Land of the Living.' Jedward answered the most correctly and will therefore return to the main house.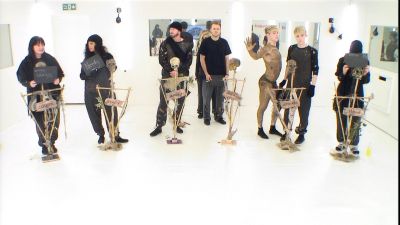 · Housemates have been gathered on the sofa to watch in the Jedward announce via the Diary Room, who they want to sacrifice from the 'Land of the Living,' casting them into the 'Depths of Hell.' After a short discussion Jedward pick James C, "I think he doesn't 100 per cent get us," they add.

· Jedward return to the house and tell some of the Housemates about 'Hell.' They say that it was James J and Spencer who trashed the main house last night adding: "They give themselves too much props for their banter, they've been talking about the logistics of the show." Calum looks surprised.

· James C gets a lovely welcome in 'Hell.' Coleen hugs him saying: "They've sent you in here for me." He tells them that Chloe is "completely nuts, gross" and mentions that the Housemates were not pleased that 'Hell' Housemates had trashed the place.

· James J, Jasmine and Stacy have been chosen by their fellow Housemate to take part in the second part today's task. The Grim Reaper has chained and padlocked them to the wall. The first one to locate the correct keys from a large key ring and then unlock themselves, will return to the house. James J is the first to do so and will therefore return to the House.

· Housemates are gathered on the sofa watching James J decide who to send to 'Hell' and Calum shouts: "Oh, ******ing b*****ks." On the screen James J says that the 'Hell' house is already girl heavy so that leaves Jamie and Calum. "Purely because he was so happy when I was banished to hell, it's got to be Calum."

· James J returns to the house and receives a warm welcome from most of the Housemates. Calum and Jamie go out for a smoke and Nicola tells James J that when Jedward returned to the house they said that during the first 'Hell' task, James J referred to Jamie as "a washed up footballer."

· James J joins Calum, Chloe, Jamie and Jessica in the garden and tells them how the "washed up" reference came about. He mentioned he was laying it on thick as he thought they would be watching. Jamie is clearly annoyed and repeats, "Washed up footballer, really? Ok."

· In the house James J tells Nicola that he didn't come into the house to "make friends." Jamie is in earshot and tells James J that he won't be "mugged off" by him. Jamie says that he is fine with "banter" adding: "You said you ain't come in here to make friends, but if you come for my career, then we're gonna have problems."

· Jamie and James J are having a talk in the bedroom. James J apologises and hugs Jamie adding: "I'm gutted with myself, I don't know when to stop sometimes." James J says that he is worried what Calum must be thinking but Jamie adds that Jedward had "stirred" things adding: "They're nasty little s**ts."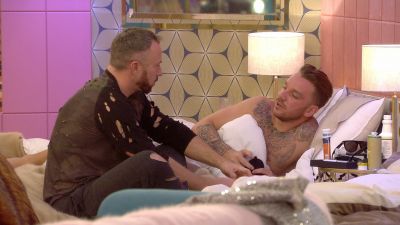 · Some of the Housemates are asleep. Jamie, James J and Nicola are talking about last night's events. James J mentioned that the trashing of the house would be worse if only one person was responsible. Nicola mentions that the boys said it was only James J who trashed the place. James J calls the boys out of bed and they try to explain themselves.

· Kim follows soon after and tells James J to leave the boys alone and speak in the morning. James J tells her to mind her own business and Jamie adds that Kim has only been in the house a short while so doesn't know how things have been. Kim snaps at James J unlike him she isn't trying to win the show "and by God are you trying." James J suggests that Kim "go and do some cleaning."

· Nicola says that Jedward don't mind being woken and Kim shouts, "You pacify everyone, butt out, take sides, be a woman!" James J suggests that Kim get on with some cleaning and she retorts: "Don't demean me cos I'm a cleaner, you fat slob!" Nicola takes James J and Jamie into the garden.

· Following the argument, Kim is explain to Jedward and other Housemates that James J tried to demean her because of her profession as a cleaner. She brings up his earlier comment about Jamie being a washed up footballer. "That's what James Jordan does." Kim is visibly upset.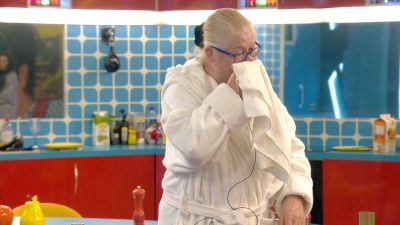 · In the garden Nicola, Jamie and James J laugh about the argument with Kim and Nicola says that Kim will head into the Jacuzzi if she comes outside to continue their argument. They all laugh as Nicola adds: "She looks like Miss Trunchbull from Matilda, she might swing me by my hair." James J is annoyed that Kim called him a 'fat slob': "What's wrong with me saying go do some washing up."

More Pictures.