Daily Update: Day 15
Shown: Tonight, Wednesday 18th January, 9pm on Channel 5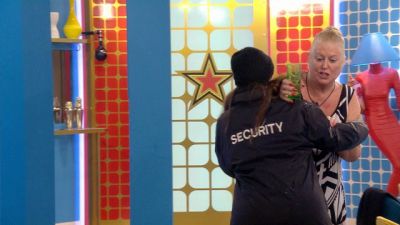 More day 15 pictures in the gallery HERE

On tonight's show: James J is the fourth person to be evicted, Jamie and Bianca get cosy, Nicola wants to go home and Kim and Jamie argue

On tonight's Big Brother's Bit On The Side with Rylan Clark-Neal, 11:05pm on Channel 5, guests include James Jordan, Philip Olivier and Chloe Sims. Plus Nicola Appleton and giving a holy touch to the proceedings the Rev Canon Ann Easter.

Key highlights and quotes from tonight's show:

· Some of the Housemates are in the kitchen. Chloe is lying on the sofa enjoying the sunshine. Spencer has the sliding door wide open. Kim closes the door and says that some of the Housemates are cold.



· Spencer opens the door and a tug of war begins with him and Kim. "I've got nowhere to go lovely," smiles Spencer. Eventually, Kim decides to give up "I realise I'm being childish."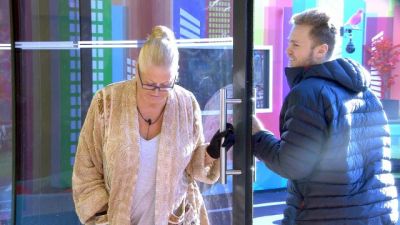 · Nicola is discussing her nomination from Kim yesterday with some of the Housemates. She thinks that Kim's tears were "contrived" and say that she will not be made to look like a "Mean Girl."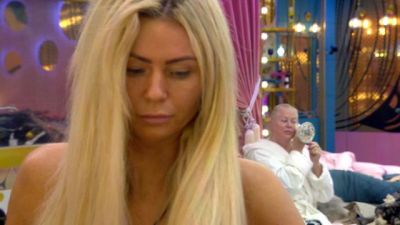 · Spencer tells some of the Housemates that if James C is saved in tonight's eviction he would see him as "a major threat, a silent killer."

· In the bedroom, Chloe asks Stacy and Bianca which male Housemate they think has the "biggest willy." The mention James and Chloe starts talking about "Santa." They both laugh and tell her they meant James J. Stacy adds that although James J is married he still has "that sexy thing going on."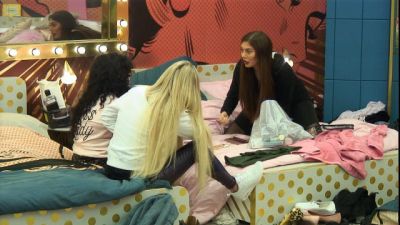 · Kim has come to the Diary Room to talk about Spencer, he complimented her earlier. Kim tells Big Brother she will not be "goaded" by him or "rise to the bait." She says she will not mix with "scum."

· Jamie is confiding in Nicola about Bianca and calls her "wifey" material.

· James J is tickling Coleen in the garden. "You grabbed my boob," Coleen laughs. "I didn't expect them to be down there," James J jokes.

· John is in the bathroom crouched down, looking in the cupboard. Chloe comes out of the shower and playfully rubs her bare bum on his back. John laughs: "I'm not attracted to you in that way."

· Nicola is in the garden playing cupid. She tells Bianca that Jamie likes her and asks if she likes him too. "I think he's wicked, it's just embarrassing, but nothing can happen in this house."

· Big Brother sets Chloe a 'Worldly Wise' task in order to win a deluxe dinner of Chicken nuggets and chips. Chloe must find out if you sneeze with your eyes open do they fall out, if dinosaurs were real and what came first the chick or the egg?




· During her task, Jamie tells Chloe that we all start from an embryo. Chloe comments: "You're dead clever, you'd never think it."

· Housemates are gathered on the sofa for the eviction and James J is announced as fourth evictee. James J leaves the Celebrity Big Brother house.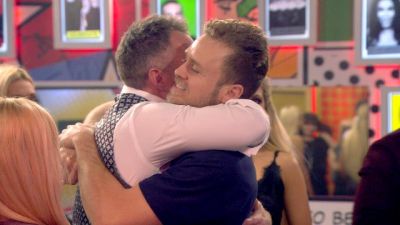 · Spencer and Heidi are visibly upset, "I didn't see that coming," Spencer says.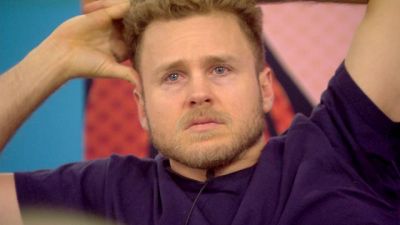 · It's been 20 minutes since James J left the house. Jedward celebrate in the bedroom and jump up and down on James J's bed. Some of the Housemates are watching from the sofa. "They might as well be stomping on his grave." Calum says.

· Jamie tells Bianca that she looks "unbelievable" tonight in her dress, "I thought it was a nightie." James C tells the Housemates he is fine when they ask how he is feeling. Jamie jokes, "******ing can't get rid of him can we." "******ing swerved that better than Ronaldo," laughs James C.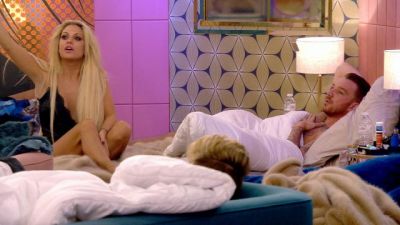 · Speidi are in the bedroom, upset at James J's departure. Heidi goes into the bathroom and is heard crying. Spencer is on his bed, also crying. Jedward tell him that although Speidi were close to James J, Speidi had the "best banter," of the two. "Everyone bounced off you, your fricking awesome." Spencer gives them thumbs up.

· Speidi join some of the Housemates in the garden. They tell them what Jedward were saying and about the boys jumping on James J's, "I was gonna snap" Spencer adds. "We're very happy to have you James, you're our biggest threat," Heidi tells James C. The Housemates in the garden all raise a toast to James J, "Most deserving All Star."

· Some of the Housemates are in the living area. Bianca is in the bedroom knocking on the window, trying to get Jamie's attention. Jamie heads into the bedroom and Bianca tells him "to the left." Jamie heads into the toilet and after a short while Bianca follows – as do kissing noises.



· Stacy heads into the bedroom. She looks in the toilet then quickly comes away. Jamie leaves the toilet and heads into the living area. Stacy tells Housemates "I gotta pee" and heads to the toilet. Bianca comes out and Stacy asks "Was it good?" while laughing. "What are you talking about?" Bianca asks.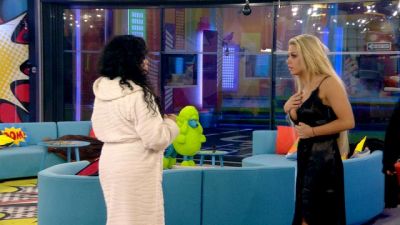 · Later in the bedroom, Stacy, Jessica and Chloe are talking about Kim's problem with Nicola. Stacy says that Kim's issues "seemed to come out of nowhere." Jessica tells her that people with issues on the outside, might take it out on other people. Stacy says that she has been through tough times but wouldn't put it on others. Jessica says that she has also been through hard times. They begin to argue about whose life has been tougher and Big Brother calls Stacy to the Diary Room. Jessica is crying in the toilet.

· Kim tells Nicola that she was threatened when Kim can into the house. Stacy tells Kim that things are "cool" so doesn't need to go over things. "You're making things worse," Chloe tells Kim. Kim continues to talk over Nicola.

· In the Diary Room Kim tells Big Brother that Nicola has a "hold" on the Housemates. "The mafia won't break me down," she warns.

· Some of the Housemates are getting ready for bed. Calum says goodnight to Kim and from her bed, Bianca tells him not to be a "kiss arse." Kim says it's been "delightful, all the ******ing people I'm living with here." Kim tells "those girls" her not to start, "I'll cross you so badly you'll regret it for the rest of your life."

· Nicola enters the bedroom and tells Kim not to "come" for Bianca. "Mother bunny," Kim quips. Kim adds that they won't get the better of her. "I don't' want to, I feel sorry for you."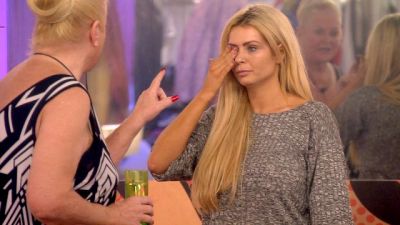 · Nicola goes into the Diary Room and tells Big Brother she would like to go home.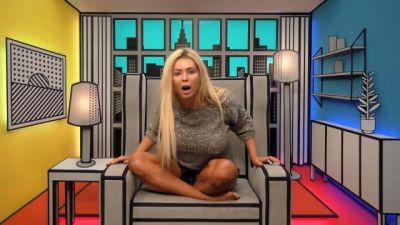 · Kim says that Nicola "a horrible girl" who is leading the house. Jamie repeats: "How is she horrible, you're over dramatic."

· Kim continues to rage at the Housemates, "You're a two-faced bunch, chicken-livered s**ts." Jamie calls after Kim but she shuts him down, "You're another one you chicken-livered bugger."

· Jamie gets out of bed and follows Kim into the living area shouting: "Who the ****** are you talking to?" adding: "You're a disgrace, you are nasty, you are vile," as Spencer and Stacy try to calm him down.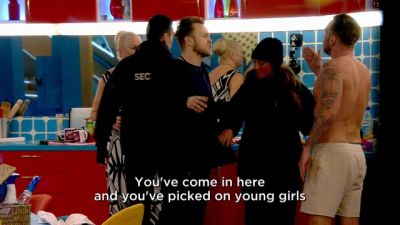 · Security enters the house and separates the group. Kim tells Housemates they are "a bunch of chinless wonders." Jamie tells Kim she is a "bully" who has come in the house and "picked on young girls." Jamie is taken into the bedroom. Security lead Kim towards the stairs as she shouts to Jamie: "You adulterer, that two-timed your wife and she's got three kids. These people, they put me through hell."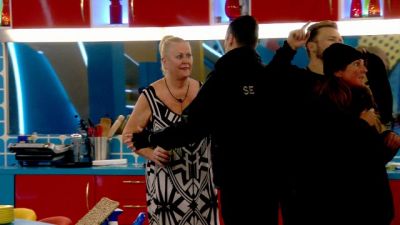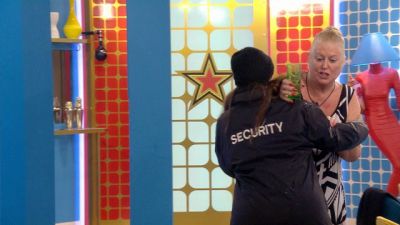 More Pictures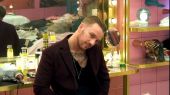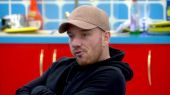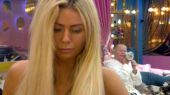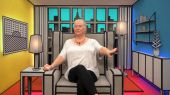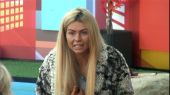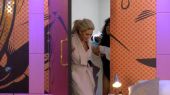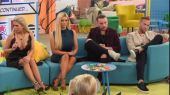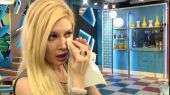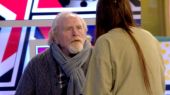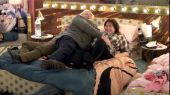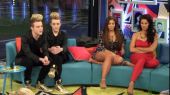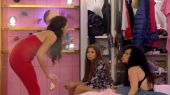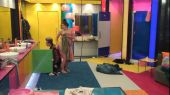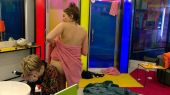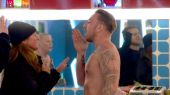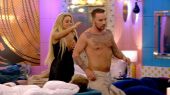 More pictures HERE