Daily Update: Day 19
Shown: Tonight, Sunday 22nd January 9pm on Channel 5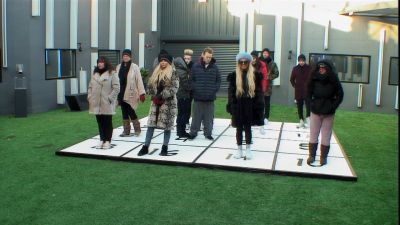 More day 19 pictures in the gallery HERE

On tonight's show: Spencer is done with Nicola, Calum argues with Jessica and Nicola feels let down by some of the Housemates

Key highlights and quotes from tonight's show:

· Last night Chloe was evicted; James C received eternal immunity and granted Heidi and Spencer eternal nomination.

· Following a row last night, Speidi are no longer talking to Nicola.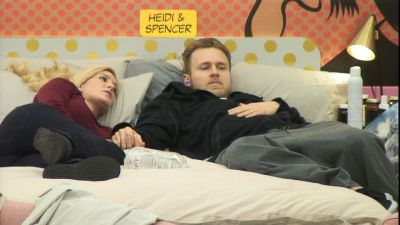 · Nicola tells Jamie: "The reality of it is, I've done nothing wrong."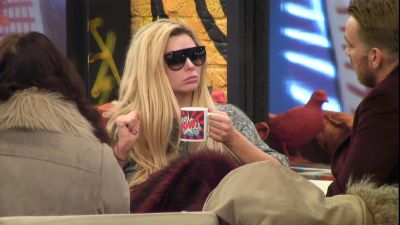 · Jamie and Calum are in the bath together talking about Speidi. Jamie thinks Spencer and Heidi are using Nicola "as a reason to target" people.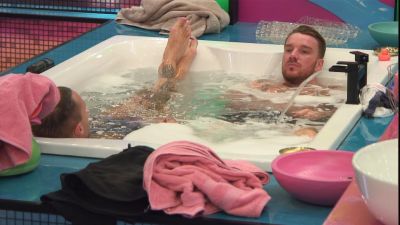 · Spencer tells Heidi that Nicola is "more dead than Kim to me."

· Speidi are whispering in bed: "Next nomination put up Nicola and Coleen, everyone needs to be up for nomination."

· Jamie joins Nicola, Coleen and James C in the garden. He tells them that he had a rude dream, "I was banging Nic'," he laughs, "I woke up like, wow!"

· Jamie and Bianca are having a heart-to-heart. He says that although she's an "amazing girl," the situation with his kids and ex-wife, makes him "hold back." "You wouldn't want to deal with my s**t," he adds. "I get it," Bianca replies.

· Today's task is Ball Pit Bingo. Each Housemate has been assigned a number on a giant bingo card. A pipe in the Garden sporadically shoots out bingo balls. Housemates don't know that once a Housemate's number is released they will go to a room of treats.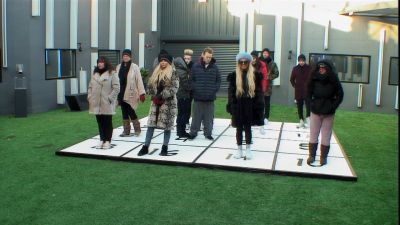 · Jedward's Ball is first, they enter the House and into the Bingo Ball Room featuring a giant ball pit full of balls, some of which have the Housemates' numbers on. Big Brother tells Jedward they will be showered with rewards throughout the afternoon and can select Housemates stood on the bingo card to join them.

· They are also informed that the rewards would only keep coming as long as people are still stood outside on the Bingo Board.

· Jedward first choose Speidi's number, "They need some fun in their lives."

· Jedward and Speidi then decide to release Jessica next, Spencer thinks she has "good energy."

· Jessica tells the Ball Pit Bingo Housemates that James C should be in next as it's cold outside. "He's the last one. This is his punishment for not doing the other task and leaving us with no hot water," Spencer tells them and instead picks Kim.

· Nicola is crying and tells Housemates that Speidi will pick her last. Stacy says that that Spencer and Heidi have been looking for a reason to go "Speidi."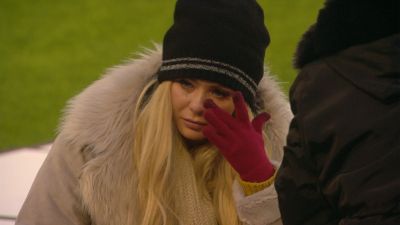 · James C and Coleen enter together, followed by Nicola, Stacy and Bianca. Last to be admitted are Calum and Jamie.

· Over the course of the afternoon Jedward and other invited Housemates were treated to a sushi banquet, a magician, puppies, a male stripper and a disco. As the final Housemates to enter the Ball Pit Bingo room, Bianca, Calum and Jamie did not enjoy the fun.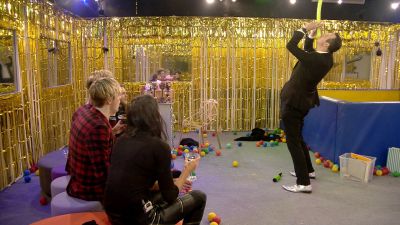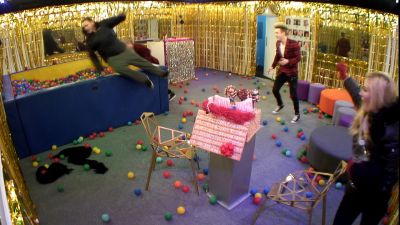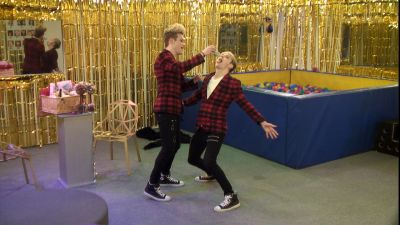 · Nicola has come to the bedroom to talk to Spencer and Heidi.

· Nicola says that Speidi are the last people she would want to "hurt or offend." Spencer says that Heidi can do "whatever," but tells Nicola he was "done" with her as soon as she held Coleen's picture up during nominations.

· "However you feel, I need to let you know I ******ed up," Nicola ends. Heidi says she "appreciates" Nicola coming to talk to them.

· Calum and Nicola are discussing her earlier conversation with Speidi. Calum was present at the time and tells Nicola he was there to support her and thinks that Heidi may bring Spencer to a more "mellow place."

· Nicola and Jessica are talking about the Speidi situation. Jessica tries to explain that emotions are high so "people don't see the reality."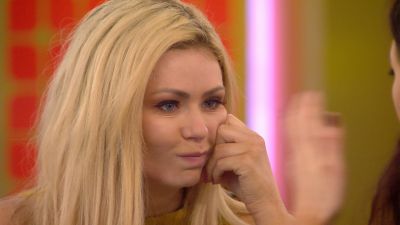 · Calum comes into the house and tries to lighten the mood. Nicola walks off and Calum tells Jessica that her "pep-talk" isn't doing Nicola any good as other Housemate have already tried.



· Calum tells Jessica it doesn't do any good explaining things when both she and Nicola are drunk. "Why bring up s**t that's already been dealt with," he adds.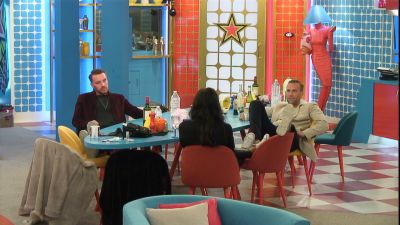 · Jamie tells Speidi that Nicola "******ing loves you," which is why the situation is has affected her so badly. "No one is coming for her," Heidi remarks.

· Jessica is telling Bianca about her earlier conversation with Nicola and subsequent run-in with Calum. Calum enters the room and the girls stop talking.

· Calum explains to Bianca that Jessica and Nicola were both drunk and therefore "not in the right headspace," to have that conversation. Jessica shakes her head while Calum is talking and he walks off mimicking her.

· Most of the Housemates are getting ready for bed. Jamie, Coleen and Nicola are in the living area. Jamie notices that Nicola is upset and tells her to talk to him. "I'm done," Nicola waves and heads to the smoking area. Jamie and Coleen follow. Coleen tells Jamie him that Nicola feels people have been "disloyal" by continuing to speak to Spencer and Heidi. Jamie says that is not the case and Nicola tells him: "Just so you know, I won't sit with people that make people feel how I've felt."