Daily Update: Day 28
Shown: Tonight, Tuesday 31st January 9pm on Channel 5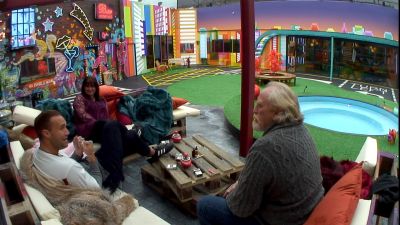 More pictures from day 28 in the gallery HERE

On tonight's Big Brother's Bit On The Side with Rylan Clark-Neal, 11:05pm on Channel 5, guests include ex-CBB Housemate Jamie O'Hara, MiC's Sam Thompson and singer Heather Small

On tonight's show: James C loses it with Jedward and Kim, Calum shares memories of his father and Bianca and Nicola pick an alternative career path for Kim – on the sex lines

Key highlights and quotes from tonight's show:

· Housemates are waking up after Jamie's shock eviction yesterday.

· Coleen joins James C and Calum in the garden with a cheery, "Morning my little chickens." James C deadpans, "****** off, did you not hear me, ****** off." "I've not heard you for a ******ing month," Coleen replies and they all laugh.

· Calum is in the Diary Room talking about his argument last night with Jedward. He says he will now just have "basic" conversations with them. Calum says that although Edward has rude comebacks, with John, "You see his throat going, his hands shaking and he starts raising his voice, he's the super defensive one that won't ******ing listen."

· For today's task, Big Brother calls Kim and James C separately to the Diary Room. They will both take part in a secret mission and are totally oblivious that they are on the same task. Big Brother instructs them to be as argumentative as possible and create unnecessary drama in the house.

· In the bedroom, James C hides his bar of chocolate in Jedward's locker; he then enters the living area and asks if anyone has seen it. The boys say they have only seen wrappers but James C booms, "Oh for ****** sake, after everything I do," and heads into the garden.



· "Boys did you do this?" Kim asks and Jedward deny it. James C comes out of the bedroom and says "Thanks boys" while throwing the half eaten chocolate bar down. He says the remains where in Jedward's locker. "If I had put it there I would have owned up to it," John protests.

· James C is sat opposite Kim mumbling about the chocolate and throws it on the table at Kim. "What the heck is that for, why are you throwing it at me?"

· Kim follows James C into the garden and shouts that she is "allergic" to chocolate so she wouldn't have taken it. "It can't have been anyone else Kim," James C deadpans.

· Most of the Housemates are in the living room laughing quietly. Kim starts on Jedward and says they are covering something up, "little twerps, you'd eat a scabby arsed rat if it took you!"

· A while later, Big Brother gathers Housemates on the sofa and reveals Kim and James C's secret mission. The house was successfully disrupted and therefore Kim and James C have won the task. They will be rewarded with a party full of James and Kim's favourite things.

· James C is in the Diary Room talking about the task. He laughs while telling Big Brother how funny it was "seeing this elderly lady, accused of being a thief of chocolate, swearing to me that she was allergic to chocolate." James C says it was great fun to hear the shouting going on after "throwing the cat amongst the pigeons, I have a very warped sense of humour."

· Calum is in the garden talking to Coleen and James C about his late father, George Best.

· Calum says they had some great times, including his first time at Manchester United and receiving a football signed by all the players, "Beckham, Giggs and all of that lot, plus some of the old-school legends."

· He said that later that night he was kicking the ball around in the street, "Not thinking about whose names were on the ball…wish I still had that ball."

· Coleen asks if George's liver transplant gave Calum hope. Calum says it did and recalls a time they were able to go on holiday together. He entered the kitchen and says that his father "closed the fridge door real quick…there was an open bottle of wine and he had swigged from it." Calum says that he felt that if being together wasn't good enough for his father that was the moment "I understood what it was to be alcohol dependent."

· Nicola and Bianca are discussing a career change for Kim. "You'd do really well on the sex line," suggests Nicola. "If television work doesn't come in after this I'll be on the bloody sex line," Kim retorts.

· Bianca says Kim would be "brilliant. Some men like that dominatrix type of sound." "Bend over, I'll whip your bum with a lettuce leaf," Kim practises.

· Big Brother calls Kim to the Diary Room, but before she leaves she recites: "Share me a man, to share my lot, know one knows what a lot I've got, be he poor or riches blessed, send him along I'll do the rest!"

· Nicola admits to her Housemates that if they are now seeing the real Kim, "I think she's probably the funniest person I've ever met."

· In the Diary Room, Kim tells Big Brother that she is happy that it's now up to the public to vote. She feels that so far, the nominations have been "very fake, very phoney." She adds: "All the people in the gang, shouldn't win because they stood together and obeyed Nicola…they've played a filthy game."

· As a reward for passing today's task, Kim and James C are having some of their favourite music played into the house. James C reclines as he listens to Pavarotti's version of Nessun Dorma.