Daily Update: Day 29
Shown: Tonight, Wednesday 1st February 9pm on Channel 5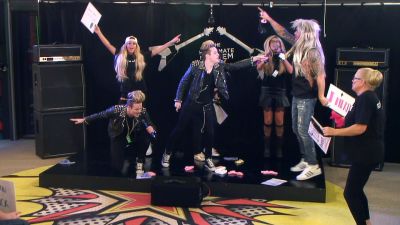 More pictures from day 29 in the gallery HERE

On tonight's show: As part of a task, housemates are split into a band and their roadies and also take part in the CBB awards, which causes arguments

On tonight's Big Brother's Bit On The Side with Rylan Clark-Neal at 23.05pm on Channel 5, guests include Luke Marsden, Vicky Pattison and evictee Calum Best

Key highlights and quotes from tonight's show:

• Housemates are waking up to rock 'n' roll music. For the task, Big Brother has split housemates into a rock band called The Housemate Mayhem

• Nicola and Jedward are the band and the rest of the housemate are their roadies. The roadies are not permitted to enter some of the areas of the house, this includes the smoking area, if they enter the out of bounds areas they will break the rules

• To pass the task, roadies must cater to Mayhem's every demand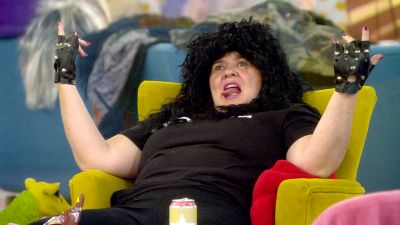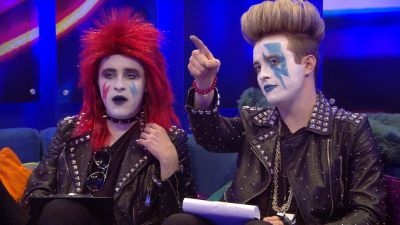 • Mayhem trash the snug and call for Kim to clean up their mess

• As part of the task, James C brings Mayhem a gift of lines of sugar on a plate. Nicola jokingly pretends to snort the sugar. Kim tells Jedward and takes the plate away; "Boys, this is going a step too far! This is not allowed. I'm sorry, behave yourself." Jedward say; "It's sugar!"

• Some of the roadies break the rules by entering the smoking area

• For the next part of the task, house band Mayhem must recruit a new member. Roadies audition in front of Mayhem in the snug

• Calum is first to audition and is asked what is the most rock 'n' roll thing he's done? He replies; "Sex on a private plane!"

• Calum sings and Jedward comment; "It was more Enrique!"

• Bianca is asked what is the craziest thing you've done? She replies; "Well the most stupidest thing I've done is glued my eyes together!"

• As part of her audition, Coleen twerks and shakes her breasts, which she confirms, are 'her best assets'. Coleens says her most rock and roll thing is; "I ******ing eat biscuits in bed!" Coleen impresses Mayhem with her audition

• Mayhem discuss who to recruit as their new member, after much discussion they choose Coleen

• Mayhem put on an energetic performance for their housemates

• Calum is evicted – shown live yesterday

• Big Brother gathers housemates on the sofas for the CBB awards. Housemates are shown clips surrounding each category, which they then vote who they think should win

• The award for best argument goes to Nicola. Kim states; "She could cause a row in an empty house!"

• Housemates start to argue over the award for the naughtiest housemate. After seeing a previous clip, Bianca is annoyed that Kim called Jamie an adulterer. Kim is called into the diary room to calm down; she says 'thank you'.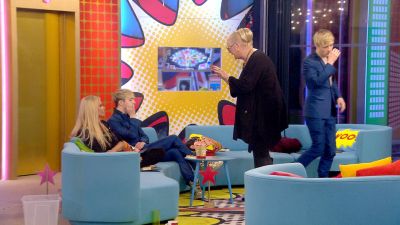 • Kim comments in the diary room; "I don't want trouble! Nicola thrives on it. I'm disgusted with James C; he ought to grow a set of balls. I won't have it! I didn't start it but I'll finish it!"

• The award for the biggest diva goes to Kim, she states; "I'm honest and speak my mind!'

• In the kitchen, John suggests to Kim to wave a white flag at the housemates, she declines; "I wouldn't wave the flag if it was the last thing in my life!"

• In the bedroom, John suggests to Nicola to wave a white flag, she says no

• In the bedroom, Coleen comments on Kim; "She's not right, I've never met people like that in my life." Nicola states; "But the public are voting for these people."