My life and thoughts!
It's you,just you
---
It seems too much Tetris always drives me to write a blog. Well it did yesterday and 40 minutes later,it all disappeared *grumbles loudly* So I really should be writing this in Word first and then copying and pasting but I'm not. I like these little boxes. Although it's kinda hard to tell how long the blog will be,very long usually in my case.
A whole section I wrote yesterday was about the Hold Up A Light video,like 4 paragraphs going into every last detail. But I'm so not bothered to do that again. So highlights :P Mark coming up centre stage,bend over,one hand on his mic and one in the air,in his sparkly all in one bodysuit,perfect :P. The boys coming outta the centre stage stair entrance. How and Jay getting us to jump up and down. The 4 of them,plus the cast walking down the runway and Jay and How sprint it down with their arms out,violins going,people screaming,it sums up the whole show. It's every Thatter's fav moment of the video. Nellie coming up while the guys jump up and down on the triangular parts of what was previously the B-Stage. Howard shouting COME ON and a shot of Mark with Nellie,the Wembley arch and the balloon behind him. Magical,I can't fricking wait for the DVD. First watch will be to remember it all,bawl my eyes out. And cos I was there both days they filmed,2nd watch will be to try and spot myself. Any excuse :P
Another lovely Take That suprise which I've had for nearly a week now are the GORGEOUS Take That books,I loveeeeeeeeee them. I'm gonna put my fav bits from them here,might be a bit longer,cos the books are 416 pages,the video was 4 minutes :P
Take 1
Mark-'We were never afraid of taking our clothes off' Too right Mark,that's the right attitude! Next to a pic of him in his pants-lovely jubbly!
Mark-'I like to think we've always had a great relationship with our audience' Next to a pic of Jay signing in the snow.
Oddly a pic of Mark and Rob where Rob's tongue is touching the tip of Mark's nose. Mark looks adorable! Gary says Rob leaving broke Mark's heart.
Lots of half naked pictues,yum yum
A picture of Rob,Mark and Jay all eating bananas. Mark 'God knows how the gay rumours started...' LMAO!
A picture of them playing pile-on and all 4 of them seprately happily say they still play it! Gary-'We still play pile-on now' Mark-'We still play it now' Jay-' We still do it now' Howard-'Pile-on is a Take That tradition that lives to this day' Brilliance!
Jason-'Its the happiness with the fans that gets you everytime' next to pics of Mark on stage and Jay being fanned by fans :P It's nice to know we all make each other happy!
Jason-'I used to carry around nuts and seeds and rye bread everywhere in Tupperware' Used to Jay?
Mark-'We were a very close and affectionate band at this time. There was a lot of hugging and kissing' I personally never used tongues. Next to pics of Jay mid-air during a back-flip and Jay and Rob with their tongues out,Rob's is very near Jay's face!
A pic of Rob having just tackled Mark to the ground on stage and Mark is grinning like a maniac. Longgg paragraph next to that
Jay next to a very grafitted tour bus!
Howard-'The time and energy that people put into being fans takes your breath away' Next to a pic of fans behind a gate. I like to think they like the madness,they seem to!
More half-naked pictures.....
Pic of Mark eating scrambled eggs and looking delighted. He said on the BW DVD that he always ate scrambled egg and baked beans.
A very long paragraph from Gaz about Never Forget is such an amazing moment during a show. Too right Gary,nowt like 80,000 people do the NF claps,magical....
Mark-'I was reading The Tibetan Book of Living and Dying on my travels. I disappeared from the hotel and walked down to the beach for a quiet half hour to myself' 2 pics of Mark surrounded by fans on the beach,lol!
More half-naked pictures.....
Picture of them larking about with their luggage just having got off their plane. They look so happy.
Picture of them on the boat going to their last ever interview.
Bit of a jump there but I obviously don't like the break-up parts!
[/book1]
Take 2
Gary-'We've never had our own dressing rooms and we don't now which some people find a bit odd but it feels right for us' with pics of them getting ready. I like that they have one dressing room,I think it's cute!
Pictures of them running up and down on sand,shooting the BW shots. They're all have huge grins,cute! Also shots of them shooting the other BW shots,they all looked delighted in those too.
Jay-'We all came back with big hair. We'd called each other the Hair Bear Bunch' Under a pic of them,well with very big hair! Us fans called Mark's 'hobbit hair'
Pic of Jay doing a handstand and Gary saying he can't help himself and Jay saying he does it to get balance and make them all jealous,haha!
2 page shot of my FAV pic ever-the love picture.
Pic of them playing what looks like poker,Gaz,Jay and How say they all love that pic because they're actually playing Snap,more cuteness!
Some lovely Japan shots-Jay looks gorgeous.
Gary-'We communicate very well in our time off' plus more about how well they all get on,Jay has a paragraph too,they're long :P Under pics of them chatting on a roof.
Page shots of Mark and Jay with their big hair,they looked amazing.
Jay-'Howard knew he was going to get centre stage in the Beautiful World tour which explains why he's wearing his favourite tracksuit. I've got my **** tracksuit on cos I've been banished to the back' LOL! Under pics of BW dance rehearsals
Picture of what looks like Mark's sex face. Lucky Emma!
Pictures of them shooting some NF BW footage-all happy. And in vests!
Black and white photos of them with bags,leaving a hotel or something,they look like a nice lil unit!
Mark-'The Brit Awards is like the office Christmas party for us now. The girlfriends and wives come along. We all have a drink together' like 4 pages on the Brits :P Nice pics,I loveee The Brits,stupid panel though,all 7 of their awards have been voted for by us.
Mark-'I could live in the studio,I love writing' Lovely shots of them recording The Circus,they have pics of Jimi Henrix and Bob Marley on the walls,fairy lights everywhere,billions of cups of tea. Looks cosy! Very them.
Gary-'It is very rare for me to actually like a photo of myself. I SMSed this to Dawn to remind her how lucky she is...' next to a very hot pic of Gaz(and I don't even fancy Gary!) LOL Dawn is lucky :P
One of my fav pics of my Mark,his hair is DIVINE. It was the October pic this year,it came down at midnight and got stuck on my wardrobe.
Gary-'I had a little slug of Jack Daniels before I got on the trapzee. It was the sheer height of it for me. Terrified'. Howard-'I loved the trampoline,Gary was scared of everything' Bless Gaz! Under pics of him doing Circusy things
Jay-'10 years on and Howard's still got it. Bastard' LMAO!!! One of my fav comments. With 4 full page shots of Howard topless jumping about on the trampoline.
Mark-'It was the fiercest heat I had ever witnessed and stupidly I had indulged in a few too many glasses of wine the night before. I suffered'. Under pics of him on the trampoline.Mark and his wine!
Gary-'I'd gone off to watch my baby being born' with Up All Night video shots. I love how he says it so casually!
A longg paragraph from Jay saying how great Mark is-'he's lead the way with ideas,he became an artist,he's a real asset,he's doubled our strength as a band' How fricking nice!
Garden video shots,Mark sitting on a box,bless my lil Mark!
Circus rehearsal photos,with them all saying how much fun and enjoyable they were.
Mark-'I always look at where we started off and how much we've moved on. I think it's funny that we're clowns in the video,because most of the time that's how we see ourselves'Under SIA video shot pictures.
TOUR photos<33333
Last pic is a 2 page shot of them all sleeping on each others shoulders. CUTE
I love the books because they're gorgeous for one,but they just show how much they love each other and how grateful they are and that's exactly why I love those boys so much!
Pictures of the cuteness,plus HUAL and the love pic.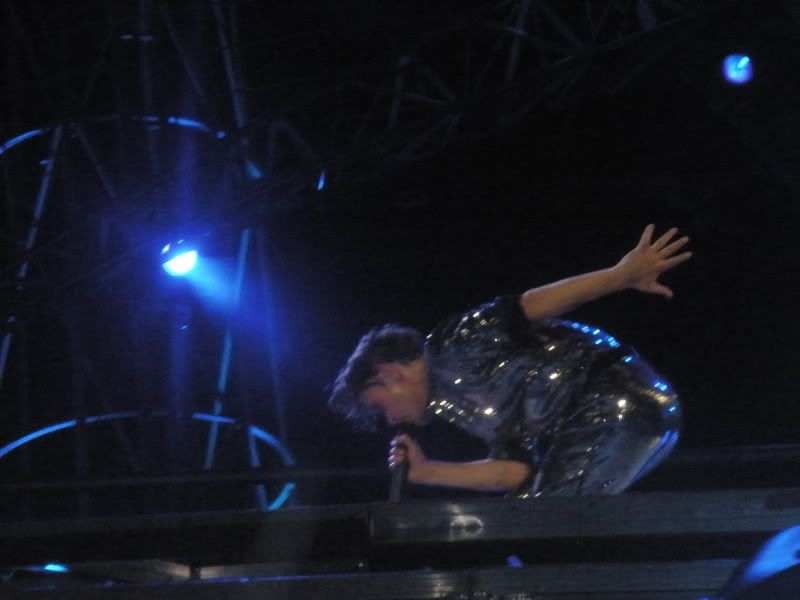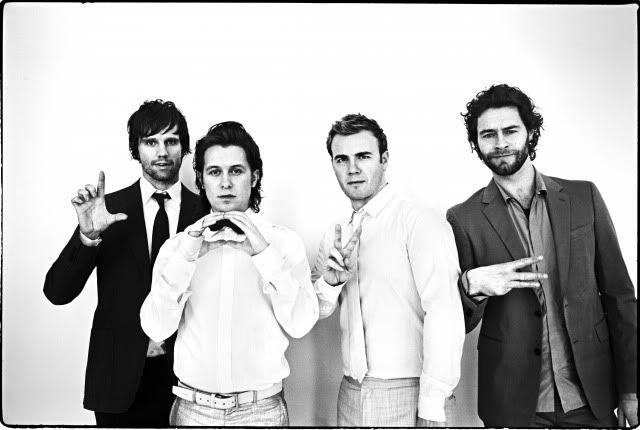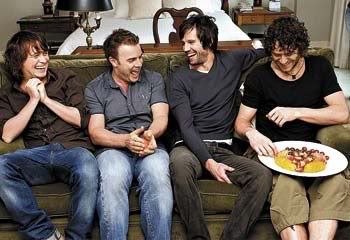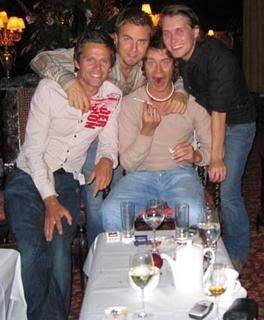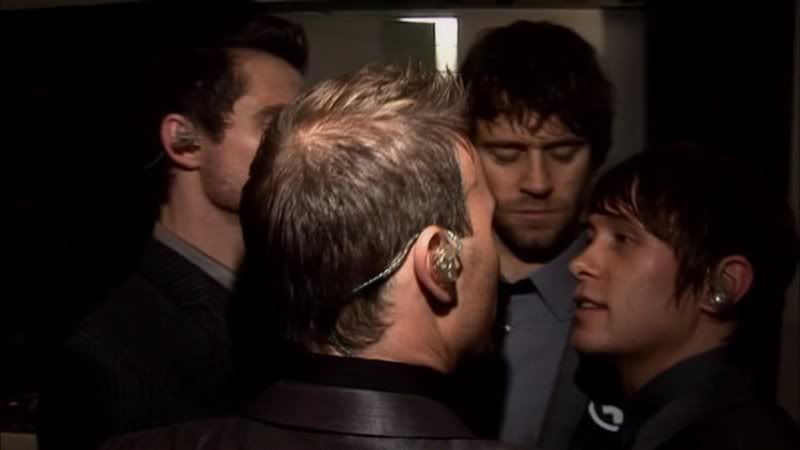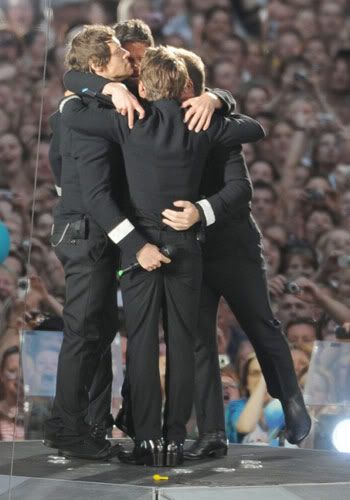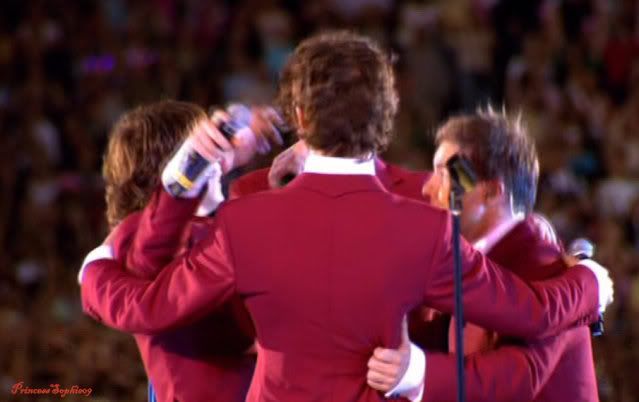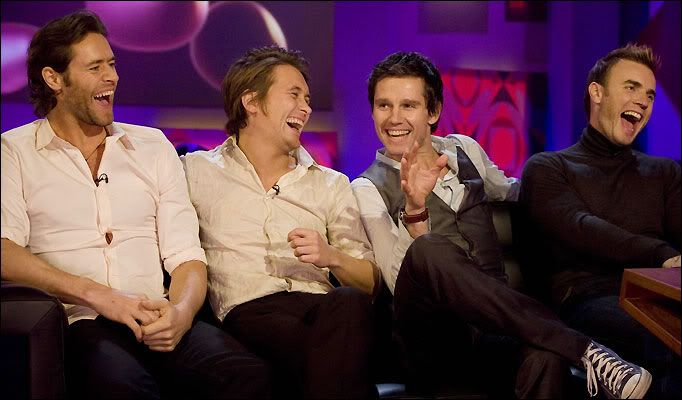 'So open your heart and start loving'
xxxx
Comments
Posted 03-11-2009 at 11:24 PM by

Princess