Police have arrested 25 people in the eastern Polish town of Bialystok
Saturday after attacks on a city's first pride march
LGBT rights have become an issue ahead of the October election with the
ruling Law and Justice party depicting activists as
a threat to traditional
Polish values.
Ringed by riot police, around 1,000 pride marchers walked defiantly through
the streets of the northeastern city of Bialystok as thousands of nationalist
football "ultra" fans , far-right groups and others threw flash bombs, rocks
and glass bottles.
As counter-protesters yelled "God, honor and motherland" and "Bialystok free
of perverts," the pride marchers chanted "Poland free of fascists" in return.
Police said about 4,000 people were involved in demonstrations against the
march.
Many Poles in the country's urban centers are supportive of the push for more
LGBTQ rights, with Warsaw hosting its largest pride parade earlier in June.
But there has been resistance elsewhere to the community's increasing
visibility in a country where same-sex marriage and adoptions are illegal,

and anti-LGBTQ attacks are not considered a hate crime by law.
In the run-up to October's general election, PiS party leader Jaroslaw
Kaczynski framed the opposition's support for more equality as an "attack on
the family," calling LGBTQ rights a "threat" in the devout Catholic country.
Critics say the tactic helps rally its more religious and rural base. "All the signs
are showing that Kaczynski will continue with the scapegoat strategy, which
goes
hand-in-hand with the Polish Catholic church that has made the


LGBTQ community its biggest enemy,"
said Miroslawa Makuchowska, head
of the political division of the Polish advocacy group Campaign Against
Homophobia.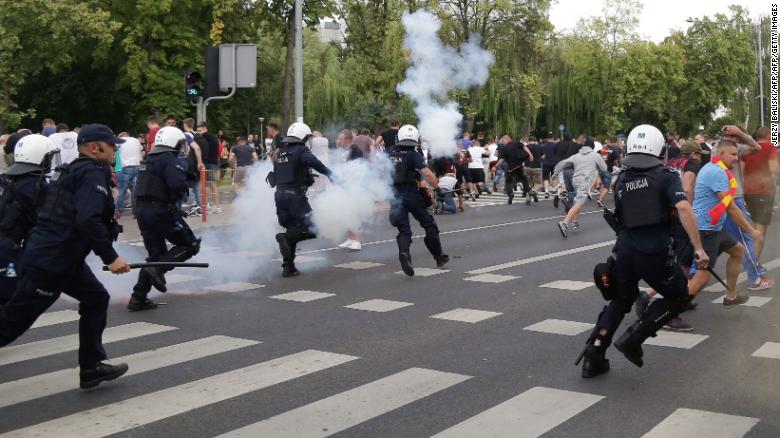 This week, the right-wing weekly publication Gazeta Polska announced plans
to distribute stickers proclaiming an "LGBT-free zone" to its readers. More than
30 councils had declared themselves free of "LGBT ideology" in the past few
months -- in response to Warsaw's liberal mayor Rafal Trzaskowski, from the
opposition Civic Platform (PO), signing a declaration in support of LGBTQ
rights.
In Bialystok, leaflets anonymously placed around the city ahead of the march
said that streets would be "contaminated with LGBT bacteria" on Saturday.
https://edition.cnn.com/2019/07/21/e...ntl/index.html