Daily Update: Day Three
Shown: Tonight, Thursday 10pm on Channel 5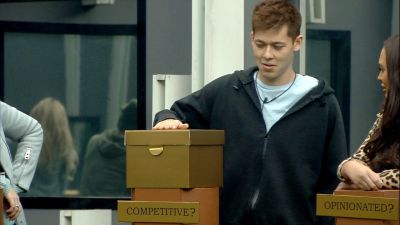 More pictures from day 3 in the gallery HERE

On tonight's Big Brother's Bit On The Side with Rylan Clark-Neal at 11.05pm on Channel 5, guests include TOWIE's Georgia Kousoulou, Tommy mallet, Abz Love and Dr Ranj.

Key highlights and quotes from tonight's show:

o Arthur decides to have a naked shower while some of the girls do their make up in the bathroom. Ellie giggling says to Rebecca and Kayleigh; "We won't be having sausage sandwiches this morning!"

o Rebecca and Sukhvinder fall out over Rebecca's views that she would not employ a woman who did not wear make-up. Rebecca reveals she never goes to work without any make-up and Sukhvinder argues that in her business she does not wear make-up and people take her seriously without make-up.

Rebecca says that make-up is a "confidence booster for a lot of people", whilst Sukhvinder argues "that's sending the wrong message out to girls because they've got so much pressure". Sukhvinder argues it is discrimination and says, "You're discriminating against girls" and "girls out there need to own that sh*t, they don't need girls on the TV spending five hours putting their make-up on.

My daughter does not need role models like that, she does not need that pressure at 19."



o Rebecca later confesses to the diary room that she can see people's true personalities coming out and that she feels that "Sukhvinder, I'm sure will be a pretty big problem" for the house.

o Sukhvinder tells off Kayleigh for brushing her hair in the kitchen while she is eating her breakfast which creates an argument between the two women and leads Sukhvinder to telling off her husband Imran for not standing up for her during the altercation.

o Tom is given the day to gather more information about housemates as he will later be given the opportunity to turn exiles into citizens, but for every citizen he grants, he must then turn an original citizen into an exile. Whoever is left as an exile will then face eviction on Friday night.

o The daily task is designed to help People's Housemate Tom get to know the exiled housemates better through a series of challenges.

o Rebecca is given a loyalty challenge and ends up having to hand over all make-up to Big Brother.

o Chanelle names Kayleigh as the least interesting housemate and says Imran made the worst first impression in the house and hasn't yet shown his true colours.

o Big Brother gathers all housemates in the task room. Tom's swap of who faces the vote. Tom swaps Hannah with Imran, so Imran will now face the vote, and she is safe. Vote opens tonight and the rest of Tom's decisions will be revealed in tonight's show.

o Tensions rise between Chanelle and Hannah at the sofas, and Chanelle kicks her slipper at Hannah.