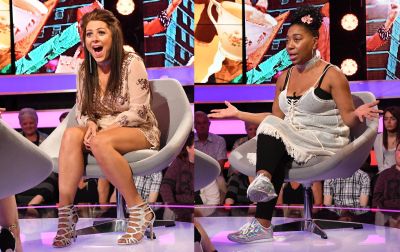 This week as a result of 'The Hunt' tasks four housemates were nominated for eviction with a vote to evict. Last night Chanelle, Isabelle, Simone and Sue entered the woods and at midnight, were plunged into darkness. In the pitch black Simone disappeared and with the most votes became the 6th housemate to loose her place in the Big Brother House.

Simone joined Emma on the Orbit stage to discuss how she felt to be evicted.




Emma asked Simone how it felt and Simone admitted "I just wanted to be out of there, the public made the right choice."

Simone said she didn't do anything wrong but her housemates were only tolerating her. Simone explained she had a difficult upbringing and has had a hard life. Simone said "Growing up as a child I witnessed heavy drug taking, I've not had a father until I was 18, I visited prisons for half of my childhood, I've witnessed a lot of domestic violence and lost my 18 year old brother not long ago and that's why I didn't want to go in that house and take it serious, I just wanted to go in and have a laugh."

Emma commented that the housemates felt Simone's laugh was patronising and Simone explained "That's my getaway place, when I'm feeling intimidated or nervous or I'm put in a stressful situation it's just the way I deal with it, I try to laugh and make it happy and try to forget it's even happening. I don't want to shout and scream because I have dealt with all that in my life before this".




Simone explained "I was a different person 11 years ago, I went through a really tough stage in my life and 11 years later I'm just so proud to be a different person. To go into that house and deal with constant confrontation, I never thought I would be able to do that". She continued "I just wanted them to like me, I've dealt with real seriousness in life" and "all I did was try to please everybody".

Simone admitted that Sue was very important to her in the house and said "Without Sue I don't know what I would have done".

Sue was then the 7th housemate to be evicted.

Emma later entered the house to discover who would become the final victim of The Hunt. The housemates were gathered into the forest and Emma announced that the housemate with the fewest votes was Isabelle and she was therefore safe from facing eviction. Sue and Chanelle sat behind a block each and the housemates had to choose to stand behind the person they wanted to save.

After only Charlotte stood behind Sue, she was evicted and immediately left the house with Emma who interviewed her at the Orbit stage.




Emma asked Sue why she was so happy to be evicted and she said "I am really happy because I wanted to get in this fabulous house and I got in, I experienced some crazy stuff but I came through on the other side and I survived and it will be a experience I will take with me everyday for the rest of my life."

Emma asked Sue how she felt about being evicted by her housemates and why she felt it happened and she felt it was because she was different. Sue said "I'm different and if your different your going to usually be targeted if you can't blend in quickly".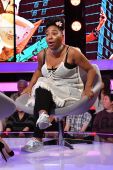 Emma Willis will be back next Friday at 10pm on Channel 5.