Shown Tonight, Monday 15th June at 10pm on Channel 5.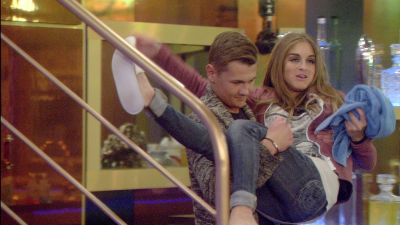 Pictures from this show will appear here - http://www.thisisbigbrother.com/gall...nails-993.html

Watch the episode on Channel 5's Demand 5 service - http://www.channel5.com/shows/big-br...episode-35-131

Highlights Preview:

In tonight's show, Marc, Brian, Helen and Nikki move from the Time Bomb Bunker into the main house. The Time Warp Housemates are in full control of this week's nominations and nominate Harry first. The Time Warp Housemates plant seeds of doubt in the minds of some of the original Housemates and instil confidence in others. Harry becomes increasingly isolated.

Big Brother's Bit on the Side Preview:

On tonight's "Bit On The Side" at 11pm on Channel 5 guests include; agony aunt Denise Robertson with her Seven Deadly Sins of Agony Advice, last year's BB contestant, Mark Byron, Blast-From-The-Past ex BB housemate, Luke Anderson and nineties pop star and ex Celebrity Big Brother contestant, Kavana performs his classic hit, "I Can Make You Feel Good."

SPOILERS:

Key highlights and quotes from tonight's show include:

· The Time Warp Housemates get some fresh air while the other Housemates sleep. Helen says, "Today's the day!"

· Marc is talking about Harry, "She played [Nick] till they went to bed." Helen says, "She didn't leave him alone… I think Jade can't stand her." Regarding Jade's response to Harry, Brian says, "Keep your friends close and your enemies closer." Marc talks about the original Housemates all sticking together.

· Simon is in the Diary Room talking about the house without Marc. "The house feels empty."

· Some of the Housemates are on the sofa talking about Simon. Jack says, "I can see that he's making a positive change but I'm struggling to keep reassuring a forty six year old man." The Time Warp Housemates shout at the TV as Jack's comments annoy them. Harry comments that she thinks it is ridiculous that Simon asked her to do her washing. Helen reacts by saying, "Simon's name gets brought up and they're like flies around sh*t."

· The Time Warp Housemates are in the Diary Room talking about entering the house. Marc says, "Can't wait to wreak havoc." He adds, ". Inside there, is like a box of cornflakes."

· Big Brother has thrown the Housemates a party. In the bunker, the Timewarp Housemates have been told it is time to enter the house. Marc is excited saying, "I'm gonna explode here!" They go to the Diary Room. In the house, Big Brother gathers Housemates on the sofa. The housemates are shown a video montage of the past two days starting with Marc's fake eviction and entrance to the bunker and the addition of Brian, Helen and Nikki. Chloe is visibly shocked and when she sees each of the Legends. The video shows the Time Warp Housemates spying on the main house and then cuts to them live in the Diary Room where Helen is asked for their first nomination. Helen responds, "Harry. She lies… She's using Nick. She friendzones him all the time but then leads him up the garden path. We also think that she could be a hindrance to him winning."

· Time Warp Housemates enter the house. Chloe and Jade are first to welcome them. Marc and Simon hug. Danny and Jack stand back. Harry is left alone at the sofas.

· The Housemates take turns greeting each other. Danny says to Helen, "We needed to liven it up!" Brian says "hello" to Harry. She responds, "At least you said hello to me. I'm going to hide in my bed." Helen, Nikki and Marc have not acknowledged Harry. Nikki tells Nick, "I've come to rescue you."

· In the bedroom, Marc reassures Simon, "You're doing great. Don't be a bitch. Be yourself." Helen tells Chloe, "You've got a lot of support from outside." Meanwhile, Nikki says to Jack, "You're so popular!"

· Helen and Nick are talking in the smoking area. Helen tells him, "I like your character." Simon comments, "He's a lovely man." Helen adds, "You were my favourite from the start. You and Chloe."

· Marc is teasing the other Housemates saying, "I heard some horrible ****. A lot of people in this house are two faced b*stards. Some people that I really didn't expect. Some of you surprised me. We've seen a lot."

· Nikki is teasing Jack. She tells Jack some lies about his support in the outside world saying he has over 200,000 Twitter followers. He believes her and she is struggling to hold in her laughter.

· Nikki goes to the in Diary Room. "I can't believe what I just said. These lies have spiralled out of control. I can't believe he's buying everything I've said. I feel so evil… I told Jack that he's basically won the show. He believes me!"

· Marc is in smoking area talking to Sam about her behaviour. Marc says, "I've lost a lot of respect for you. You're a wolf in sheep's clothing." Sam responds saying that since Marc left, she has had the chance to bond with the others.

· Jack and Nick are getting to know Nikki. Nikki is hugging Nick saying, "We've got the rest of our lives together Nick. He's adorable."

· Marc tells Joel, "You're a smart man. You're the only one out there that isn't back stabbing people. You've got a chance to make the final."

· Helen, Danny, Jack and Chloe are sitting at the kitchen table. Harry is in the kitchen. Helen is recounting Harry and the washing story to Danny. Danny is defending Harry. Simon and Jack begin to bicker.

· Harry and Nick are in bedroom. Harry says, "Me and you have something going on in our private life which if not for a *********g camera." Nick is seeking reassurance that Harry likes him. Harry responds, "I'm never going to be a lovey dovey person, unless it's in private."

· Nick, Sam and Joel are in garden talking about the new housemates. Nick comments, "I've lost myself and these people have brought me back to me."

· Helen and Nikki are talking about the lies Nikki told Jack and laughing that he believed her. Helen says, "I don't like Cristian. He's got the personality of a Ryvita." Nikki says, "I'd shag Cristian and marry Nick." Simon jokes that he is jealous of Helen and Marc's relationship.

· Harry is alone in the toilet.

· Nick is talking to Nikki. She says, "You've got to get away from that sea witch. This is your dream to be in Big Brother. You're wasting this time."

· Marc is in the garden talking to Simon, Jade and Sam. He warns them to be wary of Jack, Danny, Chloe and Cristian.

· Big Brother calls Harry to the Diary Room. She sits with her back to the camera denying anything is wrong. She says, "I'm fine. I don't give a **** about anyone's opinion." She goes back to the toilet.

· Danny goes to the toilet and tries to get Harry to talk to him. She denies anything is wrong and maintains that she prefers Nick enjoying himself with the others

· Jade is in the Diary Room talking about the night. "It's rocked the boat massively. For me personally, it's made me come alive. I really like Harry but I don't like the way she's denying what they (Harry and Nick) have. She's not appreciating Nick for what he is. She was nominated because she's not coming across well."

· Nick goes the toilet to talk to Harry. She tells him to leave.