Shown Tonight, Friday 19th June at 9pm on Channel 5.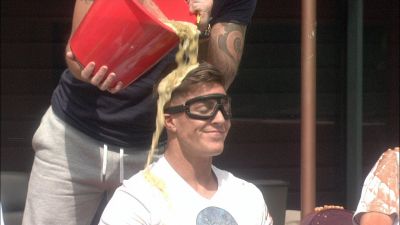 More pictures from this show are HERE.

Watch the episode after it airs on Channel 5's Demand 5 service - http://www.channel5.com/shows/big-brother/episodes

Highlights Preview [Spoilers]:

In tonight's show, Chloe, Harry, Cristian and Jade are facing eviction. The Housemate who receives the most votes by the public, will be the eigth person to be evicted. Apparently, the plan to put former housemate Aisleyne Horgan-Wallace in the house has been scrapped for now.

Cristian is dishing out his opinion to a number of housemates. Danny and Helen 'come to blows'. Some of the original Housemates question Joel's loyalty.

Big Brother's Bit on the Side Preview:

On tonight's "Bit on the Side" at 10.30pm on Channel 5 guests include; comedian, Matt Richardson, The Only Way is Essex star Bobby Norris, Benefit's Street's White Dee and mother and daughter BB14 team, Jackie and Charlie Travers.

Spoilers
Key highlights and quotes from tonight's show include:

· It's morning and Marc is excitedly running around the garden screeching and annoying some of the housemates. Some of the housemates are in the bedroom discussing Marc and their irritation at his behaviour. Brian says, "It's bad on a nice day, everyone wants to sit inside." Marc comes into the bedroom and jumps on some of the beds. He tries to get a reaction but no one really responds to him.

· Helen is in the Diary Room talking about the eviction this week. She predicts Cristian will go. "He's only decided to come of his shell when he's been nominated. I think Cristian has got a personality under all that but he's played it really safe. Now he's showing his true colours and being opinionated. I think he does have quite an argumentative side to him."

· Big Brother has gathered the Housemates in the garden for today's task. Earlier in the day, the Time Warp Housemates were asked to fill out a questionnaire about their fellow housemates. Now, the Time Warp Housemates are seated on four chairs in front of the others.

Big Brother is going to read statements from the questionnaires. Once the housemates hear a statement relating to them, they must guess which Time Warp Housemate said it and pour a mystery bucket of gloop over the accused. Big Brother reads statements like, "I think that Danny is a game player because he sits on the fence," and, "I think Cristian is boring because until he was nominated, he had the personality of a cornflake."

Nikki is not enjoying the task at all. The Housemates are having fun with the task. Chloe chooses to pick Marc purely so that she can pour fish over Marc. Housemates have successfully passed the task and will be rewarded with a dinner for the entire house. Nikki is disgusted and runs to the shower to wash all the gunge off.

· Cristian has turned the tables and is annoying Marc with some of his own techniques. He is dancing around Marc banging a pot and shouting. Brian joins in and the two start chanting around him. Marc leaves the bedroom. Cristian says, "We'll he's ******d off. I can get back into bed and relax for a bit." He makes a comment to Helen saying, "It's not being a judgemental person," in relation to her cornflake remark. Helen defends herself saying, "I'd find toast more interesting. It took five weeks for you to finally perk up and realise where you are."

· Danny is talking to Marc about Cristian's behaviour, telling Marc to leave him to behave how he likes. Marc says, "Go out being who you are." Cristian comes into the garden. Danny tells Marc he's contradicting himself as he's nominated people for being boring and now that they are responding to that, he can't criticise it. Cristian says, "Lots of people are brown nosing." Danny says to Marc, "I'd say you're so far up Helen's arse" Cristian agrees.

· Nick and Joel talking about Cristian. Joel says, "I don't like this Cristian." Nick says the same. Cristian approaches to give Joel some advice and says, "Know who your real friends are." Joel responds, "I don't want to hear that again. The last two days, I don't like this Cristian that I've seen." Cristian responds saying Joel has made no effort with him the last two days. Joel is offended. Cristian says, "Open your eyes."

· Cristian and Jade are talking about their argument last night. Cristian, "I didn't mean to come off as rude." Jade responds, "You basically called me a *****." Cristian denies it and says of her behaviour, "It's how it looks. There's a route that you're going down, Jade."

· Helen and Jade are in the bedroom. Jade is relaying her conversation with Cristian. Jade also says, "He insinuated that Marc is up your arse and you love him." Helen says of Cristian, "He's no personality. I've heard him speak more in the last forty eight hours than in the last five weeks." Helen impersonates Cristian.

· Marc is in the living area with some of the Housemates. He is telling them what Victor whispered to him and says, "[He said] You were doing tops. Stay away from Helen. She's bad news. In other words, I ruined it by talking to Helen." Helen responds by saying that she doesn't like him, "He's trying to **** stir." Danny repeats that he thinks Helen's approach is disrespectful saying, "You let yourself down." Helen says, "You can't tell me what to do. Your friend can ******* die for all I care." Danny is visibly annoyed.

Helen continues, "Telling the truth is fair. If the guy was alive or dead, I don't care." Danny gets up to walk away saying, "Don't get personal and say I don't care if you're alive or dead." Danny loses his temper. He swipes some of the pizza boxes onto the floor and goes to the store room to cry. Brian rushes to calm him down.

· Brian is comforting Danny in the bedroom. Brian comments, "That's been brewing in you for a while."

· In the living area, Joel is asking Helen about what's been said to him saying, "I've been told throughout the day, "know who you're real friends are." Helen is annoyed and approaches the group about it saying, "Who's said and why is [Joel] being made to feel like he's an arse licker." Cristian admits he has said it. Jack admits it as well. Helen says, "I will speak to Joel because he's a genuine character."

Jack says, "I felt like this week, he's jumped ship." Helen says, "Don't think I've walked in this house with a hidden agenda. I'll speak to people who I like and who I think's really genuine." Helen continues. "Don't get personal. If someone lies, I'll get personal as I want. I've been nothing but nice to everyone."

· Big Brother calls Danny to the Diary Room. Danny's very upset. "She said something I didn't like and it took it out on the pizza boxes. It probably could have scared people." Big Brother reminds Danny that he must control his behaviour. "Brian hit nail on the head. I've kind of been there for everyone else but I've never expressed anything for myself. It was over the top."

· Brian is talking to Cristian and Jack in the bedroom. Brian says, "She's got something to prove when she came in here." Jack says of Joel, "I feel like I've been stabbed in the back from him." Danny joins the boys in the bedroom and heads to bed.

· Marc is having a conversation in the kitchen about factions in the house. Chloe asks him what factions he's talking about. Marc responds by telling her she's getting involved in a conversation that doesn't concern her. Chloe takes offence. They have an argument and Chloe goes to the bedroom and starts crying.

· Marc is talking to Harry saying, "I didn't nominate you. I said I don't get on with her and make your own decision. I did say I didn't like you and didn't trust you."

· Helen is in the Diary Room justifying her argument with Danny. "I'm really annoyed. Danny got on his high horse. I didn't mean to upset Danny. The way he goes on it's like he's in the right all the time. This is all just through being ******* honest. No one likes the truth in this house," she cries.