Shown Tonight, Saturday 27th June at 9pm on Channel 5.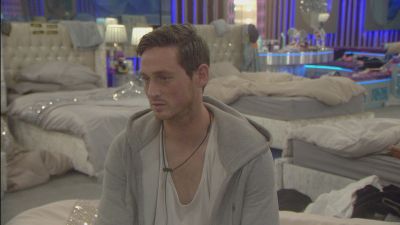 More pictures are HERE

TONIGHT: Simon is the ninth Housemate to be evicted and Danny receives a warning against his threatening behaviour towards Marc.

Spoilers
Key highlights and quotes from yesterday's highlights shown during tonight's show include:

· To celebrate Helen and Nikki's last day in the House, Big Brother wakes the Housemates with Wham's 'Wake Me Up Before You Go-Go'. The Housemates are then informed by Big Brother they are not awake enough so will have to attend an 80's aerobics session lead by Marc. Jack comments "I don't like fitness."

· Danny is in the Diary Room talking about Aisleyne. "I like having someone here who is on my level. She is a bit older which is good and I think she is comfortable around me too. We are on the same wavelength and I haven't had that with someone in here for a very long time."

· Chloe is in the garden and says to Helen, "I have loved having you here" Helen replies, "Thank you I have loved being here, for what it is worth I didn't mean to upset anybody" Chloe replies, "Well you haven't upset me, I think of all the girls, if you had of been a genuine Housemate you were the one I would have the most in common with." The pair then go on to admit they have both learnt to not be judgemental

· Marc is talking to Big Brother about Aisleyne. "She is so fake, everything about her, I have given her a chance but I do not trust her. I have my sword drawn and I am ready for her to come at me. She tries to make comments on things she doesn't understand. No one has the balls to stand up to her, but I will. I will wait until Helen goes as I don't want it to look like I am taking sides." He went on to comment about Aisleyne and Nikki, "They think they are better than everyone else because they are legends, but hold on, you are a nut case and you a little weirdo."

· Big Brother gathers the Housemates in the garden for today's task where Helen and Nikki have to give a seminar to the housemates and provide them with constructive criticism Nikki highlights that the experience is a once in a lifetime opportunity and people should not stand in the shadows and let people intimidate them. Helen remarks that they all need to learn to take constructive criticism better.

Helen pinpoints Simon as the weakest as he gets grumpy and defensive quickly. Nikki chooses Sam as the weakest as she feels she sits on the fence. Sam then argued back that she thought Nikki also sat on the fence as she allowed Marc to take the blame for Jade leaving when it was her and Helen that nominated her. Danny tries to allow Nikki to speak but Marc interrupts him and calls him a wasp, "Always buzzing about when I am having an argument."

· Aisleyne and Nick are in the smoking area and Aisleyne remarks about Helen, "She is a ****ing walking contradiction I can't stand her. I have never met someone who is so deluded by themselves." Nick shook his head in agreement and just said "Five more hours."

· Danny and Marc are continuing to bicker in the garden. Danny said "I don't like it when people over talk someone when someone is trying to get their point of view across." Marc says "You are a wasp man I swear to God."

· Helen is talking to Marc about Aisleyne, "I hate that kn**head, yawning when someone is talking is so rude. Marc laughs

· Later in the afternoon Marc and Helen are getting ready. Marc comments that it is going to be lonely now. Helen reassured him "You will be fine, you have literally got 18 days left. You won't be going net week so you need to get that out of your head."

· The Housemates are gathered on the sofa and it is revealed the Simon has been evicted. Marc said it was right for Showbiz to go now as he wanted to go and predicted he would be next.

· Helen is then told to leave the House and all the Housemates say their goodbyes apart from Aisleyne who remains sat on the sofa and mutters underneath her breath "Good riddance b***h" Nikki is the last person to leave the House and all the Housemates are impressed with the amount of cheers she received.

Chloe commented "No one who has left has got that level of cheers it was so nice to hear!" Joel said "That is what you want to go out to"

· Chloe makes a speech to the Housemates about how little time they have left and how they all have to make an effort for no more arguments and to have the most fun they could for the remaining time in the House.

· Aisleyne is celebrating in the Diary Room. "I came in and did the right thing, I helped Nikki. I think everyone is going to miss Nikki. It has put Marc and Joel and Sam in a weird position as they were all about Helen. Marc's backbone has gone now. Ding Dong the B***h is gone.

· It is now the early hours of the morning and Aisleyne comments to Nick that she could feel him visibly relax when he heard he was safe during tonight's eviction. Marc said to Nick "You really want to win this don't you?" Nick replied, "I will tell you honestly it is not to win it is the fear and I am scared" Marc goes onto say in the interview the only person who admitted to wanting to win was Jack.

The group then go on to bicker with Marc about the way he phrased that question in the interview. Danny says "Who cares." Marc reminds Danny that they spoke about this earlier and he gets annoyed with him for always butting in. Danny comments that he thinks Marc has had too much to drink which Marc denied.

Danny tells Marc he thinks he is looking for an argument and asking people irrelevant questions. Marc asks Nick again if he wants to win. Danny gets up and is frustrated "Why do you need to know!?" Marc accuses Danny of being drunk to which Danny replied "If I was drunk that can would be going in your face" Aisleyne then buts in and tells Marc "Stop telling him he's drunk he is not ****ing drunk!"

· Danny tells Marc "I understand you want to be evicted but don't be a d**k about it "Marc says "I asked the guy a question, it hasn't got anything to do with you!" Danny disagreed and said if he was being a d**k to him (Nick) it was his business.

Marc accuses Danny of standing up to try and be the daddy or the hero of the House. The two continue to argue Danny says "You are trying to push my buttons and you are so close to a slap" Danny bends down to repeat the words again very close to Marc's face.

To which point Big Brother tells him to go to the bedroom immediately. Marc laughs as Danny is taken by the other Housemates into the bedroom to which Danny turns and throws his sandwich at him.

· Big Brother calls Danny to the Diary Room to tell him is behaviour was aggressive and unacceptable to which Danny apologised.