Shown tonight, Wednesday 1st July at 10pm on Channel 5.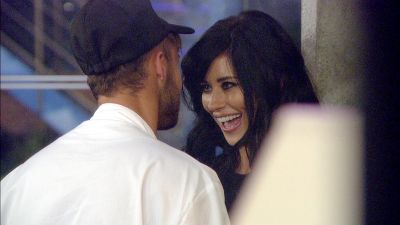 More pictures from this show are HERE

Tonight [Spoilers]: John McCririck and Charley Uchea leave the Big Brother Hotel. Dexter Koh and Jasmine Lennard enter the house to become the new Hotel BB guests. Aisleyne gets angry with Marc. The task causes tension between the Housemates. Jasmine kisses Cristian.

Big Brother's Bit on the Side Preview:

On tonight's Big Brother's Bit On The Side at 11pm on Channel 5, guests include; TV presenter Carol McGiffin, T.O.W.I.E. star, Maria Fowler and former Celebrity Big Brother and Gogglebox star, George Gilbey. Plus Dexter Koh will be talking about his time in Hotel BB.

Spoilers
Key highlights and quotes from yesterday's highlights shown during tonight's show include:

• It is day two of the shopping task. Aisleyne wakes up and says, "I've never ever met a man that likes to argue like a bitch as to Marc." John asks, "Why bring it up now? You're picking on him."

• Charley is eating breakfast. She says to the staff Housemates, "Can you stop arguing in front of the guests!" Harry says, "I was merely assisting (Cristian). No one seems to listen to me." Marc crosses the room to her and quietly says, "You can't shout across the table." Harry responds, "Don't talk to me. Back off from me or I will kick off."

• Aisleyne is crying in the Diary Room. "I can't bear to be in the same room as Marc. I can't bear his condescending looks. I can't take him. I can't argue with him because I get my words all mixed up. He's done nothing. I don't think it's normal to be able to play a game for this long."

• Aisleyne is talking to Concierge Nick about Marc. Nick says, "I don't mind Marc. I have a soft spot for him but he's very difficult to live with."

• Chloe is in the Diary Room talking about Marc. "The boy's not normal. At times, he was an absolute nightmare to the point where I was worried that I'd look back on my time in Big Brother and it'd all be tarnished by Marc. Other times, when he's being nice as pie, you completely forget how rotten he can be. He is literally two people and one of them is pure nasty."

• Harry and Sam are smoking. Harry is annoyed that she is being told what to do. John joins them. "Bit of advice Harry. I hate foreheads. Hair down. Get a fringe." Harry looks unimpressed.

• Harry is preparing a sandwich for a guest. Sam comes over and attempts to eat some of the food. Harry gets annoyed. When Sam leaves she says, "She's completely oblivious." Sam and Marc are hiding in the store room, eating some food. Sam says, "Harry's on one right now. So do it on the sly. I'm not even bothered."

• In the living area, Charley says, "He hates Aisleyne. The way he looked at her. You don't really like her, do you?" Marc responds, "I don't like someone being spiteful to me." Danny says, "Now you know how we feel." Danny defends Aisleyne which annoys Marc. Aisleyne overhears from the garden and comes in saying, "I'm not having my time here dictated by your *********g mood." An argument breaks out between Aisleyne, Danny and Marc. Aisleyne gets angry and Danny pulls her outside. John says, "He's trying to upset everyone in the house to get airtime." Marc says, "Sad how some people create story lines." This starts another argument between Marc and Danny. Cristian tells Marc to stop making remarks. Danny says, "He's just annoying people on purpose again."

• The John and Charley are about to check out of Hotel BB. Before they depart, they give some feedback. They are both asked their opinions on the best and worst Hotel BB employees and reasons why. For the best Charley says, "Sam, I've been taking the piss a bit and you've been really great." For the worst Charley says, "Harry. You haven't been available as everyone else." John says his best employee is, "Harry. You've been a revelation." His worst employee is Marc. John says, "You are poisonous in this house for everybody." John and Charley exit the house.

• The new guests are about to arrive so staff prepare. The next arrival is Dexter Koh. Aisleyne welcomes him. Marc introduces him to the staff. Nick looks star struck. Following Dexter is Jasmine Lennard. Jasmine enters the house. Aisleyne asks "Who's that?"

• Some of the Housemates are in the garden talking to Jasmine. Sam and Cristian are admiring her and asking her about her relationships and career. Jasmine walks off. Harry says, "I think Cristian's in love." Sam thinks she is attracted to women and is excited.

• Marc and Nick are talking. "I don't want to get along. I'm sick of liars. A lot of people in here are lying." Cristian comes over and expresses his attraction to Jasmine.

• Dexter is giving Danny advice about Marc. He says, "I was one of the biggest game players but mind *********ry only works if you let it get to you. It's a battle of minds." Danny responds, "It's so bloody hard."

• Harry is telling Joel that she thinks some of the staff Housemates have been eating the guest food and is worried they will fail the task. Joel tells her to bring all the food out of the store room and place it on the steps to stop people from eating it.

• Some of the staff are in the staff bedroom. Harry gets annoyed about a missing beer. Joel, Dexter and Nick are talking. Harry has exited the staff room upset. Nick, Joel and Dexter wonder why she's annoyed.

• Joel sets a punishment and reiterates that the food will be brought out the store room. Jack gets annoyed at Joel for taking decisions into his own hands. Joel stands by his decision saying it is part of his duties as a guest and is to help pass the task

• Dexter is in the Diary Room about the task. "It's really easy. I'd have smashed this task. They're all just too soft."

• Aisleyne, Chloe and Joel are relaxing in the lounge. Marc is at the concierge desk. Marc makes a remark that Joel questions. Marc says they'll discuss later. Aisleyne says, "It better not be involving me." Marc says, "You have issues." An argument ensues. Both of them insult one another. Marc keeps smiling and remains calm while Aisleyne gets angrier. Aisleyne leaves the living area. Marc says, "I'm sorry guys but I'm not going to stand there while she's doing that all night to me."

• Most of the Housemates are chatting in lobby. Jasmine is talking about her sexual preferences. Jasmine says she'd take Cristian on a date saying, "It's an energy. He's a cute boy."

• Most of the Housemates are going to bed. Jasmine and Cristian are holding hands in the garden. Jasmine says, "I must not be left alone with you." They joke about staying up late and risking failing the task. Cristian questions her about her sexual preferences.

• The staff Housemates are waiting for Cristian so that they can go to bed. Jack wants to call him in. Marc encourages Jack to give Cristian some time with Jasmine. Cristian and Jasmine come into the house. Jasmine is surprised that Cristian isn't sleeping in the bedroom. She says goodnight and kisses him passionately. The staff Housemates cheer and hug Cristian.