Shown tonight, Saturday 4th July at 10pm on Channel 5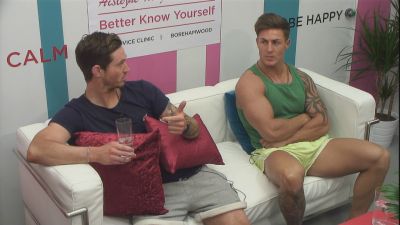 More pictures from this show (Day 53) are HERE

Tonight: Yesterday's Highlights Preview [Spoiler]: Marc's last day in the house. Aisleyne's therapy task - Danny and Marc throw glasses of water over each other.

Spoilers
Key highlights and quotes from tonight's show include:

· Marc and Sam talk about the impending eviction. Marc believes it will be
between Harry and Jack.

· Chloe talk to Big Brother and the eviction is clearly on her mind. She
says she thinks it's between Sam, Harry or Jack and calls Marc a 'love to hate'
character and says that Sam is 'harmless'.

· Cristian talks to Danny about Jasmine and says, 'I've met her in the Big
Brother house, you have to wait until you're in the real world.' Danny tells
Cristian he will continue a relationship with Aisleyne outside the house but just as
friends.

· Aisleyne asks Sam who her least favourite person in the house is and she
admits that it's Harry She bats the questions back to Aisleyne who jokingly says
Danny but then admits that it's Harry for her too.

· Joel and Marc weigh up the odds about who will be next to leave the Big
Brother house. Marc says he thinks that it will between Jack and Harry. Joel admits
that Harry has had a 'sh*t couple of days.'

· Danny talks about Marc to Big Brother in the Diary Room. He says,
'There's just something about him I can't stand.' He admits that Aisleyne has had a
positive impact on the house and made the fun come back to the house. He admits that
he gets the impression that Aisleyne likes him more than he likes her.

· Jack admits that he doesn't trust Joel anymore and says, 'He lies too
much about silly things.'

· Marc talks to Big Brother in the Diary Room and says that he thinks that
Danny thinks he has already won and that he is a 100% game player. Marc also says
that Danny is bland and that he thinks he's the alpha-male in the house.

· Joel tells Marc and Jack that he would rather win with no money that
just have the money. Jack tells him he's lying. Joel says that he would love Big
Brother to give him the opportunity to put his money where his mouth is.

· In the next task, Aisleyne counsels the Housemates in a therapy room. In
'Know Yourself' Aisleyne first of all invites Jack in for treatment and they discuss
why he's so sensitive. Next up is Harry and Nick. Nick says of their relationship,
'It's bad when it's bad but when it's good it's the best thing ever.' With Joel they
discuss his lack of respect for authority. Joel admits that he is a strong willed
individual.

Her final appointment of the day is with Marc and Danny. Danny says
that he doesn't like it when Marc calls the girls fat and Marc accuses Danny of
using him to get more air-time. The session dissolves into a spat between the boys
with Aisleyne helplessly looking on. The task ends with Danny admitting, 'He's
ruined my experience in the house.' Danny then throws a glass of water over Marc who
throws one back.

· After the row between Marc and Danny, Danny goes to the bathroom to calm
down and Aisleyne says to Marc, 'I didn't want that to happen.'

· As the eviction approaches and Aisleyne is due to leave, Danny takes an
opportunity to talk to her about their relationship, he stresses that they will be
'good' friends on the outside but does admit he thinks she's hot.

· The Housemates are gathered for the eviction but first it's goodbye to
Aisleyne. After 10 days of living as a Housemate she says her goodbyes to the group
and leaves to a cheering crowd.

· Emma then announces that Marc is the tenth housemate to leave the Big
Brother house and as the group take in this shock news, the first person that Marc
goes to is Danny, who says to his sparring partner, 'No hard feeling, alright?'

· Marc leaves to a mixed crowd and Nick says to a stunned group that Marc
was the best Housemate they had.

· Sam goes to The Diary room to talk over losing Marc and says, 'That
should be me.' She also says that she 'has lost her best pal'.

· Joel predicts to the group, saying, 'There is definitely a money thing
coming up.'

· Harry goes to the Diary Room and tells Big Brother that she is pleased
to be staying and that she didn't want to go and leave Housemates with a tainted
view of her as she admits she has had a rubbish week. She says that Aisleyne's
arrival in the house has done her a world of good. She admits that Nick doesn't
really understand her as she is a 'complex individual'.

· Joel talks to Big Brother in the Diary Room and says that it's been an
unusual night and they have lost an excellent Housemate but it's clear that the
British public are in charge and rightly so!