Shown tonight, Wednesday 8th July at 10pm on Channel 5.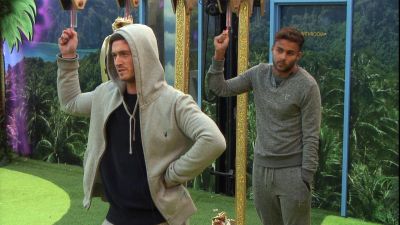 Pictures from this show (Day 57) are HERE

Tonight [Spoiler]: Housemates must complete an endurance task to win back some prize fund money. Big Brother throws in a number of obstacles to tempt the Housemates to give up. Danny, Cristian and Sam win twenty one thousand pounds for the prize fund. Jack redeems himself. Joel lets the Housemates down again… with pizza.

Big Brother's Bit on the Side Preview:

On tonight's Big Brother's Bit On The Side at 11pm on Channel 5 guests include; comedian, Matt Richardson, Big Brother 2014 winner and 2015 guest housemate, Helen Wood, ex-Housemate, Eileen and Daily Star journalist, Ed Gleave.

Spoilers
Key highlights and quotes from tonight's show include:

· The Housemates wake up. Last night, Nick moved to a different bed to sleep alone. Harry joined Nick in the middle of the night saying that she couldn't sleep without him.

· Nick and Danny are in the bathroom. Nick says, "That's the worst night's sleep I've ever had. [Harry was] back and forth all night. I kept waking up every hour and Harry was sitting on the bed. I just wanted one night away."

· Chloe is in the Diary Room talking about Nick and Harry. "Honestly, every day is a drama. Harry is very clingy and I think Nick likes the attention. Harry is possessive but Nick puts oil on the fire. You're (Nick) making her (Harry) look bad and making yourself look bad. It's the weirdest relationship, I've ever seen in my life."

· Jack is in the Diary Room talking about last night. "Arguments that didn't need to happen, happened because Harry initiated both [of them]. It's a bit annoying but I can't undo things. I'm just going to ignore her. I can't be bothered with the aggro. I think she is controlling over Nick. She just tries to aggravate others. You can't blame everything you do on issues."

· Nick and Harry are talking. Harry says, "I can't believe you had the audacity to fill a hot water bottle and use it as my replacement." Nick responds, "Everything you were doing was annoying me. I'm not doing it to get at you. I'm doing it because it's the best thing to do."

· Chloe and Jack are in kitchen. Jack says, "I think that's the reason that I'm getting quite cranky because I haven't eaten a proper meal in days."

· Harry is in the Diary Room. "I look like the big bad wolf. As per usual Jack is so high and mighty and is so much better than everyone else. He seems to think I'm pretty selfish. No I was sticking up for Chloe. Jack needs to learn to take criticism on the chin. You're no better than everyone else."

Chloe gets the secret task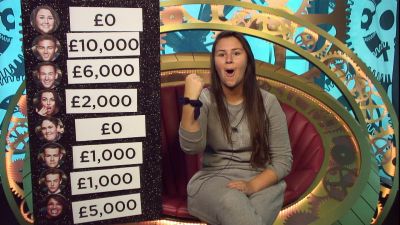 More pictures HERE

· Big Brother calls Chloe to the Diary Room. Chloe is given a secret task. Chloe must decide on monetary amounts to be allocated to each Housemate for the endurance task. She is given several amounts of money totalling twenty five thousand pounds that may or may not be added to the prize fund.

She must use her knowledge of each Housemate to judge who will pass and who will fail and allocate the amounts accordingly; the most money being allocated to the Housemate that she believes will last the longest, the least amount on the person who will give up the fastest.

Chloe puts zero beside Jack saying, "I believe Jack is pretty weak minded." She puts one thousand pounds beside Joel and Nick for similar reasons to Jack adding, "Nick is less likely to take one for the team." She puts two thousand pounds by Harry, "Because she's definitely a team player," but thinks she will follow Nick if Nick has given up.

She allocates Sam five thousand pounds because she is also a team player. She puts ten thousand pounds by Cristian and six thousand at Danny saying that they are both very competitive.

Endurance task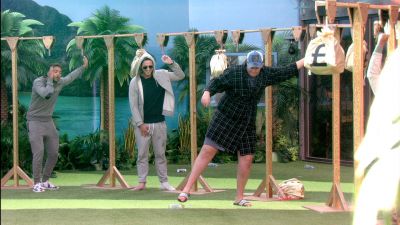 More pictures HERE

· The Endurance task begins. Each Housemate must hold up a money bag by a rope for an unknown amount of time. They all discuss who will have the most money in their bag. Chloe drops her bag saying it was an accident.

· It's one hour and ten minutes into the task. Big Brother brings an ice cream cart to tempt the Housemates to drop their bags. Big Brother tells them that they can only have ice cream if they drop their bags. Nick drops his bag saying, "I did not do that on purpose." Harry thinks Nick dropped his bag on purpose to chat up the ice cream girl.

· It's been one hour and fifty one minutes of the endurance task. Harry drops her bag accidently. She's annoyed with herself. The Big Brother phone rings in the living area. It's Jack's dad asking to talk to him. Jack says, "He'd want me to stay." His dad says, "We love you millions."

· Chloe is in the Diary Room. "I really thought Jack would go. He's had that much stick over the last few days that he's just sticking with it." She adds, "What did I say about Nick and Harry?!" saying that it is true to her prediction.

· It's been three hours and forty five minutes since the endurance task began. Big Brother sends in a pile of takeaway pizzas. Jack says, "I'm ******g starving. I let everyone win last night." Joel agrees and says, "If I want go I'll go." Joel lets go of his bag. Jack deliberates, "I think we're well past but they're making us think that we're not."

· In the living area, Chloe, Harry and Nick are talking about the task. Nick comments, "You dropped it on purpose because you have a secret task."

· Joel is in the Diary Room. "I gave in after three hours and forty minutes and ate the pizza. I was hoping people would forget about my pizza ordeal at the weekend but this will rekindle those bad memories. Pizza is my Achilles heel."

· Chloe is telling Nick, Harry and Joel that she is impressed at Jack's stamina. In the garden, Sam is telling jokes and then gets them to play a game. Jack drops his bag when he gets excited. He's annoyed that he missed out on pizza.

· Cristian, Danny and Sam have been holding the money bags for six hours and twenty five minutes. Sam is trying to keep them motivated. Big Brother announces that an auction will take place for the Housemates to win back their suitcases. To participate, Housemates in the garden will have to drop their money bags. Sam drops her bag.

· Housemates are given white boards to write down their secret bid. The top three bidders will win their suitcases back and their bids will be deducted from the prize fund. Chloe, Harry and Joel bid zero. Jack and Sam bid one hundred pounds. Chloe is annoyed with Jack and Sam saying, "These two guys are going to stand out there and try to win money for us and the nicest thing to do is stick together."

Sam defends herself. Outside, Danny is wonders why they are arguing. Joel agrees with Chloe. Jack responds to Joel, "Don't play the moral card. You gave up to eat pizza."

· Cristian and Danny have been holding their bags for over ten hours. The Housemates countdown and they let go together.

Endurance task result

· Big Brother reveals the results of the task. Housemates are told about Chloe's secret task. The amount of time needed to pass the task is revealed as six hours and thirty minutes. Housemates one by one open their bags to reveal the amount of money that Chloe allocated to them. Danny, Cristian and Sam passed the task and twenty one thousand pounds is added to the prize fund. The total now stands at seventy two thousand, one hundred pounds.