Shown: Wednesday 15 July at 10pm on Channel 5.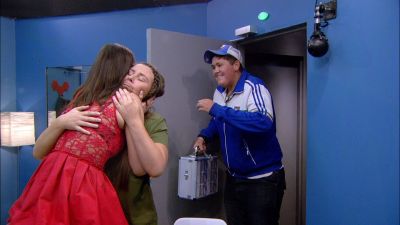 Tonight: the Housemates complete a number of web vlogging tasks. Jade returns to the house to give advice to the Housemates

Tonight's Big Brother's Bit On The Side: LIVE FROM THE HOUSE at 11pm on Channel 5 guests include; former Celebrity Big Brother Winner, Katie Price, entertainment journalist, Sharon Marshall and Eastenders star, John Partridge. Anna Williamson will be doing some psych analysis and friends and family of the finalists will be fighting their corner.

Key highlights and quotes from tonight's show include:

• Joel invites Cristian on holiday with him. Joel says, "I really think I will struggle when I leave. I love to say I don't care what people think but I do deep down."

• Chloe is in the Diary Room talking about her Big Brother experience. "I want to appreciate every single minute I've got here. I've learnt that I was a very judgemental person without realising. It doesn't matter how you speak or what you look like or what you've got in the bank, you can have a fantastic time with anybody. I've probably learnt more in here than I ever have at school."

• For today's task, Housemates are hosting their own Big Brother video blogs from the Big Brother Bedroom Headquarters. Throughout the day, Housemates will feature in hosting and performing a number of vlogs. For their first task, each Housemate performs a karaoke rendition of Taylor Swift's 'Shake it off'.

• For the next task, the Housemates will take part in a web video interview. The Housemates will answer a number of questions from members of the public on a live web chat in the BB Bedroom Headquarters. The other Housemates will be watching the interview on a live stream from the living area. Jack is asked if he finds Chloe attractive. He says no. Joel is asked about his relationship with Cristian. Cristian asks the other Housemates about the perception by the public of his friendship with Joel. They tease Cristian. Nick is asked about his relationship development with Harry. Chloe is asked about the prize fund. Danny is asked about his decisions to involve himself in other Housemates' arguments. Cristian is asked about his accent.

• The Housemates are in the bedroom talking about the live web chat interviews specifically the question relating to Joel and Cristian's friendship.

• Jack is in the living area having a nap. Chloe unlocks his handcuff from his money suitcase and hides it. Danny and Chloe reattach his handcuff to a pot. Jack wakes up and is worried and annoyed. All the Housemates deny responsibility. Danny comments, "That's twenty four grand just gone. Jack finds it. Chloe jokes, "Like a pig in **** when he's got his money strapped to his arm."

• Big Brother has arranged for Housemates to be given feedback from former Housemate, Jade. Jade is hiding in the BB Headquarters Bedroom. Jack and Chloe go in first. They are both surprised and happy to see Jade. Jade says, "Chloe, you need to get confidence. Do not feel guilty [for taking the five thousand pounds] Believe in yourself. I've nothing negative to say to you. Jack, you're turning into an old grandmother. I hate the way you're bitching. Get out of that night gown. Have fun with everybody. Just relax!" Cristian and Danny go in next. Jade says, "Cristian, you need to come back out of your shell in a positive way. Danny, it's coming across on the show that you think you're going to win. It's like you're king of the house." It's Nick and Joel's turn. As they walk into the room, Nick is shocked and delighted. Jade cries. Nick says, "I miss you so much." Jade says, "Joel, you have your own mind and your own opinion and stick with that. Nick, I'm delighted Harry is gone out of here. You're in the Big Brother house it's the only thing that you wanted in your whole life."

• Cristian is in the Diary Room talking about Jade's comments. "I hate this comment of fading into the background. I consider myself as chilled."

• Jack and Chloe are in sky room relaxing. Danny and Nick are in the garden talking about Jade. Danny says, "I'll take what she said as a positive." Nick says, "She didn't have the nicest things to say about Harry. She looked furious." Nick says that he will take her advice on board but will try to make his own decisions. He will stay himself. Danny deliberates over the comment that Jade in relation to him winning.

• Jack discovers that the twenty three thousand nine hundred pounds is in cash in his suitcase. The Housemates start mucking around with the case. Jack loses his temper. The housemates say that Jack's annoyance spurs them on to tease him. Joel questions him about the money.

• As a reward for completing today's task, the Housemates are played a slide show of moments in the house.

• All the Housemates are called to the Diary Room together and asked about their Big Brother experience. Danny says, "For me, this has put it into perspective that this is the final stages." Jack says, "Best experience ever."

• Big Brother plays 'Time of my Life' and all the Housemates sing along karaoke style. They try to re-enact the Dirty Dancing lift.

• The housemates are in the bedroom. Joel invites Cristian to sleep in bed with him. Cristian gets into bed with Joel. The Housemates tease them about their friendship.