Daily Update: Day 5
Shown: Tonight, Sunday 6th August 9pm on Channel 5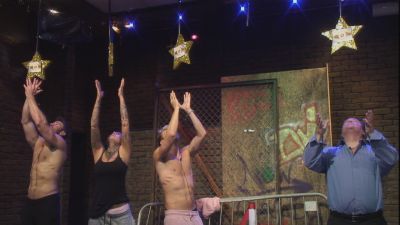 More pictures from day 5 HERE

Headlines from tonight's show include:

-Sam and Jordan discuss girls in the house
-Housemates must catch a falling star
-Chad opens up to Amelia

Key highlights and quotes from tonight's show:

· Club members Helen and Paul are enjoying their breakfast, which is being served by their fellow housemates. Paul comments to Brandi, "I'm not the best of eaters" to which Brandi replies "no you're a savage actually" as she hands him a napkin. She continues, "I really quite like you, but I think you're being abusive with your power" in relation to his status as a club member.

· After last night's row, Paul and Karthik bury the hatchet. They hug and apologise to each other. Paul tells Karthik, "I'm really really sorry if I offended you" and that "I think you're so funny, you've got such good character." Karthik tells him, "of course we're cool."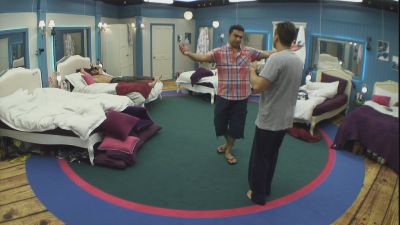 · Sarah, Sam, Jemma and Amelia are in the living area comparing ages. Amelia tells them, "I knew I was gonna be the baby in here" and Sarah replies, "you must have only been 18 when you came on tour with us." Amelia goes onto say, "If I could relive anything in my career, it would be your tour. I had the best time." Sam asks Sarah what her top moment was when Girls Aloud were at the height of their fame and she reveals, "Probably the Brit Awards. But then when we met the Queen as well at the Royal Variety. I've got one more, at Wembley Stadium supporting Jay Z and Coldplay." Speaking about Chris Martin, Sarah tells them "he always said he'd like to write us a song back in the early days."

· Sam, Jordan and Amelia are in the kitchen. While Sam looks for green tea, Jordan whispers to Amelia, "told you, Day 1 you and Sam I said it, I planted the seed. It's growing, just enjoy it" but Amelia says "the lad's oblivious." Jordan promises to "find out" for her.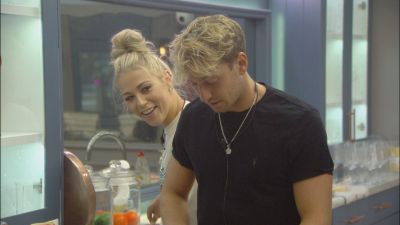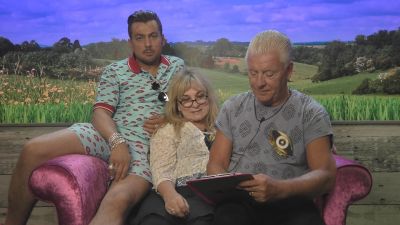 · Big Brother has called the riff raff to the VIP club for another chance to win VIP membership. Above them are stars, which will fall randomly and must be caught by housemates in order to win the prize written on them. What the riff raff don't know is that some of the stars contain punishments instead of prizes, and who receives what was decided earlier by the founding members of the VIP club. As Marissa received a killer nomination, she is not eligible to win VIP membership and will remain in the living area.



· Amelia wins a romantic dinner for two later that evening. She says "I'm not good at dates, this is gonna be a nightmare."

· Brandi catches her star and wins VIP membership. Karthik's star does not contain a prize. Jemma must later colour in pieces of popcorn with a felt-tip pen. Shaun's star contains VIP membership. Trisha fails to catch her star and doesn't win a prize. Chad wins the chance to join Amelia on the romantic dinner for two – Amelia tells Trisha that she isn't excited. Sam also wins VIP membership. Jordan catches his star and is told by Big Brother that he must become a fisherman for the evening, complete with waterproof trousers and a great big stinking fish. Sarah drops her star and therefore does not get a prize. Sandi is the final housemate to catch a star and receives a signed photo of Paul.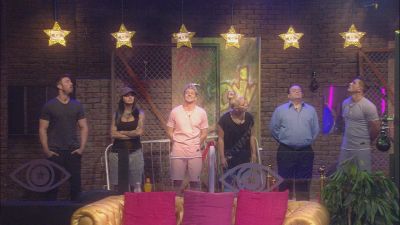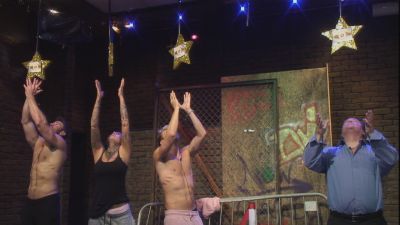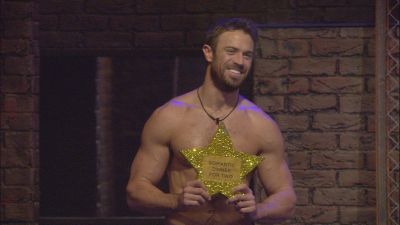 · In the smoking area, Sam and Jordan are talking about Amelia and Marissa. Sam tells Jordan, "Basically you've got a girlfriend in here now" and Jordan replies "I think so…so have you." Sam goes onto say, "It's real complicated though, you and Marissa it's just a bit of fun, for me it's back of a three year relationship. I'd almost love to rebound with someone" and referring to Amelia "she's the kind of girl I'd actually like to date."



· Trisha is at the end of her tether in the diary room. She tells Big Brother, "it's so *****ing stupid, this house. I can't stand to be around these people one minute longer." Big Brother asks if she can share her feelings with her housemates and Trisha replies, "I don't like them, they're all *****ing fake. There's no connection. I've never been around more fake people."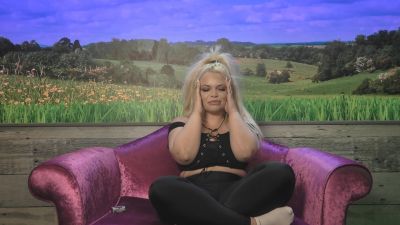 · Amelia tells Sam that she's nervous about her upcoming date with Chad – "it's a bit of pressure." Sam tells Amelia that he's "really bad at dates."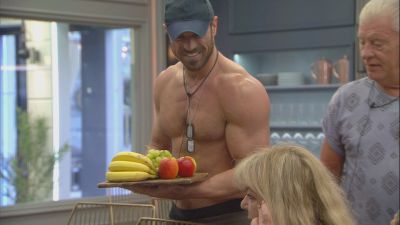 · Marissa gives Amelia advice on her outfit for the date with Chad – "show some boobs."

· Karthik serves VIP club member Paul a drink before Brandi and she questions whether chivalry is dead. Karthik tells her, "a real lady would not pull that ladies first card."

· Chad and Amelia have their date in the garden. He asks her "why are you so nervous?" and she replies "it's a bit weird isn't it."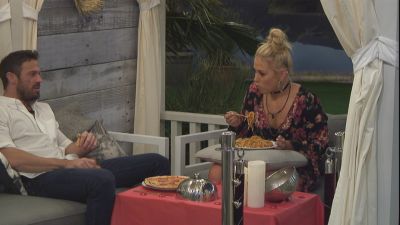 · Jemma's punishment following the task earlier is to colour in a bucket of popcorn

· Jordan's punishment means that he must carry a fish around all evening, while dressed as a fisherman. Sarah asks, "Can we eat it?"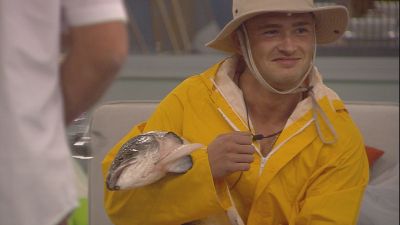 · Chad tells Amelia that he thought she didn't want to go on the date – "that's harsh." Amelia replies, "I didn't mean it like that, it's all fun."

· Big Brother offers the non-VIP club members a temptation in exchange for no further chances to win immunity and therefore automatically facing eviction. Trisha is the only housemate to accept and enjoys a pizza. "The easiest decision I've made in my entire life."

· Amelia gives Sam a massage, while he massages Jemma. Brandi laughs, "'it's a train." Amelia asks Chad if he wants to join in the train, but he declines.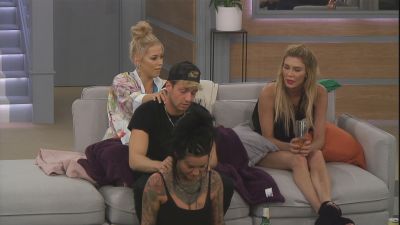 · Paul and Chad are talking in the bedroom. Paul asks how the date with Amelia went. Paul thinks that Chad should make his feelings clear to Amelia as Sam also "has a soft spot for her." Chad comments, "the minute we came in she went right to sit down with him."

· Paul later talks to Amelia about Chad – "he thought he was getting somewhere. I don't want to get too involved, but like straight after the date you went over to Sam and you're not silly you know Sam kinda has a little thing. He kinda feels like he's been a bit played. I feel really sorry for him." Amelia replies "that's just made me look bad now. I didn't do any of this. I don't want anything with anyone. I got told I had to go on a romantic dinner for two with him, that's what I did."

· The VIP members club has a party.

· Sarah gets tipsy in the hot tub.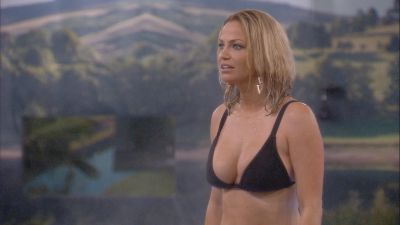 · Chad opens up to Amelia in the bedroom about his feelings for her. Amelia says, "I hate awkwardness." Talking about Sam, Chad explains, "I just feel stupid." Amelia then goes onto say, "Paul has made me feel like I've done something really bad. I don't like anybody in that way, I didn't come in here looking for love." Chad gets up to leave the bedroom saying, "you're just not getting it" and Amelia directly asks if he likes her, which Chad confirms. Amelia tells him, "I'm not a mind reader, how am I supposed to know?"