Daily Update: Day 21
Shown: Tonight, Tuesday 22nd August 9pm on Channel 5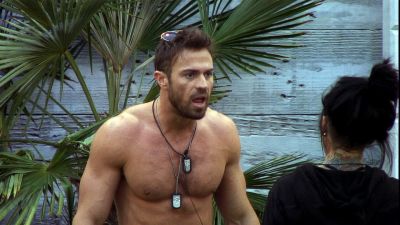 Jemma & Chad argue - from the Day 21 Gallery here

Headlines & clips from tonight's show include:

- Sarah Talks About Her Future

- Sam Gets A Tan From Jemma

- Sam With His Tan In The Diary Room

- Sarah & Chad Annoy Jemma By Taking A Bottle Of Red Wine

- Jemma & Chad Argue In The Garden


Chad, Helen, Jemma, Sam, Sandi Or Sarah - two will be evicted live tonight.

On tonight's Big Brother's Bit On The Side with Rylan Clark-Neal at 11:05pm on Channel 5, guests including Jamie Laing, Sinitta and Kerry Katona.

Key highlights and quotes from tonight's show:

· Housemates are waking up to their last week in the Celebrity Big Brother house

· In the living area, Jemma questions Helen on what she'll be doing after she leaves the house; "My work! I just want to get writing, finish my book, get a sitcom going, go out and do some gigs…" Jemma asks; "Can I be in your sitcom?" Helen quips; "If you're good, you have to be good! The standard has to be quite high…" Jemma replies; "I am good! I'm a good actress!"

· In the smoking area, Sarah reveals about her future; "There's so much I still want to do, so much travelling I want to do, I'm at that age now that I want to settle down and have a family…I'm having a girl according to Derek!" – SEE CLIP

· Chad jumps in the hot tub whilst wearing his jeans, Sarah laughs

· In the bathroom, Sam asks Jemma to show him how to fake tan. Jemma starts to apply fake tan to Sam – SEE CLIP

· In the bedroom, Sarah quizzes Chad about his previous relationships; "How many serious girlfriends do you think you've had?" He replies; "Three…the longest was one year when I was 23. We were too young."

· Sam is in the diary room talking about his fake tan; "The body looks good! However the palms and the face I look like a racoon!" – SEE CLIP

· Sarah and Chad take a bottle of red wine to share in the smoking area, Jemma reacts; "I think it's bang out of order! We had a discussion where we leave the alcohol on the bench in the kitchen!" Sarah pours Derek some red wine in the smoking area whilst the other housemates are eating dinner in the kitchen, Jemma continues to talk about Sarah – SEE CLIP

· Jemma heads to the smoking area to take the bottle of red wine back to the kitchen

· Sarah and Chad join the rest of the housemates in the kitchen for dinner

· Jemma and Chad argue in the garden. Jemma tells Chad that him and Sarah are excluding themselves and making the rest of the house feel uncomfortable. The pair continue to argue – SEE CLIP

· Big Brother plays a Girls Aloud song into the house, Sarah smiles from her bed, "This is my song! Our number one hit single!" Sarah jumps up and goes into the living area to show her housemates 'the moves' to the Sound Of The Underground track. Housemates cheer and clap Sarah as she dances for them using a broom as a prop

· Sarah and Chad are in the hot tub and Derek joins them in his Speedos

· In the bedroom, Helen, Shaun and Jemma talk about feeling uncomfortable around Sarah and Chad

Pictures.