Article may contain spoilers...

Todays task is 'Big Dummies'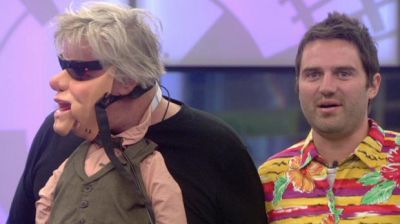 Big Brother has transformed some of the housemates into ventriloquists and others into dummies.

For today, the ventriloquists will do the talking, and the dummies will have to be, well, dumb.

Once they've practised their acts, the dummies will be interviewed on a talk show named Big Dummies, hosted by Claire. If they want to earn a special reward, they'll have to put on a convincing show.

OVERVIEW
Three pairs of housemates will play the part of ventriloquists and dummies for the day. If the ventriloquists and dummies can maintain the act then they will pass the task.

HOW IT WORKS
Six Housemates are split into pairs by Big Brother, one half as the ventriloquists and one half as the dummies.

THE VENTRILOQUISTS
* Shall wear hideous showbiz shirts.
* Must stay with and speak for their dummy at all times.

THE DUMMIES
* Shall wear all black and have the body of a dummy tied under their chin.
* They shall be wearing a movable ventriloquist mask, controlled by the ventriloquist.

They will spend some time practicing in their pairs with the ventriloquist having to do all the talking for the dummy, meaning ventriloquists can put the dummies into any situation they want with any of the other dummies.

'Big Dummies!'

Claire will play the part of a talk show host on a show called 'Big Dummies!'

The dummies will be interviewed, but their words will be provided by the ventriloquists.

These questions will be personal and based on things happening in the House and their opinions on other Housemates and situations within the House. As the ventriloquist is their voice, they can get the dummy to say whatever they like.

If Big Brother is satisfied the ventriloquist and dummies have fulfilled their roles the house will receive a reward – mouth and dummy-shaped sweets.