Daily Update: Day 20
Shown: Tonight, Monday 23nd January 9pm on Channel 5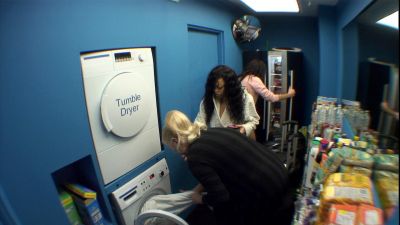 More day 20 pictures in the gallery HERE

On tonight's show: Stacy is angry at Kim over laundry, Heidi and Nicola hug it out; Jamie's feeling 'horny' and Nicola is one of eight Housemates up for nomination

On tonight's Big Brother's Bit On The Side with Rylan Clark-Neal at 23.05pm on Channel 5 guest include Ryan Maloney, Sarah Powell, Stephanie Waring and ex-CBB2017 Housemate Chloe Ferry

Key highlights and quotes from tonight's show:

· Last night Jessica's pep-talk with Nicola annoyed some of their fellow Housemates. Stacy tells Jessica that the house is in a "good place" and it's best to "drop" the subject. "I feel like s**t now," Jessica remarks once Stacy leaves.

· Calum and Jessica make up following their argument about Nicola last night. Calum says that he can understand that she had "good intentions."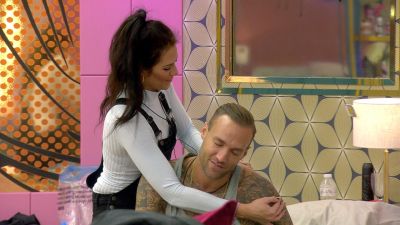 · Speidi are talking about Nicola. Heidi says she just wants things to be "neutral." "You may as well clear the air," Spencer advises.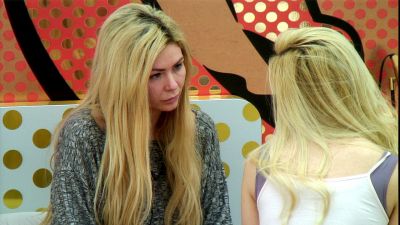 · Coleen and Nicola are in the garden talking about Stacy's "unnecessary" advice to Housemates earlier.

· Stacy joins then in the garden and asks Nicola if she can be "cordial" towards Speidi. "You think I'm gonna allow that," Nicola snaps. She tells Stacy that she will not allow anyone to feel the way she has for the last few days.

· Kim is in the storeroom using the washing machine. Stacy comes in and tells Kim that the clothes that Kim removed from the machine and has placed on the floor are hers. Kim apologises "No offence meant."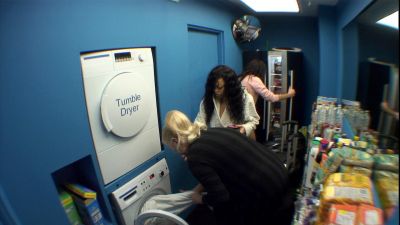 · A short while later, Stacy is in the bedroom trying to control her anger at Kim's "disrespect." She calls Kim into the bedroom. Kim explains that she heard Stacy shouting about what happened.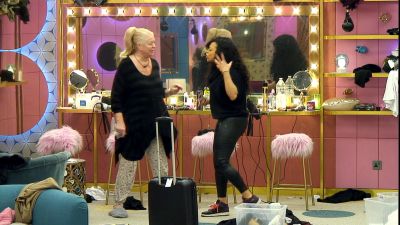 · Stacy tells Kim it's not OK to treat other Housemates' property that was, and isn't sure how to take Kim. She says Kim is all apologetic today but may be a "schizophrenic," opposite to her first few days in the house "when you came in and called someone a bitch."

· Stacy tells Kim not to "******" with her today. "And don't you ****** with me, start with me and you'll be very sorry," Kim warns.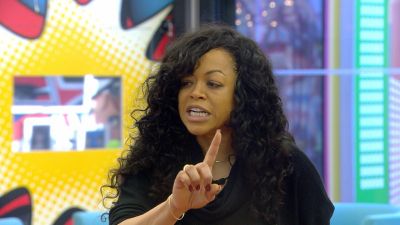 · Nicola and Heidi are sitting on the bed. Heidi says she is "sad" that Nicola didn't sleep in the bed next to hers last night. "If it's okay, can we just move forward?" Heidi asks. "I'd love that," Nicola says and they hug.

· Bianca and Jamie are on the sofa talking about their relationship. If they were both in the final: "It's like living together for a month," Bianca says. Jamie mouths to Bianca that he is "horny." "It's been really tough," she smiles.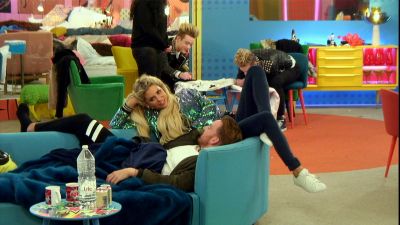 · Jessica is giving Calum a massage in the bedroom, whispering and giggling in his ear. Calum jokes: "I can't believe you just treated me like a piece of meat." "It's just what you are, I'm joking, or am I?" Jessica giggles.

· In the garden, Coleen tells James C that she wished he had "told them (Speidi) off," just for her pleasure.

· James C explains that it would be pointless to get annoyed as Heidi and Spencer are playing a game. He jokes that on the outside he would maybe do something more than would be normal, "Like bite your ******ing nose off."

· James C says that on the outside, Spencer would be too "frightened" to act the way he has acted inside the house.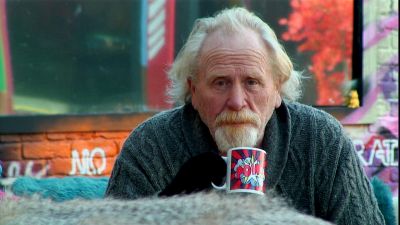 · Earlier today, Housemates were called to give nominations. In a nominations twist, Big Brother has gathered Housemates on the sofas to watch this week's nominations via the screen.

· Kim chose to nominate Nicola and during her nomination, claimed that Nicola had told lies about her.

· Nicola is one of eight Housemates facing the public vote this week.

· After nominations, Nicola asks Kim what she "supposedly" lied about. Kim tells Nicola to accept the nominations and says she doesn't have to explain herself adding, "I will not rise to your bait."

· Some of the Housemates are in the living area. Nicola explains to Speidi the reason why she is angry with Kim. She says that Kim brought her children into an argument and called me a "bad mum."

· Spencer recalls that this was during face-to-face nominations but Kim has since denied saying it. "Tell everyone how I'm a liar," Nicola shouts after Kim.

· "She's a mother-*******ing little bitch," Nicola shouts and reveals that Kim spoke to her since the face-to-face nominates to says that what she said was, "'Nicole,' would my kids want to hear me swearing."

· A while later, Kim and Nicola are still having the "liar" conversation. Kim tells Nicola "Grow up, you're a mum." "And you're not, that's your problem, if you wanna go low, I'll go lower," snaps Nicola.

· Some of the Housemates are in the kitchen. Heidi says that as she woke this Sunday morning, she first put God in her heart. She said that the first thing she thought was, "You need to talk to Nicola."

· Nicola adds: "I did a ******ing stupid thing," in voting for them last week. Speidi and Nicola share a group hug.