Daily Update: Day 27
Shown: Tonight, Monday 30th January 9pm on Channel 5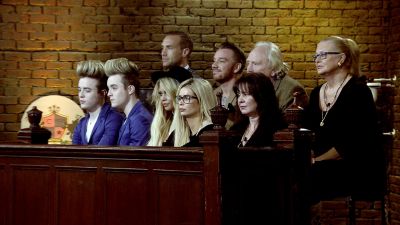 More pictures from day 27 in the gallery HERE

On tonight's Big Brother's Bit On The Side with Rylan Clark-Neal, 11:05pm on Channel 5, guests include Dan Wootton, India Willoughby and ex-CBB Housemates Jessica and Heidi & Spencer

On tonight's show: One Housemate receives a shock eviction, Bianca questions her relationship with Jamie and Kim looks to bury the hatchet with Nicola

Key highlights and quotes from tonight's show:

· Over the weekend, Housemates are being judged to see if they live up to expectations.

· Housemates are unaware that tonight, that either Kim, Jamie, Jedward, Calum or Nicola will be evicted from the Big Brother House.

· Kim is in the Diary Room talking to Big Brother about Bianca and Jamie. "Lust is rather lovely," she starts, but says that love is more important.

· Kim winks: "Every wrinkle tells a dirty tale," and says she could write a book which would start, "Dig me deep, I'm a long bodied woman."

· Bianca asks Coleen for relationship advice after reflecting on comments she received in the task courtroom. She is worried that Jamie will not want to continue the relationship.

· Coleen tells Bianca that she "100 percent" believes in the relationship and says she shouldn't end things "just to please others."

· Housemates face the final judgement in an 'Interrogation Room," one by one while the other Housemates bear witness via the screen in the living area.

· Nicola and Bianca are having a quiet chat in the toilet. "Do you think someone will go?" Bianca worries. Nicola tells her she is being too hard on herself. Bianca thinks that Jamie may push her away, judging by the outside comments they have heard during the task.

· Coleen and Nicola are talking about Jedward. Nicola says that although she is "genuinely interested" in some of the things the boys have to say, they never give you a straight answer. "It's like a script, they don't deviate."

· Jedward are in the snug discussing the comments they heard about themselves during the task. "People are going by what Housemates are saying. If I went to their houses, there would be an I Love Jedward t-shirt, we're everyone's cup of tea."

· Housemates have been gathered in Big Brother's courtroom. Judge Vanessa Feltz enters for the final verdict and announces that all weekend, the Housemates have been judged, and the evidence has now been reviewed.

· All weekend the public have been voting to save. The guilty Housemates is handcuffed, and led away from the house REVEALED ON SCREEN

· Housemates are still reeling from the shock departure, "It's a s**t way of going," Coleen muses.

· James C has come to the Diary Room to talk about an earlier conversation he had with Kim. Kim had told James C that she didn't know where he was "coming from" and accused him of siding with other Housemates.

· "It was a one sided conversation, I get the feeling she has no wish to like any of us," James C admits.

· Kim tells Nicola she is "puzzled" by her and wonders when Nicola will "bury the hatchet" with her.

· Nicola explains that although she now "enjoys" Kim in the house, she will never be close to her because of the things Kim said when she first entered the house, "you could have had a friend in here," Nicola says.

· Kim tells her that she isn't bothered about making friends, only "acquaintances," adding: "I'm a loner."

· Kim says that she sees a "deep sadness" in Nicola, but Nicola says although she is guarded and has "issues," she is still able to have friendships, "and you can't," she adds.

· Calum and some of the Housemates are trying to sleep. He says that he wants the evening to end so the lights can go out, "I'll be the moody guy, I'll be Debbie Downer."

· The singing continues and Calum leaves his bed and goes into the living room. "I'm begging you, it's all fun but I've just asked you not to sing."

· Jedward explain they were trying to cheer people up after the shock eviction. Calum says that although he "respects" the boys, "you don't ******ing respect me cos you wanna argue with me. You're bang out of order."

· "All we're doing is singing a song…it's about life, I know it's cheesy but you can sleep when you're dead," Jedward retort.