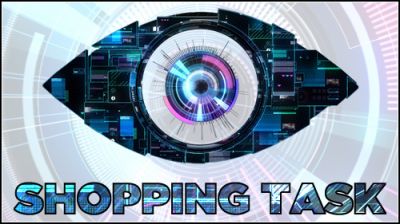 Yesterday, Housemates took part the second day of this weeks Shopping Task.

Firstly, Housemates took part in Keep Calm and Carry On. Housemates had to increase anotherís heart rate. This was of course fixed, the heart rates were not really measured and the red teams would win.

KEEP CALM AND CARRY ON

Chris had to scare Ashleigh.
Ash had to scare Steven.
Stevens heart rate increased quicker and therefore Ashliegh won the battle.

Next, Zoe had to arouse Winston
Mark had to arouse Christopher.
Winstonís heart rate raised quicker and therefore Christopher won the battle.

Finally, Winston had to get personal with Pav to increase his heart rate.
Zoe had to get personal with Helen to increase her heart rate.

Pavís heart rate increased quickest and therefore Helen won the battle.

As a result the Red Team won Keep Calm and Carry on.

FINAL GAME: Hands Up for Victory

In the final game the Red and Blue team competed in the first genuine task of the day.

They had to hold a door of gunge shut for as long as possible.

The order of Housemates who dropped first to last are as follows:

∑ Steven
∑ Helen
∑ Ashleigh
∑ Chris
∑ Christopher
∑ Mark
∑ Zoe
∑ Ash
∑ Pav
∑ Winston

As Winston was the last Housemate remaining the Red Team won the final task.

Therefore the Housemates have PASSED this weeks shopping task.