Celebrity Big Brother #CBB Daily Update: Day 19

Shown: Tonight, Sunday 24th January, at 9pm on Channel 5.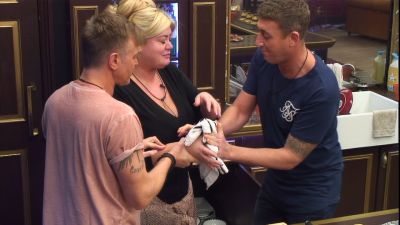 More pictures from day 19 in CBB 17 HERE

On tonight's show:
Gemma cuts her fingers and goes to hospital for treatment,
The next immunity task sees Gemma and Danniella leaving through the fire escape again,
Tiffany has a secret to tell Darren

Key highlights and quotes from tonight's show:

· Last night, Megan was the fourth housemate to be evicted from the Celebrity Big Brother house.

· Big Brother tells the housemates to gather on the sofas. During yesterday's task, Gemma won immunity from eviction. Big Brother informs the group that she has also won a special prize, which is a professional blow dry. However, if she chooses to take the prize, the house will go without hot water and hair appliances for the rest of the day. Gemma discusses it with the rest of the housemates, "guys, I know the right thing to do would be to not have this blow dry. But you know the situation with me hair; it's something that really means a lot to me."

· Gemma goes to Big Brother's spare room to have her professional blow dry. Meanwhile, Christopher is in the bathroom taking a cold shower.

· Stephanie is taking some timeout in the Diary Room. Speaking about Gemma, "she's getting a nice blow dry, thank you, I've got hopefully another half an hour without her." Asked how she thinks Gemma would have reacted if she couldn't have had the hot water, Stephanie laughs and says "are you joking? She'll be out that door again. There would have been absolute mayhem."

· Gemma is feeling the results of her blow dry, "my hair is clean, it makes you feel like a brand new person. You can only try your best in life and that's going to be my new attitude for the tasks. I'm going to try my best."

· Stephanie is opening up to Jeremy, "I've always just wanted to be loved. I've always had that urge to be loved. Like with my ex, I didn't want to break up with him because I was just longing for someone to just love me for who I am."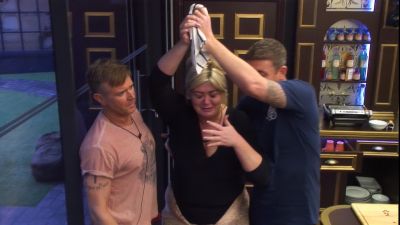 · Gemma has a new lease of life after her blow dry, "alright guys, is there anything you need me to do to help you have a better day?" Christopher asks her to peel some potatoes. Gemma cuts her finger whilst doing so, declaring "it's through to the bone." After seeing a medic in the Diary Room, she is taken to hospital for stiches.

· In the bathroom, Danniella cries with Tiffany. Danniella misses home but knows that her kids would want her to stay, so commits to doing so.

· For the next part of this weekend's immunity task, housemates are gathered in the Forgotten Theatre. Big Brother has given housemates two lives, represented by stage curtains. Big Brother will pose a series of questions about each other, the quickest to the buzzer will win the chance to answer and take away one of the other housemate's lives.

If a housemate opens both of their curtains, they are out and will remain up eviction. The last housemate standing will win immunity and a personal reward. As Gemma has already won immunity, she will be spectating from the stalls.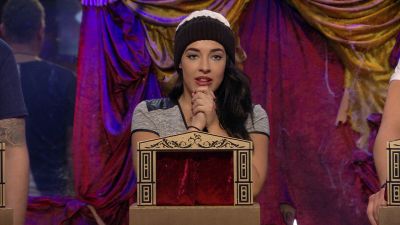 · The first question is which housemate is most likely to win Celebrity Big Brother? Scotty T buzzes first and says Darren. The next question is which housemate is most likely to sell a story to the press? Danniella is the quickest to buzz and names Jeremy.

The next question is which housemate is most likely to make a drama over nothing? Christopher is the first to buzz and chooses Stephanie. The next question is which housemate is most likely to bitch behind you back but be nice to your face? Scotty T buzzes first and gives Stephanie as his answer.

· Danniella comments that "I don't care about immunity, but I do care about the personalised gift thing. I can handle the eviction; I'd just rather get a message from home or something."

· The task continues with the question which housemate is most likely to have the most bad press? Stephanie buzzes first and says Gemma. The next question is which housemate is most likely to tell lies? Stephanie is the quickest to buzz again and picks Gemma for the second time.

· The question up next is which housemate is most likely to stick up for you in an argument? Stephanie is the fastest to buzz and says Jeremy. She then chooses Danniella to lose her final life in the game. Danniella tells her, "I'm out, thank you. Let me out of this f**cking room. You know how much it means to me and you've done it again with my kids. You're f**cking sniping at her [Gemma] constantly." Gemma follows Danniella out of the room and says to Stephanie, "drop it, you're a very nasty girl."

· Gemma declares, "I'm not doing this anymore. I've had enough. She's a f**cking b*tch." Danniella adds, "as long as she's got blokes wrapped around her she's alright." Gemma and Danniella then leave through the fire escape in the garden.

· The other housemates continue the task in the Forgotten Theatre. Jeremy and Stephanie are the last two housemates in the game. Jeremy allows Stephanie to buzz first, winning her immunity from eviction.

· John and Tiffany are discussing Gemma and Danniella's exit through the fire escape. John says "the whole idea is that you stay in these walls and ride it out. Good, bad or ugly. In my mind, if we're talking within the rules of the game, it's kind of cheating."

· Christopher is talking to Darren about Danniella. He says, "Danniella is very emotional at the moment. I know for a fact she wouldn't have done that if probably Gemma hadn't influenced her a little bit. I don't really wanna say it, I just feel like she's being played."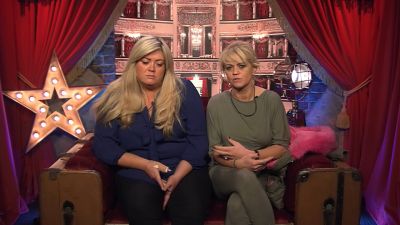 · Danniella and Gemma return to the house and are called to the Diary Room. Danniella tells Big Brother, "I apologise for booting that door and I apologise for messing the whole task up." Big Brother reminds them that if they wish to leave the house there are appropriate ways to do so. Danniella says "the only way that me or Gemma will get out of this house is when people stop voting for us and we walk up the stairs to Emma."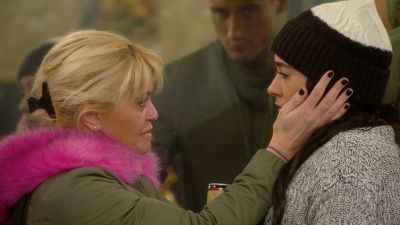 · Danniella apologies to Stephanie in the kitchen, "I know everyone's emotional, I'm super emotional about my kids at the minute, but that ain't your fault. I do love you mate. But this house makes it hard for everyone. I don't want an atmosphere in here. We're gonna get through it. We need to start having a good time in here. You are me and that's what hurts me."

· Gemma also makes amends with Stephanie, "I know we ain't ever gonna be the best of friends, but can we find a way of moving forward and putting everything behind us? I do genuinely like you and I don't know why we keep rowing. Stephanie replies, "it's just difference of opinions and we're gonna have to leave it like that." The pair then hug.

· Tiffany is in the Diary Room. She tells Big Brother, "I must say I'm very surprised that the ladies wanted to make amends. Especially after Gemma and Danniella decided to make another exit out of the house. I don't know how long this is gonna last. I don't know if there's gonna be another blow up. But I know all three ladies are trying very hard to move forward and get along." She concludes, "I would be lying to my core if I said I hope there's no more drama here. I like drama."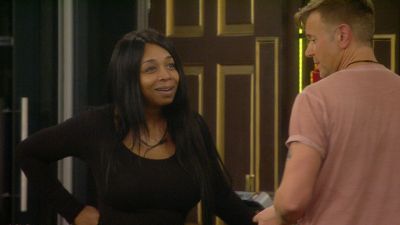 · Tiffany has a confession for Darren. She tells him, "I have something to admit to you, I don't mean any harm. You're such a nice man, you're such a force in here you know. I would never want you to mention this to anyone else, but you're so sexy. I tried to deny it, but you're just so masculine. And your looks and the way you just speak, everything about you. Darren asks, "is this a task?" and Tiffany says "I'd be lying if I said I didn't think of you in those ways." Darren then tells her, "I'm very flattered, but you know I'm happily married and there's only one woman for me and that's my wife."