ET Canada's three-night reveal event concluded tonight, announcing the final five of 16 houseguests entering the Big Brother Canada house.

The final five houseguests include a sexy server, an attention-seeking superfan, an Assistant Cruise Director with a penchant for pageants, a charismatic poker player, and a cheery cheerleader.

The final five houseguests announced today, are:

Click thumbnail pictures to make larger



Johnny Colatruglio: a boy-crazy, attention-loving, 26 year-old superfan from Winnipeg with a dog named Veto.




Kevin Martin: this Calgary-born professional poker player will charm the pennies out of everyone's pockets.




Pilar Nemer: this sassy Mexican-born beauty grew up with 10 siblings and knows how to fight for herself.




Risha Denner: at 41 years old and standing 6'1", this sensitive, statuesque beauty from Toronto is the complete package.




Sindy Nguyen: If there's one thing to know about this pageant princess, it's that she's "Sindy with an 'S'."



The previously announced houseguests are:


Bruno Ielo: a construction worker and Ottawa's first-ever houseguest competing for his wife and two sons.




Video - http://www.youtube.com/watch?v=BR3Y9BGuqxo





Godfrey Mangwiza: a Zimbabwe-born Psychology major from Toronto who won't stop at anything to win the $100,000.




Video - http://www.youtube.com/watch?v=Hh3UuBn3EFQ





Graig Merritt: former MLB player and currently a Scout for the league, as well as an avid yogi from Pitt Meadows, BC.




Video - http://www.youtube.com/watch?v=hFkSy1iC0Zo





Naeha Sareen: a spunky Chiropractor and entrepreneur from Toronto whose social game is her best and worst asset.




Video - http://www.youtube.com/watch?v=T9fceXBhH-M





Willow MacDonald: this Nova Scotia-born tomboy recently moved to Calgary for work, fun, and plenty of adventure.




Video - http://www.youtube.com/watch?v=Ycpc5d2uRq8





Ashleigh Wood: a Calgarian sweetheart from a family of seven siblings who knows how to hold her own in big groups.




Video - http://www.youtube.com/watch?v=XKqCfD7A55M





Bobby Hlad: this adventure-seeking Rock Climbing Instructor from Oakville lives at home working for the family business.




Video - http://www.youtube.com/watch?v=Lg_ptDvWiQw





Brittnee Blair: vivacious and curvaceous, the Calgary native currently works in New York as a plus-size model.




Video - http://www.youtube.com/watch?v=bAV8xObAasU





Jordan Parhar: this small but mighty conservative from Surrey isn't shy in sharing his opinions on anything.




Video - http://www.youtube.com/watch?v=j0wVcA29udg





Sarah Hanlon: a free-spirited Hemployee from Toronto and self-proclaimed grown-up version of Lisa Simpson.




Video - http://www.youtube.com/watch?v=ekKkk6GIadI





Zach Oleynik: an ambitious pre-med student and Quarterback for the University of Regina's football team.




Video - http://www.youtube.com/watch?v=-ep0u4QnX0Q





Group Image (click to view full-size):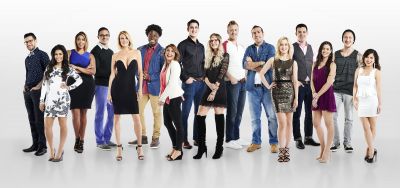 "I always look forward to the Big Brother Canada casting process because the hopefuls know the show, come prepared, and never let us down. I'm extremely excited about this season's cast!" said Robyn Kass, Casting Director, Kassting Inc.

"After months of scouring the country and meeting with the biggest characters in Canada, we've narrowed it down to the best of the best. Just like all Big Brother casts, this season brings a little bit of everything, with houseguests that will make us laugh, cry, think, squirm, and of course, scream at the TV."

The 16 houseguests are moving in to the Big Brother Canada house to compete for a grand prize of $100,000, a $25,000 gift card from The Brick, and a $10,000 trip of a lifetime courtesy of Twistos.

Big Brother Canada premieres on Global on Monday, March 23 at 8pm ET/PT (12 AM in the UK) and airs Mondays at 8pm ET/PT (12 AM in the UK) , Wednesdays at 9pm ET/PT (1 AM in the UK) and Sundays at 7pm ET/PT (11 PM in the UK) .

BB Canada Discussion forum - http://www.thisisbigbrother.com/foru...play.php?f=617