Naeha Sareen was evicted in Sunday's instant eviction episode and Brittnee Blair was crowned the new head of household.

Following a first-ever public eviction, which saw the houseguests read votes in front of each other, Naeha Sareen – the 29 year-old Chiropractor from Toronto – was evicted from Big Brother Canada. Naeha takes the third of five spots available, joining Risha and Sindy with an 'S', to fight for a second chance to get back in the house.

"I'm very shocked by this instant eviction. When I was nominated I thought people would want to keep me, to work with someone who's actually playing the game," Naeha told Arisa Cox. "It's hard for me because I tried to lay low but it's my personality. I had my back against the wall from the very beginning so I had to compete."

After Kevin accidentally won the last Head of Household competition, he was taken to the vault to instantly nominate two houseguests for eviction. Brittnee was nominated for the second time this season and Naeha was deemed the target, both taking a hot seat as the instant eviction nominees. The houseguests then entered the vault, one by one, and secretly wrote down their eviction vote before Arisa made them read their votes aloud in front of each other. Ultimately, the professional Chiropractor couldn't get the target off her back, and was evicted in a 9-2 vote.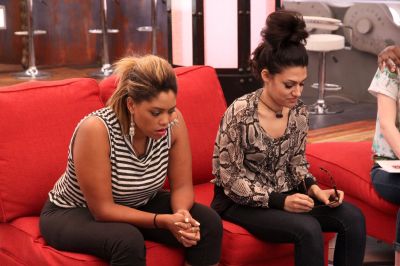 With 8 men and 5 women left in the Big Brother Canada house, Brittnee and Sarah set their sights on a female lead, won the new HOH competition and sealed their safety this week. Going from Pawn to Queen in just a week, Brittnee holds the power to flip the house and target the male power players.

In Monday's episode Brittnee nominated Kevin and Bobby. Johnny won the veto and used it on Kevin. Brittnee then nominated Graig.

The next episode is on Wednesday at 9PM/8PMc - 02:00 in the UK (BST).